Sir Elton John offers to introduce Vladimir Putin to Russia's gay community
The singer's statement follows the Russian President's call for gay tourists visiting the country during Sochi 2014 to "leave the children in peace"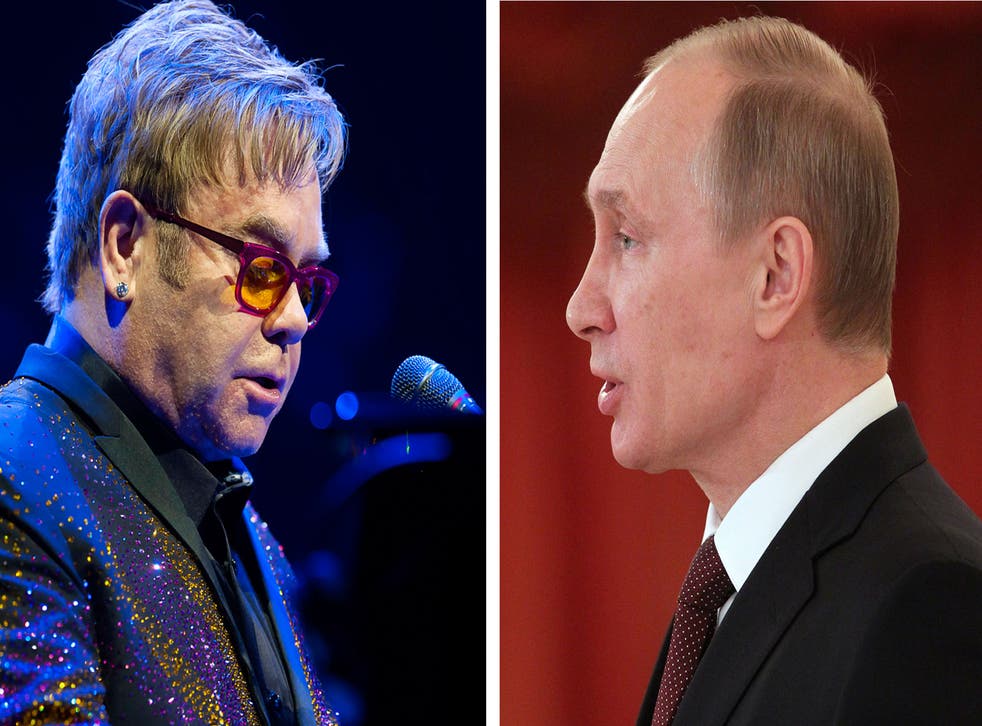 Russian President Vladimir Putin is not a homophobe because he loves Sir Elton John and has friends that are gay, he claimed during a pre-Sochi charm offensive with Andrew Marr over the weekend.
But is he enough of a fan to accept Sir Elton's offer to introduce him to members of the gay community in the country to show him the true impact his "deeply divisive" gay propaganda laws have had on their lives?
In an open statement, the musician described what he learned from gay and lesbian Russians during a visit to Moscow in December, who had been attacked or threatened as a result of the controversial legislation.
"What I heard reinforced all the media stories that have been circling since the propaganda Bill became federal law: that vicious homophobia has been legitimised by this legislation and given extremists the cover to abuse people's basic human rights," he said.
"The people I met in Moscow - gay men and lesbians in their 20s, 30s and 40s - told me stories about receiving threats from vigilante groups who would 'cure' them of homosexuality by dousing them with urine or beating them up.
The A-list opposing Russia's anti-gay laws

Show all 15
"One young man was stalked outside a gay club by someone posing as a taxi driver who tried to garrotte him with a guitar string because he was a 'sodomite'.
"Everyone shared stories of verbal and physical abuse - at work, in bars and restaurants or in the street - since the legislation came into force last June. And some of the vital work providing HIV prevention information to the gay community has been labelled 'homosexual propaganda' and shut down."
"It was very clear to me that, although foreigners like myself who are visiting Russia are not affected by this new law (and President Putin has recently confirmed this), it is a very different story for those living inside the country," he continued.
"President Putin asserts that this was not the intention, but it is undoubtedly the effect that this law has had by promoting misunderstanding and ignorance. In particular, it is very disappointing that the law explicitly links homosexuality with child sex abuse, which countless studies have shown to be conclusively wrong.
"The people I met in Moscow were decent, kind, patriotic men and women who had no thought of forcing their sexuality on anyone.
"Whatever the intention of Russia's homosexuality and paedophilia propaganda laws, I am absolutely clear from my own personal experience that it is proving deeply dangerous to the LGBT community and deeply divisive to Russian society."
"I would welcome the opportunity to introduce President Putin to some Russians who deserve to be heard, and who deserve to be treated in their own country with the same respect and warm welcome that I received on my last visit," he added.
As of yet, there has been no word from Sir Elton fan Putin on whether he will accept the singer's offer.
The news comes after the President dismissed a Russian parent's committee's call to ban the musician from performing a string of dates in the country at the start of December 2013.
In an open letter, they argued that allowing Sir Elton to perform would thwart the anti-gay propaganda laws.
"The singer intends to come out in support of local sodomites and break the current Russian law, directed at protecting children," it read.
Another petition, by the Union of Orthodox Brotherhoods, referred to the planned gigs as an "amoral sabbath" and called Sir Elton's "support for gays and other perverts" an "insult to all Russian citizens".
The singer was told not to wear "flamboyant" clothes suggestive of his gay lifestyle on stage when he was set to play in the Russian region of Krasnodar in July 2013. The show was later cancelled when Sir Elton fell ill.
The Sochi 2014 Winter Olympics starts on 7 February. It's said to have cost £30billion, making it the most expensive Games in Olympic history.
Last week, Putin reassured the world that gay people will not be harassed during Sochi and said that they "can feel relaxed and comfortable", but only before adding that they must "leave the children in peace".
Join our new commenting forum
Join thought-provoking conversations, follow other Independent readers and see their replies