Sonya d'Artois: SOE agent who showed extraordinary courage and resourcefulness in Nazi-occupied France
For her war work she was appointed MBE and mentioned in dispatches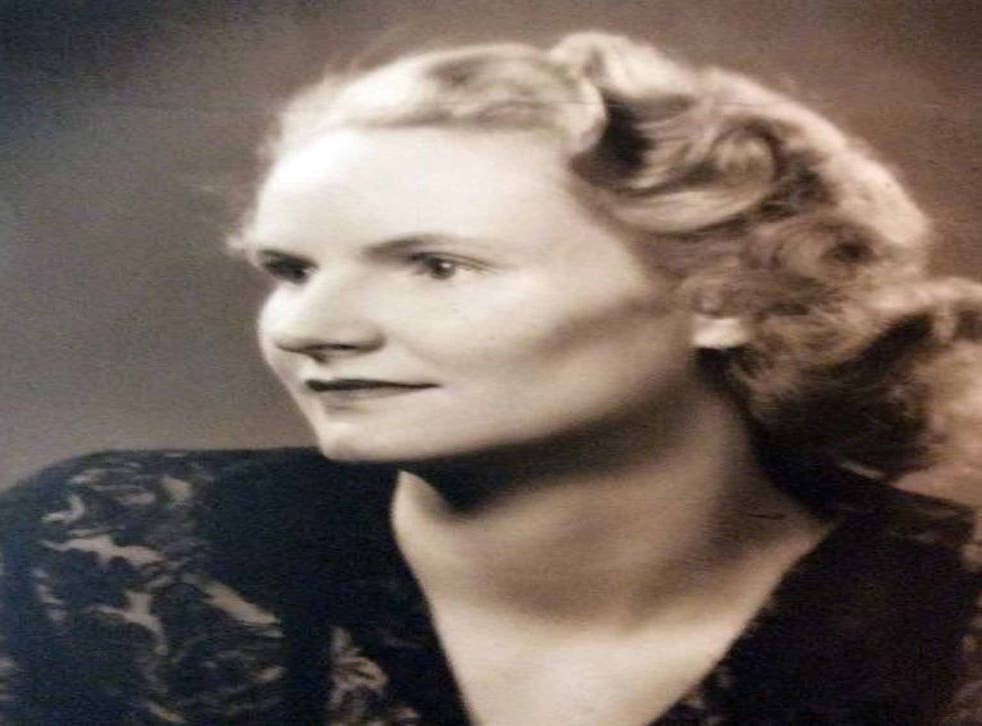 Sonya d'Artois was one of the youngest and latest of the women spies sent by Britain into France in the Second World War, and also one of the luckiest and most successful. The local Gestapo chief honoured her with a salute in August 1944 on the revelation, after the advancing Allies had taken him prisoner, that she was a British military officer.
His astonishment knew no bounds when the girl he had used to greet in a friendly manner each day, who had lodged 100 yards from his house, appeared at his cell door in her blue Women's Auxiliary Air Force uniform with cap, to identify him. This was the agent he had not merely failed to catch, but never even suspected. He could not help but admire her.
By co-ordinating ambushes and sabotage she had delayed the progress of the Germans' "Das Reich" 2nd SS Panzer Division as it clanked its way towards Normandy, its commanders bent on wreaking vengeance on the Allies' advance after D-Day on 6 June 1944. Her colleagues farther on were able to stop it by blowing up the final bridge, over the River Eure near Evreux, in the nick of time.
She acted not only as a courier, travelling miles by bicycle, for the British Special Operations Executive's "Headmaster" spy circuit based at Le Mans, and in the Sarthe region south of Normandy, but by her coolness, skill and energy also became the circuit's de facto second-in-command and weapons training officer, earning the respect of the tough communist maquisards who were its foot soldiers. All this she achieved aged only 19.
Like them she would sleep in barns and fields or hide in forests. She learned like them to be wary of betrayal, even by those she had recruited herself. Once, suspicious of an invitation she had been given to a supposed resistance meeting, she stayed away, and later learned it had been a trap, with several pro-Allied agents killed.
Her entry, by parachute jump at La Cropte at 10pm on Sunday 28 May 1944, had been inauspicious. Landing hard in a ditch, she injured her spine. She lost the clothes container dropped with her – to her dismay it was picked up by the Germans. All she had was what she wore – for parachuting, a divided skirt – and her wits. Her codename was Blanche, and her false papers declared her to be Suzanne Bonvie.
She realised that the Germans, alerted by the container to a new woman agent's presence, would expect her to remain inconspicuous – so to put them off the scent she did the opposite. The pretty dark-haired girl who laughed and joked with German soldiers and local black marketeers in the busiest restaurants in the summer of 1944 put on so convincing a show that she would, on France's liberation, narrowly escape being tied to a lamp post and having her head shaved as a collaborator.
The circuit chief, her immediate boss, was Sydney Hudson, an SOE man first sent to France in 1942, who had been captured, broken out of prison, and returned to his dangerous duties. On his orders she carried money and messages between the scattered Resistance groups – "I filled in wherever the need arose" she recalled – and it was on one of those errands, late in June near Bar-sur-Seine, that the authorities picked her up.
How close she came to the fate of her two friends and fellow agents, Lilian Rolfe and Violette Szabo, both dropped a few weeks before her, she would never know. Rolfe, a wireless operator with whom d'Artois had shared a room during training, was taken to the women's prison camp at Ravensbruck and hanged or shot; while Szabo, after a desperate gunfight in a field, met the same end.
Despite her smile and show of indignation, d'Artois was clapped in a solitary cell, and left with thoughts that made her heart sink deeper minute by minute. The longer they spent checking her false papers the less likely it was that they would let her go. It was four hours before they came back; to her surprise they released her.
The advancing Americans took Le Mans on 8 August. Amid the celebrations her fellow resisters explained to the mob that she was no traitor. Her British controller, Maurice Buckmaster, at SOE's headquarters in Baker Street, would have allowed her and Hudson home, but at this point the Americans saw her usefulness. Would she and Hudson pass behind the retreating enemy's lines and relay intelligence about enemy dispositions and stores to General Patton's army?
The new role meant cycling through battlefields, shells cratering the ground about her. Once her jacket, hung over the seat behind her as she and Hudson travelled by car, was peppered by bullets. On another occasion lurking Germans in a country lane knocked her off her bicycle, demanding her business at gunpoint. They beat her till her nose and mouth bled, then raped her. Left with her dress in rags, she found refuge in a farmhouse. The next day she delivered the information she was carrying and returned the way she had come.
Buckmaster came to Paris to meet her. She was thinner than when she had set out, having lost 40lb. Also at this reunion, in September 1944, was her husband, the man she had married in England a month before her departure and only a day before his.
"What little I was able to do was motivated by my love for France," she said, but no other passion would be allowed to her while on duty; Buckmaster posted the couple far apart. He was the Canadian SOE agent Guy d'Artois, and they had fallen in love while making their second training parachute jump. The spymasters feared vulnerability if a married couple should face interrogation. He was later decorated for assisting the maquis in Burgundy.
Sonya Butt was born in England, the daughter of an RAF and former Royal Flying Corps officer, but grew up in the south of France after the marriage broke down and her mother took her and her brother abroad. She returned to Britain and joined the Women's Auxiliary Air Force in 1941 aged 17. Having, as she put it, "got into hot water" doing tasks such as peeling potatoes, she transferred to SOE in 1943.
For her war work she was appointed MBE and mentioned in dispatches. She and Guy moved to Canada, where they were had three sons and three daughters.
Sonya Esmée Florence Butt, SOE agent: born Eastchurch, Isle of Sheppey, Kent 14 May 1924; MBE; married 1944 Guy d'Artois (died 1999; three daughters, three sons); died Montreal 21 December 2014.
Join our new commenting forum
Join thought-provoking conversations, follow other Independent readers and see their replies