The martyrdom of St Bono
A new biography denounces the U2 singer's anti-poverty campaigning, and his personal tax arrangements. But his starry chums – such as Bill Clinton – are fighting back
Adam Sherwin
Saturday 11 May 2013 20:50 Comments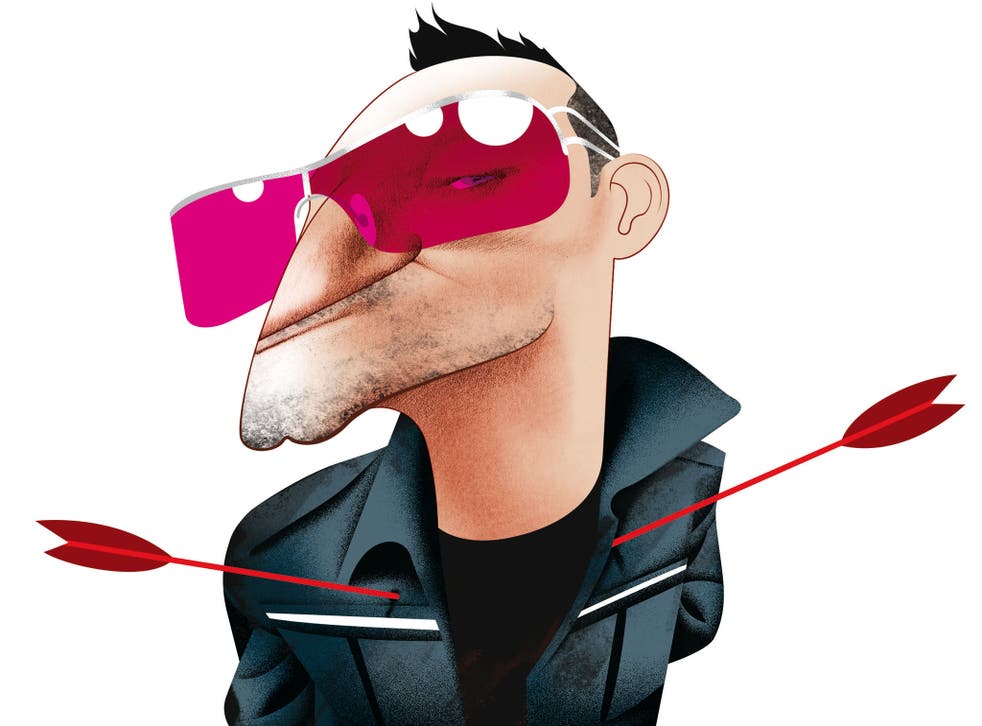 To some, Bono is the ultimate celebrity philanthropist, the leather-clad rocker who cajoles presidents into committing billions to help the world's poorest. But, according to a scathing new biography, the U2 singer is an "ambassador for imperial exploitation" and a hypocrite who has failed to come clean over his own "murky" tax affairs.
Written by Harry Browne, a Dublin-based writer, The Frontman: Bono (In the Name of Power) is a brutal dissection of the Irish rocker and the motivation behind his anti-poverty campaigning.
The book argues that Bono, 53, has become an "unwitting symbol of the complacent wealthy Western elite". It criticises the star's "paternalistic and often bullying advocacy of neo-liberal solutions in Africa; his multinational business interests; and his hobnobbing with Paul Wolfowitz [former World Bank president]".
Rather than sue, Bono has authorised his closest associates to challenge the accusations levelled in the book. And one of the liberal rocker's most famous admirers yesterday leapt to his defence. Ex-president Bill Clinton said: "Few people have done more to mobilise a global response to the fight against poverty and disease than Bono. He is one of the most effective, committed advocates I have ever met for debt relief and aid for the poorest nations, and for increased funding to fight Aids and other diseases whose victims are overwhelmingly young and poor. We are all in his debt."
This is a long way from the thesis of the book, in which Browne takes Bono to task over U2's tax arrangements. The band moved their business affairs from Ireland to the Netherlands in 2006 after tax breaks for artists were capped. "Bono lags behind many of his peers when it comes to parting with his own money," claims Browne, a former Irish Times columnist.
The book, published to coincide with the 2013 G8 summit in Northern Ireland next month, concludes that Bono "whitewashed the complexities of African development policies" at the 2005 Gleneagles summit and argues that the $1bn in debt cancellation agreed at the event failed to effect any real change in the continent.
Jamie Drummond, who in 2004 co-founded with Bono the advocacy organisation One to deliver debt cancellation and Aids medicines for Africa, said: "Bono's activism gets results. The G8 summit made huge progress on debt cancellation. There are 20 million more children going to school in sub-Saharan Africa. To say Bono doesn't challenge power and elites is wrong. He is helping us battle the American Petroleum Institute which is running a powerful lobbying campaign to avoid transparency over the revenues they pay African governments for oil, gas and mining rights."
On the tax controversy, Mr Drummond says Bono is actively campaigning for taxation transparency. "Bono pays all taxes that he is due all over the world, including those in Ireland. He is campaigning for transparency in offshore financial centres. Bono is spearheading an anti-corruption campaign."
Mr Drummond believes that the hostility the star's activism provokes is down to the decision the singer made to work with George W Bush. Mr Drummond said: "If you really want to effect change … you have to deal with power."
Browne maintains that "more than even his music, Bono's international work may be his most heinous crime". He goes on: "Celebrity philanthropy comes in many guises, but no single figure better encapsulates its delusions, pretensions and wrong-headedness than Bono – a fact neither sunglasses nor leather pants can hide."
Register for free to continue reading
Registration is a free and easy way to support our truly independent journalism
By registering, you will also enjoy limited access to Premium articles, exclusive newsletters, commenting, and virtual events with our leading journalists
Already have an account? sign in
Join our new commenting forum
Join thought-provoking conversations, follow other Independent readers and see their replies