Timothy Spall is the real thing as a fake: How character actor spent years learning to paint for his role as JMW Turner
But what about the artist who taught the screen star to reflect the painter of light. Ian Burrell meets his tutor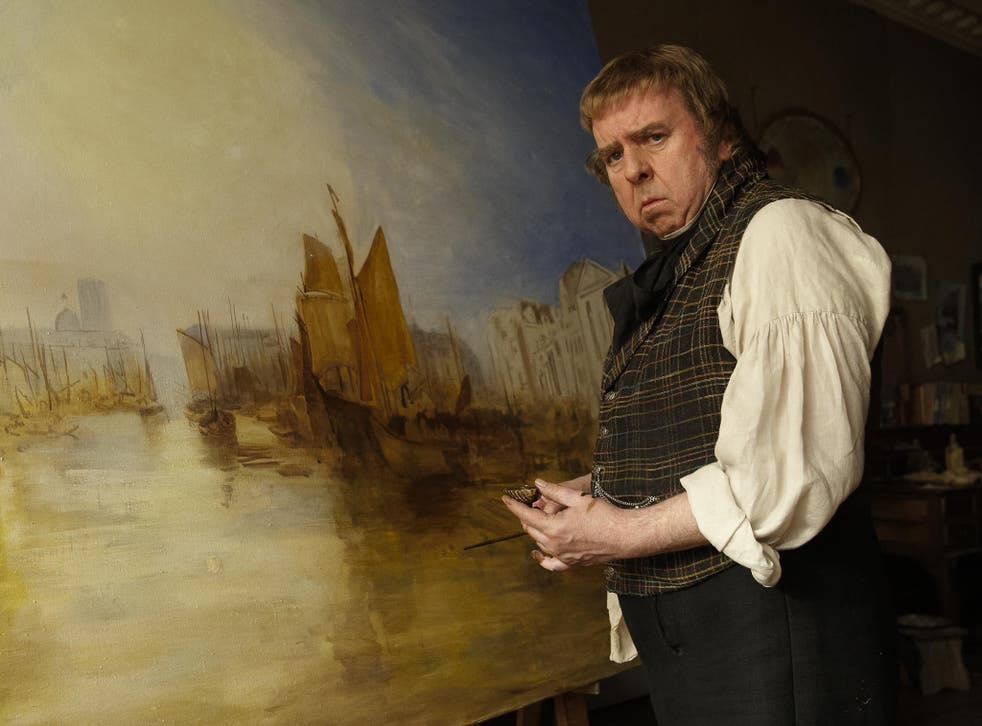 It would take a practised eye to detect the fake Turner set to go on display, much less to identify it as the brushwork of the great character actor Timothy Spall, who plays the artist in a new biopic.
Snow Storm – Steam-Boat off a Harbour's Mouth Making Signals in Shallow Water, and Going by the Lead was painted by JMW Turner in 1842, and Spall's precise copy was the culmination of his two-year schooling as an artist as preparation for his role in the Mike Leigh production.
The film and TV star's replication of Turner, carried out under the tutorship of London artist Tim Wright, will form part of an exhibition next year at Petworth House in Sussex, where Turner was often a guest and painted in the grounds. The exhibition will also feature some of Spall's London landscapes, life drawings and Dutch still-life pieces.
For Wright, who constructed a "course" for Spall to follow over two years, the exhibition will be a moment of pride. "It will show you someone who has really got to grips with painting and drawing in his own right," he said. "They are not pastiches of Turner: there are some paintings and drawings and watercolours that stand up on their own."
Their unlikely relationship began when Leigh, who knew Wright as a fine-art teacher for theatre designers in London's Drury Lane, arrived on the doorstep of the artist's studio with Spall in tow and an explanation of a "mystery project" he had previously mentioned. "Mike said: 'We're going to do Turner!' I had never done anything like it before."
Spall's art lessons began with the "basics", as he attended Wright's studios in Clerkenwell, London, for two days a week. "I quickly realised he was the sort of person who was going to be responsive and intrigued by the subject. He had an interest in art as well – no real training but he was certainly interested in Turner, obsessed by Turner," said Wright.
"There are things that are very difficult but he was very tenacious. He never cut corners and was very diligent – it was quite impressive to see."
They worked up to drawing "from the cast", imitating how Turner himself would have copied classical sculptures while studying at the Royal Academy.
Visitors to the 12th-century St Bartholomew the Great church in Smithfield might have seen Spall spending many hours drawing and trying to capture Turner's experience of working from a sketch pad. He spent time in London's Barbican district drawing Roman ruins or other pieces of historic architecture.
The pair also visited the Tate Gallery to study Turner's archive. Wright said it was important that Spall appeared "at ease" and not "self-conscious" during the film's painting scenes. "There's quite a lot in the film where it is obviously him and he is obviously painting – there are no cutaways and you see him confronting the canvas with his brush and palate. It was important for him to look natural and not like he was thinking about what he was doing."
Snow Storm was the final project before the shooting of the film, which has its premiere at the BFI London Film Festival next Friday and opens on 31 October. The painting supposedly shows a boat called Ariel struggling in a violent storm at Harwich. Turner, by some accounts, was present at the scene.
"We tried to follow Turner's technique all the way through the process of the painting," said Wright. "That's quite a successful piece."
At the end of filming, Wright persuaded Spall to sit for some portraits which will feature in his own exhibition, staged at Shine Artists Gallery in Mayfair, London, until 25 October. Martin Savage, the actor who plays the artist Benjamin Haydon in Mr Turner, is another subject in Wright's exhibition, as is actress Karina Fernandez, who features in a film scene at Petworth House.
The Sussex pile was home to Lord Egremont, Turner's eccentric patron and a father of 40 children. Petworth still has an extensive collection of Turners.
Join our new commenting forum
Join thought-provoking conversations, follow other Independent readers and see their replies