Trending: Are honorary degrees worth the paper they're written on?
Honorary degrees are dismissed as university publicity stunts. But so what, says John Walsh, why not honour Boyle, Garvey and co?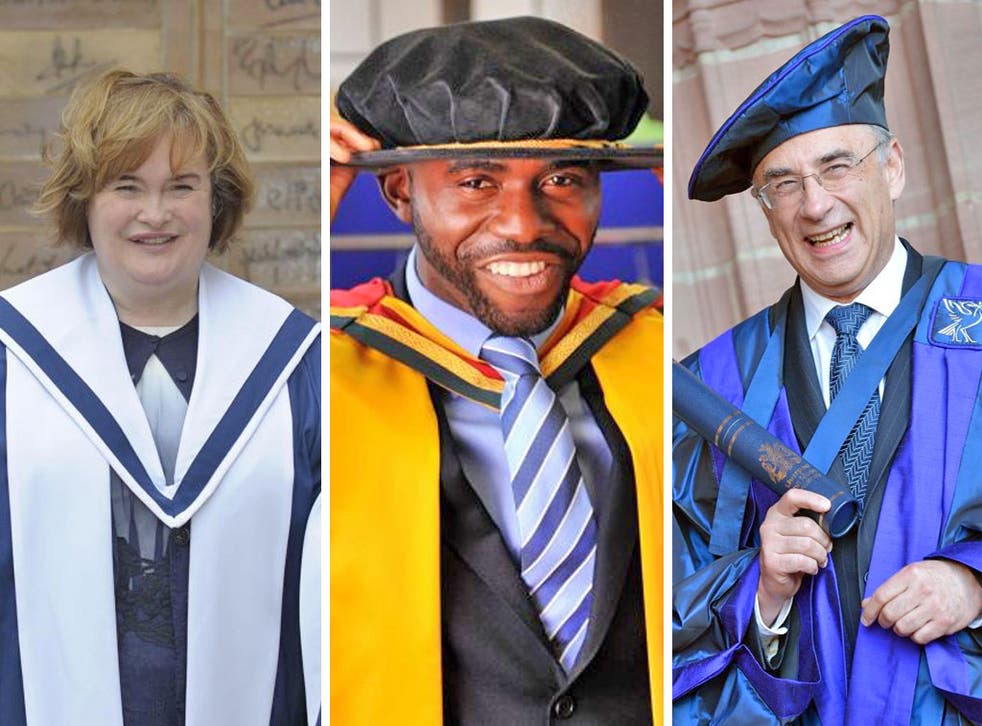 Fans of Susan Boyle, star of Britain's Got Talent 2009, will have to get used to calling her "Dr Boyle". Should Dr Boyle meet the band Elbow at a musical gathering, she'll have to call the singer "Dr Guy Garvey". And if the former guitarist of The Smiths is present, "Dr Johnny Marr" is the correct form when both address him. Elsewhere, Mike Leigh, the veteran movie director has become "Dr Leigh", the designer of Kate Middleton's wedding dress is now "Dr Sarah Burton" and Strictly Come Dancing hoofer Gethin Jones has instructed his parents to call him "Dr Jones" henceforth.
Why? The sextet are all recipients of honorary degrees, dished out yearly by universities to people who've excelled in their field, brought distinction to the university town, inspired students, contributed to a worthy cause (the university library, say,) appeared on the telly, become a "national treasure" or... or any other reason.
Do they all deserve this fast-track to academic distinction, bypassing study and exams? Nobody would begrudge Aung San Suu Kyi her honorary doctorate in civil law from Oxford University – she took a BA in politics, philosophy and economics in 1967 and was originally awarded the doctorate in 1993 in recognition of her struggle to bring democracy to Burma. Nobody could object to Professor Peter Higgs being slung an honorary by Cambridge in that same month that his hunt for the Higgs-Boson particle bore fruit. But eyebrows have been raised when doctorates were conferred on less, shall we say, weighty figures.
In 1996, Long Island University was criticised for giving an Honorary Doctorate of Amphibious Letters to Kermit the Frog, due to his song "It's Not That Easy Bein' Green" becoming the rallying cry of environmentalists. Many objected when Kim Cattrall, who played a nymphomaniac in Sex and the City, received an honorary doctorate (for services to Getting Her Kit Off?) at John Moores University, Liverpool, where she grew up. And when Fabrice Muamba received his honorary doctorate from the University of Bolton last Friday, was it simply for services to Being Alive?
Physicist Richard Feynman objected to honorary doctors, on the grounds that, well: "Would you get your house rewired by an honorary electrician?" But most recipients don't give themselves airs as academic geniuses, let alone doctors. Most are given the degree honoris causa, "for the sake of the honour", in recognition that they've done something worthy of note in the arts or sciences. Johnny Marr deserved his doctorate from Salford University, not just because he's been teaching music there for five years as a visiting professor, but because he's uniquely placed to teach rock guitar. Susan Boyle was given her degree by Queen Margaret University, Edinburgh, where she once studied. Her doctorate is ostensibly for her "contribution to the creative industries" – but the university is clearly congratulating their frumpy alumnus for nurturing a long-hidden talent and running with it.
The universities and their distinguished "doctors" should be left in peace to enjoy their mutual honorification.
Register for free to continue reading
Registration is a free and easy way to support our truly independent journalism
By registering, you will also enjoy limited access to Premium articles, exclusive newsletters, commenting, and virtual events with our leading journalists
Already have an account? sign in
Register for free to continue reading
Registration is a free and easy way to support our truly independent journalism
By registering, you will also enjoy limited access to Premium articles, exclusive newsletters, commenting, and virtual events with our leading journalists
Already have an account? sign in
Join our new commenting forum
Join thought-provoking conversations, follow other Independent readers and see their replies