The Twitter 100: Britain's titans of the Twittersphere
The past 12 months have seen Twitter cement its place in global society. Ian Burrell introduces our guide to the UK's most influential tweeters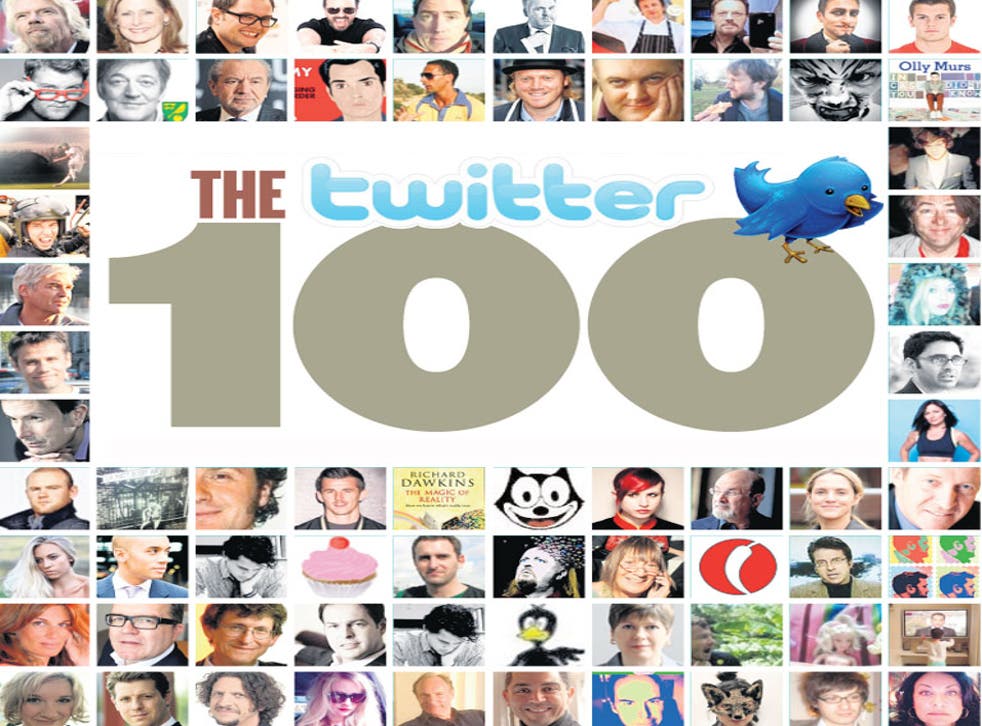 Twitter is one serious six-year-old. In the past 12 months, it has played a pivotal role in the Arab Spring uprisings, while making a mockery of the British libel laws by outing Ryan Giggs in the super injunction affair.
--
The Twitter 100: The full at-a-glance list
--
In recent days the social site has been deemed more addictive than cigarettes and alcohol and been at the centre of a blasphemy case, with a Saudi journalist facing death threats after tweeting about the Prophet Mohammed. One footballer, Ravel Morrison, has been charged by the Football Association for homophobic tweeting, while another, England player Micah Richards, has quit his Twitter account over the racist abuse he has received.
In 2011, Twitter, which was only founded in March 2006, passed 100 million active users. (The number of registered accounts – including inactive ones – has now passed 500 million.) After taking more than three years to generate its first one billion tweets, it now produces that amount every four days. It has been valued at $10 billion and has spawned its own lexicon with terms such at Twitterati and Twitter storm.
There were many who hoped it was a fad that would go the way of MySpace. David Cameron, before becoming Prime Minister, harrumphed in 2009 that "too many twits (sic) might make you a twat". He wouldn't dare take such a position now that the little blue bird has become so central to global and national discourse.
When David Hockney opened his exhibition at the Royal Academy of Arts in January he followed the reaction on Twitter. Rihanna used it to encourage fans to choose the next single from her album, Loud, last year. And Cheryl Cole reluctantly joined up in July to speak out over her axing from the American edition of X Factor.
Huge individual followings have been amassed, dwarfing those of even a year ago. Lady Gaga became the first person to reach 10 million followers last May (she's now at more than 19 million). As the phone-hacking scandal has unfolded, influential parliamentarians such as Tom Watson MP (69,000 followers) and Lord Prescott (117,000) have relished their ability, thanks to Twitter, to communicate instantly with a mass audience. Other MPs, such as Diane Abbott, who tweeted herself into a race row in January, have learnt to be more careful in their use of the medium.
Many of the wittiest, most informative and astute users of Twitter are not famous at all but have developed a gift for insightful commentary in the format of 140 characters or less. And that is part of the beauty of the Twitter 100, the annual list launched last year in The Independent's sister paper, "i", and published today in both papers. It measures quality as well as quantity.
"The value of this list is to identify the sort of people who are making a difference by being quirky, funny or interesting," said Azeem Azhar, chief executive of PeerIndex, whose calculations (see below) form the basis of our rankings. "There are hundreds of millions of people on Twitter, and helping people navigate all of that is really useful. It's great to discover people who are not celebrities but who have demonstrated their expertise."
How the twitter 100 was calculated
The Twitter 100 has been compiled with the help of the social media monitoring group, PeerIndex, with additional input from a panel of experts (see below).
PeerIndex measures interactions across the web to help users understand their impact in social media (see www.peerindex.com).
The PeerIndex ratings attached to each entry are calculated by measuring people's Twitter presence in terms of impact, eminency or leadership, on a scale of 1 to 100. A rank of 100 is the maximum possible; a score of 90 or more puts you in the top 0.01 per cent of the population; the average score is just 19.
The key to these measurements is that they try to measure how other people respond to tweeters. Your rating is a function of other people's assessments, and not your own. So the rankings reflect the influence of people's tweets rather than the size of fan-bases that were gained in contexts other than Twitter.
Broadly speaking, we have measured the nation's tweeters in three major areas:
l Authority: How well does a person resonate with their audience, and with the world at large? How likely are they to say or share things other people will find interesting? PeerIndex calculates authority using an algorithm called "eigenvector centrality". This calculates the extent to which other people "vote" for you by retweeting or commenting on your tweets.
l Audience: How many followers does a person have? But, also, how engaged is the audience? Does the tweeter engage in conversations? Do those followers answer back?
l Activity: How active is a person in driving their authority and audience?
Different people on the list earn their spurs in different ways. Some celebrities have many followers but appear to make little impression on them. The PeerIndex ratings allow us to compare unlike with unlike in a reasonably objective way.
However, the Twitter 100 is based on more than mere number-crunching: otherwise it would be dominated even more than it is by celebrities and footballers whose followings owe more to their proficiency in their fields than to anything they actually do on Twitter. Accordingly, we have factored in the advice of a five-person expert panel (comprising Azeem Azhar, founder of PeerIndex; Elizabeth Varley, CEO of TechHub; Ian Burrell, media editor of The Independent; Rhodri Marsden, Independent technology columnist; and Jack Riley, head of digital audience and content development for The Independent, i, and the Evening Standard).
The panellists analysed the initial results of PeerIndex's calculations, made recommendations and disqualifications, argued, and lobbied for extra weighting for certain key tweeters whose significance to the medium is, in their expert judgement, greater than the numbers imply.
Their most important intervention was to disqualify various Twitter-users with large notional followings on the grounds either that they had not been active enough in the medium in recent months, or that their tweets were not really created by the individual associated with the account (sorry, TheBritishMonarch), or that their Twitter activity had more to do with corporate PR than with genuine interaction between a person and their followers.
The panel's interventions were rarely agreed without vigorous argument and were, as a result, kept to a minimum. But they give our final list the crucial virtue of having been assembled through the prism of human intelligence, despite being founded on objective data.
You may disagree with the results, but we hope you enjoy them.
--
The Twitter 100: The full at-a-glance list
--
--
The Twitter 100: Top 10 business
The Twitter 100: Top 10 sports
The Twitter 100: Top 10 fashion
The Twitter 100: Top 10 science
The Twitter 100: Top 10 politics
Join our new commenting forum
Join thought-provoking conversations, follow other Independent readers and see their replies