The Independent's journalism is supported by our readers. When you purchase through links on our site, we may earn commission.
Vladimir Putin reimagined as Hercules in Moscow exhibition by fan group
One-day exhibition 'The 12 Labours of Putin' was timed to honour the Russian President's 62nd birthday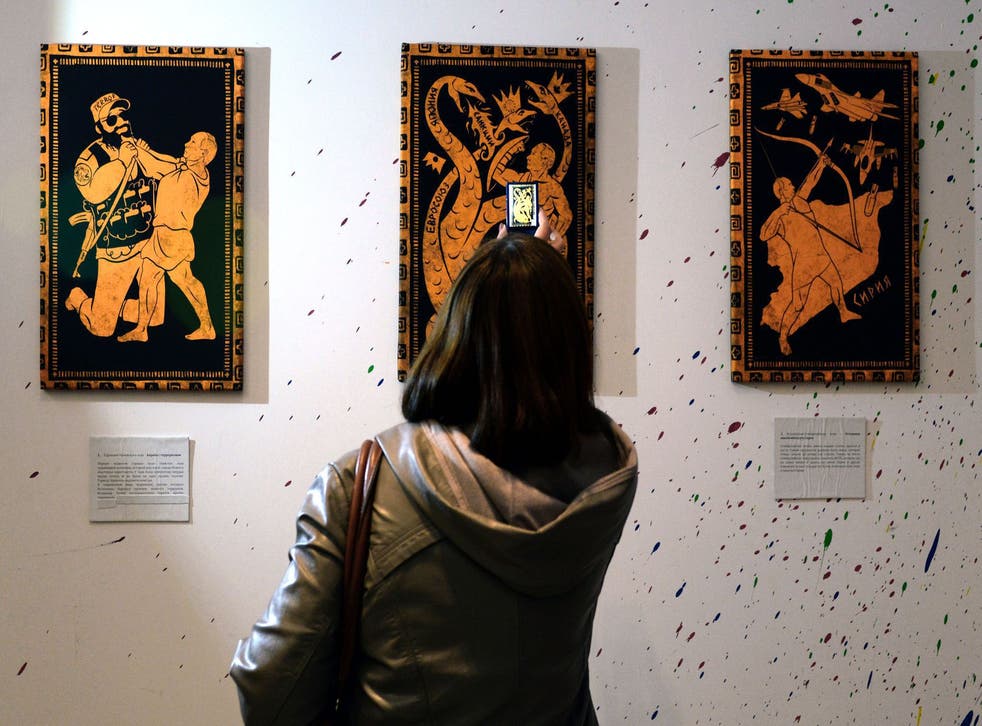 Vladimir Putin has been known to strike rather Herculean poses, so it's no wonder that some of his most fervent admirers have taken the comparison further.
To mark the Russian President's 62nd birthday (which is today), a one-off exhibition showcasing Mr Putin as Hercules was a popular attraction at a gallery in Moscow.
It opened yesterday – for the day only – and substituted the Greek hero in the '12 Labours of Hercules' for Mr Putin, and his labours with those of the modern day - such as terrorism and trade sanctions.
He is, for example, seen holding the weight of the earth on his shoulders for Atlas, but the earth's countries are coloured with those of the Russian and Ukrainian flags.
In pictures: The '12 Labours of Putin' exhibition

Show all 5
Though the artists are unknown, the exhibition was organised by Mikhail Antonov, a political science graduate.
He told The Guardian: "We're forming a different image of Putin because the western media constantly criticises him, and our media occasionally attacks him as well.
"But here we see him completing these heroic deeds. We see that the interpretation of these events is not so categorical."
Mr Antonov heads up a Facebook Putin fan page, which has over 270,000 members.
The other pictures included Putin grappling with swamp monster, the Hydra of Lerna, which has multiple heads – one of which, in this exhibition at least, is adorned with an American-flagged crown.
Join our new commenting forum
Join thought-provoking conversations, follow other Independent readers and see their replies