Wes Craven: Director and writer whose films 'A Nightmare on Elm Street' and 'Scream' changed the face of Hollywood horror
Nightmare spawned eight big-screen sequels as well as a television series, novels, and comic books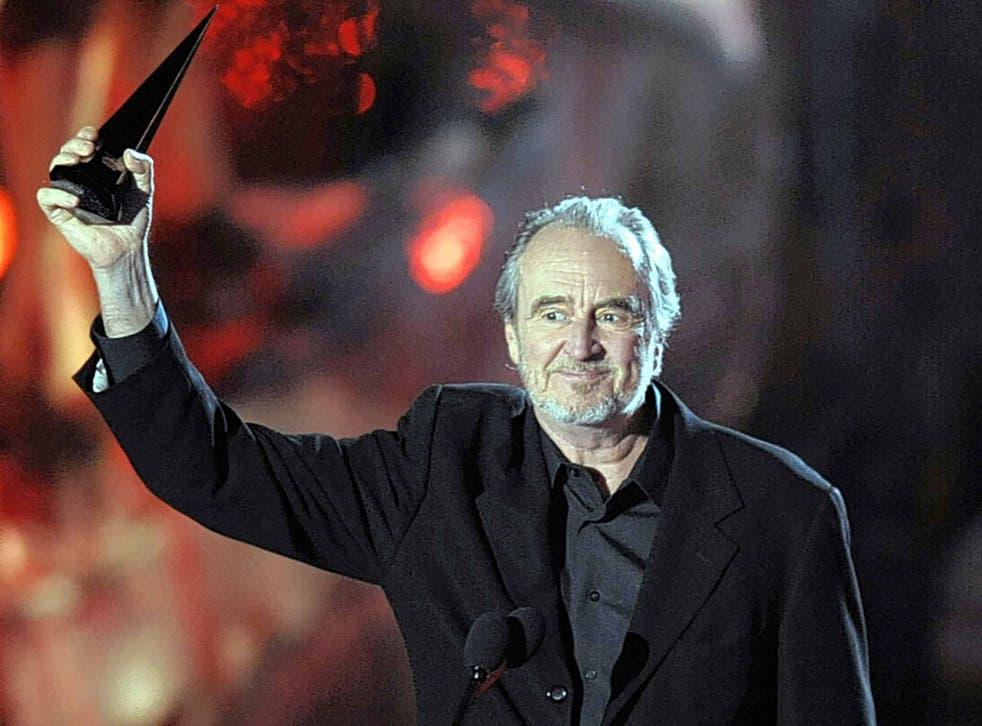 With A Nightmare on Elm Street and Scream, Wes Craven changed the face of horror in Hollywood. Watching one of his films, he once said, is "like a boot camp for the psyche. In real life, human beings are packaged in the flimsiest of packages, threatened by real and sometimes horrifying dangers, events like Columbine. But the narrative form puts these fears into a manageable series of events. It gives us a way of thinking rationally about our fears."
Craven was born in Cleveland, Ohio in 1939. He studied English and psychology at Wheaton College, Illinois, then took a Masters in philosophy and writing at Johns Hopkins University, graduating in 1964. He had a strict Baptist upbringing, but university changed his outlook, he said, giving him a "transition from Christianity into a larger humanistic philosophy... I replaced those very rigid views for a broader view of consciousness and the holiness of life itself."
After graduating he spent time teaching at Westminster College, Pennsylvania and then Clarkson College in Potsdam, New York, where he fell in love with cinema. "There was an art house in the town that showed foreign films," he recalled, "so the first grown-up, artistic films I really saw were the films of the New Wave – Buñuel, Fellini, Truffaut, all of those wonderfully inventive directors." He bought a simple 16mm camera and began to experiment.
He made his break into cinema in 1972 with The Last House on the Left, which famously bore the tagline "To avoid fainting, keep repeating 'It's only a movie'". The story of two teenage girls abducted, tortured and murdered by a group of psychopaths – and based on the Ingmar Bergman film The Virgin Spring – its graphic violence led to it being banned or censored in many countries. The British Board of Film Classification did not approve it until 2002, eventually giving it an "18" certificate for its DVD release, after insisting on cuts.
Craven followed it with The Hills have Eyes (1977), in which an American suburban family on a road trip is attacked in the desert by savages, a modern retelling of the story of Sawney Bean, a 16th century Scottish cannibal, possibly historical, probably mythical. A cult classic, the film was remade in 2006 by Alexandre Aja, with Craven producing.
The inspiration for Craven's magnum opus, A Nightmare on Elm Street (1984), which he wrote and directed, came out of his experience of living opposite a cemetery in Elm Street, Cleveland, his childhood home. It centres on a group of teenagers who are stalked and killed, both in their dreams and in real life. "Horror films in general are about the terror of entering adulthood", he said, "because adulthood is actually evil." Lines like "I'm your boyfriend now, Nancy" from the knife-clawed serial killer, Freddy Krueger, have entered Hollywood legend.
"There is something about the American dream, the sort of Disneyesque dream, if you will, of the beautifully trimmed front lawn, the white picket fence, mom and dad and their happy children, God-fearing and doing good whenever they can," Craven once said. "And the flip side of it, the kind of anger and the sense of outrage that comes from discovering that that's not the truth of the matter, that gives American horror films, in some ways, kind of an additional rage."
The first film of the franchise paid back its $1.8m budget in its first week and went on to make $25m for New Line Cinema, who had courageously picked it up after it had been rejected by Paramount, Disney and Universal.
A Nightmare on Elm Street also launched the career of a young Johnny Depp, who very nearly didn't get the role of Glen Lantz, as Craven recalled. "We were looking for someone in the role as Nancy's boyfriend… the boy next door… and in comes Johnny Depp with a friend – the long hair, his fingers were yellow, and I thought, 'This isn't the boy next door and he can't act and he's so nervous. Sweet, but…'" Craven was on the point of turning him down until his 13-year-old daughter saw Depp's photograph and exclaimed, "He's beautiful!" Craven relented and Depp got his role.
Nightmare spawned eight big-screen sequels as well as a television series, novels, and comic books. Craven's next big hit was Scream (1996), written by Kevin Williamson, a comedy horror whose success comes from satirising Craven's own "slasher" genre, and in so doing created a new spoof-horror genre of its own. The film and its three sequels revitalised the flagging industry and have brought in more than $600 million at the box office.
Joe Dante, who directed Gremlins, described Craven as the "last guy you'd look at and think 'he makes horror films'. Like all of us he yearned to break out of his mould. Luckily, because of the success of the Scream films, he was able to direct Meryl Streep in a film called Music of the Heart (1999) which won her an Academy Award nomination."
By then Craven was so renowned for horror that he had to downplay his involvement, remarking, "The more famous you are for making kinds of outrageous scary films, the crossover audience will say, 'I don't think so.'"
Craven, who died of a brain tumour, remarked recently, "I think it is an extraordinary opportunity and gift to be able to make films in general, and to have done it for almost 40 years now is remarkable... I can see that I give my audience something. I can see it in their eyes, and they say thank you a lot."
Wesley Earl Craven, film director and writer: born Cleveland, Ohio 2 August 1939; married 1964 Bonnie Broecker (divorced 1969; one daughter, one son;), 1982 Mimi Meyer (divorced 1987), 2004 Iya Labunka; died Los Angeles 30 August 2015.
Join our new commenting forum
Join thought-provoking conversations, follow other Independent readers and see their replies