Wynn Chamberlain: Painter, film director and novelist who was at the heart of New York's artistic scene of the 1950s and 60s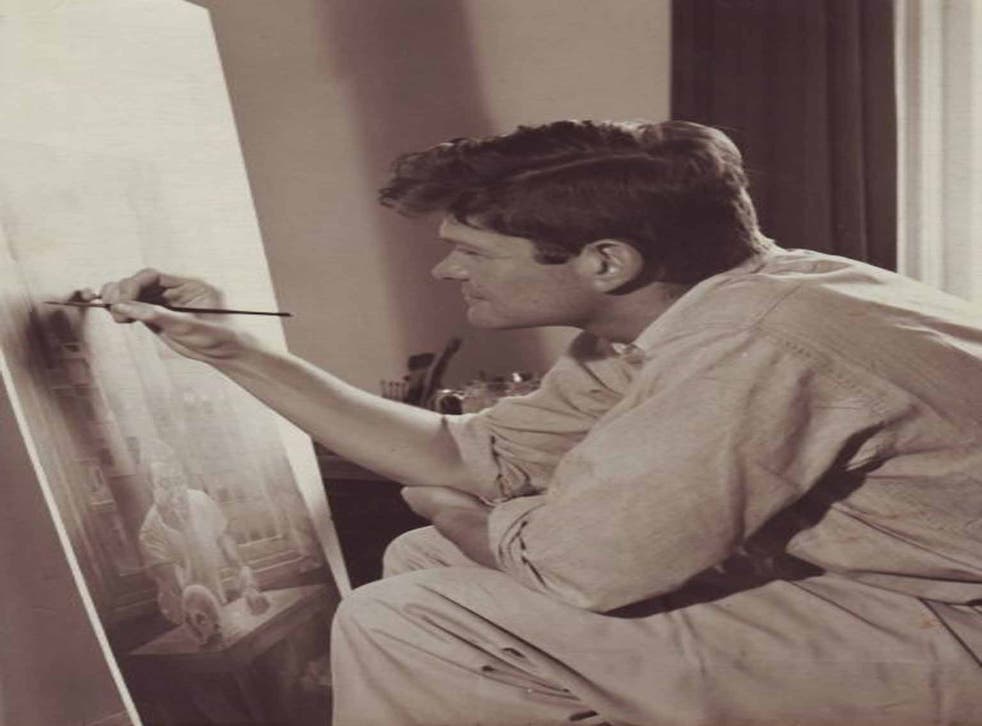 Wynn Chamberlain was a widely collected modernist artist, experimental theatre producer, film director and novelist, who thrived at the heart of Manhattan's dynamic cultural scene in the 1960s then gave it all up to move with his young family to India and immerse himself in Hindu spirituality.
Born in Minneapolis in 1927, he served with the US Navy during the Second World War, then went to college under the GI bill, emerging with Masters degrees in philosophy and art. A fluent and gifted painter, he developed a distinctively individual style under the tutelage of the "Magic Realist" John Wilde.
Recognised as a master draughtsman in his twenties, he began teaching drawing at Yale in 1952. He had his first solo show in New York in 1957 and soon became known as one of the city's most promising young artists. He created a sensation in 1965 by painting nudes of cultural icons. Perhaps the most famous was a double portrait of four of the city's poets, first clothed, then undressed.
By 1967 his landscapes, interiors and allegorical paintings were being shown across the US and Europe. His work is still in the permanent collection of the Whitney Museum and is regularly shown in museums such as the Smithsonian Museum of American Art and the National Portrait Gallery in Washington.
Handsome and charismatic and as gregarious as he was creatively adventurous, Chamberlain was at the heart of the maelstrom of New York at its moment of maximum creativity, and his friendships were a roll call of the city's most exciting artists, writers, actors and political activists. Willem de Kooning and William Burroughs, the elfin acting genius Taylor Mead, firebrands Abby Hoffman and Jerry Rubin and the poets Frank O'Hara, John Giorno and Allen Ginsberg were among those to whom he became close. Introduced to the Harlem Renaissance by the legendary photographer Carl Van Vectan, he was an intimate friend of Billy Holiday in the 1940s and a regular of the New York jazz scene in the 1950s and early '60s.
Chamberlain bridged the artistic and social worlds when he married Sally Stokes, the elegant, willowy daughter of one New York's founding families. They met when he painted her portrait and became close friends. Then in 1964, when Sally was working for Christie's auction house, Chamberlain called her out of the blue on her birthday and took her to a Bo Diddley gig. The friendship turned overnight into a love affair and they married in 1965.
One of Chamberlain's closest friends in the '50s was Andy Warhol, at the time a commercial artist. They shared creative ideas and developed projects together before Warhol established the Factory. In 1963 Chamberlain drove Warhol and his Elvis paintings to Los Angeles, where they were exhibited; not one sold. In the same year Chamberlain put a movie camera into his friend's hands, the first time Warhol had used one – a 16mm Bolex belonging to Sally's father. The Chamberlains were at the Factory in 1968 when Sally's waters broke, signalling the arrival of their twins, Sam and Sara.
In 1967 Chamberlain stopped painting and ventured into avant garde theatre, producing an anarchic piece written by Charles Ludlam called Conquest of the Universe, starring Taylor Mead, of which the critic for The Village Voice said, "This production is an explosion of talent that leaves the mind in tatters." He also worked with Julian Beck and Judith Malina of the Living Theatre, and staged regular "be-ins" in Central Park attended by bohemian socialites like Yves Saint Laurent's muse Maxime de la Falaise, the curator of the Metropolitan Museum John McKendry, the painter Larry Rivers and Earl McGrath, later head of Rolling Stones Records.
But the hassle, cost and ephemerality of theatre were not to Chamberlain's taste. He decided to make films, and a long weekend in upstate New York, snowed in and glued to the television, resulted in the critically acclaimed film Brand-X, a relentless and scabrous parody of commercial television. Once again starring Taylor Mead and actor Sally Kirkland, with appearances by Warhol stars Ultra Violet and the transgenic Candy Darling, it also features a tantalising cameo by Jimi Hendrix.
The film opened to full houses and rave reviews in New York, Hollywood and Washington but then disappeared without trace. Chamberlain believes it was killed on President Nixon's orders, perhaps enraged by Taylor Mead's irreverent skit as a platitudinous US President with a dipsomaniac wife.
The film re-emerged from the vaults two years ago. Stuart Comer, then curator of film at the Tate Modern, where it received its first British screening last year, commented, "It's a really incredible document, a testimony to the way in which at the end of the 1960s the notion of the American underground was beginning to interface with mainstream culture. In the past decade, cinema, television and the internet have come together to create new hybrid entities. Forty years ago Wynn Chamberlain got that right off the bat – but his film also has a strong political edge."
The killing of the film and a sense that America's good times were over persuaded the Chamberlains to take the advice of Allen Ginsberg and Robert Fraser, the English gallery owner, to move to India in 1970 with their young twins. During their five-year stay Chamberlain became deeply involved in Hindu tantric practices which became the source material for Gates of Fire, the most successful of three novels he subsequently wrote. Gates of Fire is the tale of three American LSD dealers who try, as Kipling put it, to "hustle the East" and meet with transformative fates. A bestseller, Gates of Fire was translated into multiple languages and took Chamberlain out of the jungle and on to international book tours, once again the centre of media attention.
After years in California and Marrakesh, the Chamberlains had recently moved back to India, where their daughter, Sara, works for BBC Media Action. Wynn was excited by the resuscitation of Brand-X and although stricken with numerous ailments was a passionate conversationalist, an inspired cook and a convinced believer in Tantric Hinduism until his sudden death. His cremation took place according to Hindu rites at Rishikesh on the banks of the Ganges.
Elwyn Moody Chamberlain, artist, film-maker and author: born Minneapolis 19 May 1927; married Sally Stokes (one daughter, one son); died New Delhi 27 November 2014.
Register for free to continue reading
Registration is a free and easy way to support our truly independent journalism
By registering, you will also enjoy limited access to Premium articles, exclusive newsletters, commenting, and virtual events with our leading journalists
Already have an account? sign in
Register for free to continue reading
Registration is a free and easy way to support our truly independent journalism
By registering, you will also enjoy limited access to Premium articles, exclusive newsletters, commenting, and virtual events with our leading journalists
Already have an account? sign in
Join our new commenting forum
Join thought-provoking conversations, follow other Independent readers and see their replies