Nigel Farage bonds with Joey Essex over their secret love of fish
The unlikely pair boarded a boat in the key Ukip target town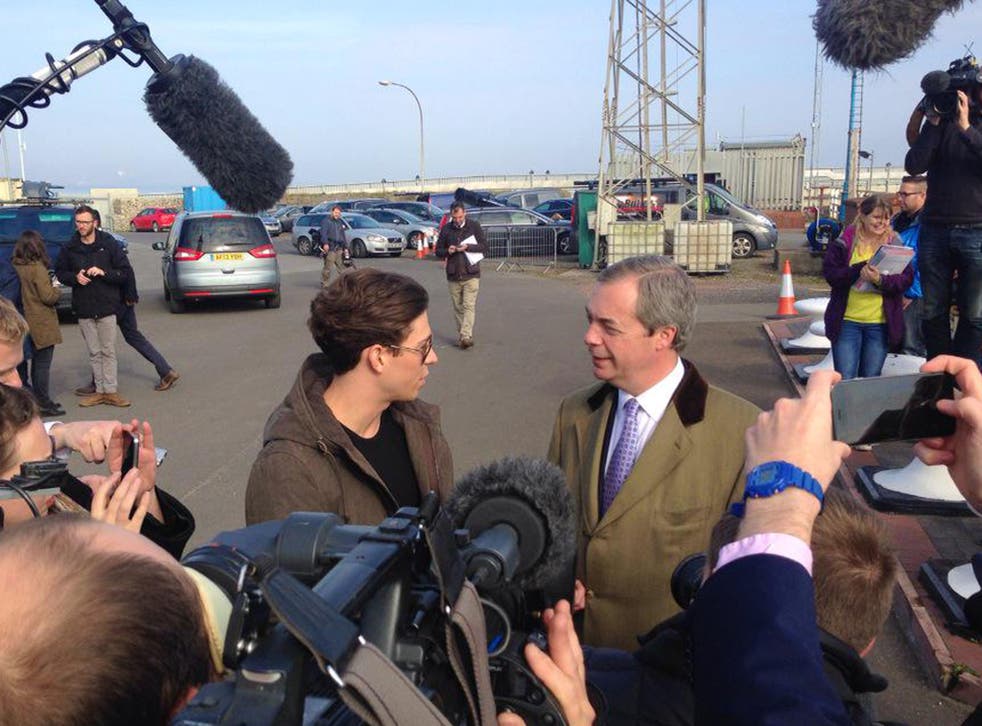 The only thing Joey Essex knew about Nigel Farage before he boarded a boat with him and set sail into the Grimsby sunshine was that he was a "really, really reem guy".
The only thing Nigel Farage knew about Joey Essex was… Precisely nothing.
"I haven't a clue," the Ukip leader told reporters when asked if he knew who The Only Way Is Essex star actually was.
Their meeting got off to a stilted start.
"What's a vagazzle?"
"I have no idea," Farage replied.
Asked if getting a Joey Essex tan would make up part of his pre-election grooming regime, Farage said, "it's one of the things I haven't got round to yet", before adding: "A couple of hours out here and I won't need one."
And no, he'd never seen the show. He doesn't tend to watch TV.
But it turns out the pair have something slippery in common – a secret love of fish.
Before Essex became the rent-a-dumb docu-soap character who wore a watch on his ankle, he worked at Billingsgate fish market.
Farage, on the other hand, is a keen fisherman who unwinds with solitary angling trips to the Kent coast. When he's not making inflammatory statements about immigrants with HIV clogging up the NHS, he even finds time to write a column for a fishing magazine.
"One thing I can fit in to my working life is shore fishing because I can do it at night," Farage said.
"I might have had a busy day in London, but I might nip down to the coast and have three or four hours through to the early hours of the morning fishing."
Farage is one of four party leaders to be interviewed for the first episode of ITV2 mini-series Educating Joey Essex.
The first saw Essex grill Liberal Democrat leader Nick Clegg, a man he labelled "sick".
Ukip's confusing policies

Show all 7
Farage's chosen location for the interview, Grimsby, has a political motivation. Great Grimsby is a key target for Ukip. Tory defector Victoria Ayling stands a good chance of winning the party's first northern seat if she defeats Labour MP Austin Mitchell, who is standing down with a vote majority of just 714.
The Independent has got together with May2015.com to produce a poll of polls that produces the most up-to-date data in as close to real time as is possible.
Click the buttons below to explore how the main parties' fortunes have changed:
All data, polls and graphics are courtesy of May2015.com. Click through for daily analysis, in-depth features and all the data you need. (All historical data used is provided by UK Polling Report)
Register for free to continue reading
Registration is a free and easy way to support our truly independent journalism
By registering, you will also enjoy limited access to Premium articles, exclusive newsletters, commenting, and virtual events with our leading journalists
Already have an account? sign in
Register for free to continue reading
Registration is a free and easy way to support our truly independent journalism
By registering, you will also enjoy limited access to Premium articles, exclusive newsletters, commenting, and virtual events with our leading journalists
Already have an account? sign in
Join our new commenting forum
Join thought-provoking conversations, follow other Independent readers and see their replies