Nigel Farage condemns former Ukip deputy Monckton's comments that gay men have '20,000 sexual partners' in their 'miserable lives'
Farage is the same man who defended rampantly homophobic Newark candidate Roger Helmer earlier this year, who likened gay marriage to incest
Jenn Selby
Friday 28 November 2014 13:05 Comments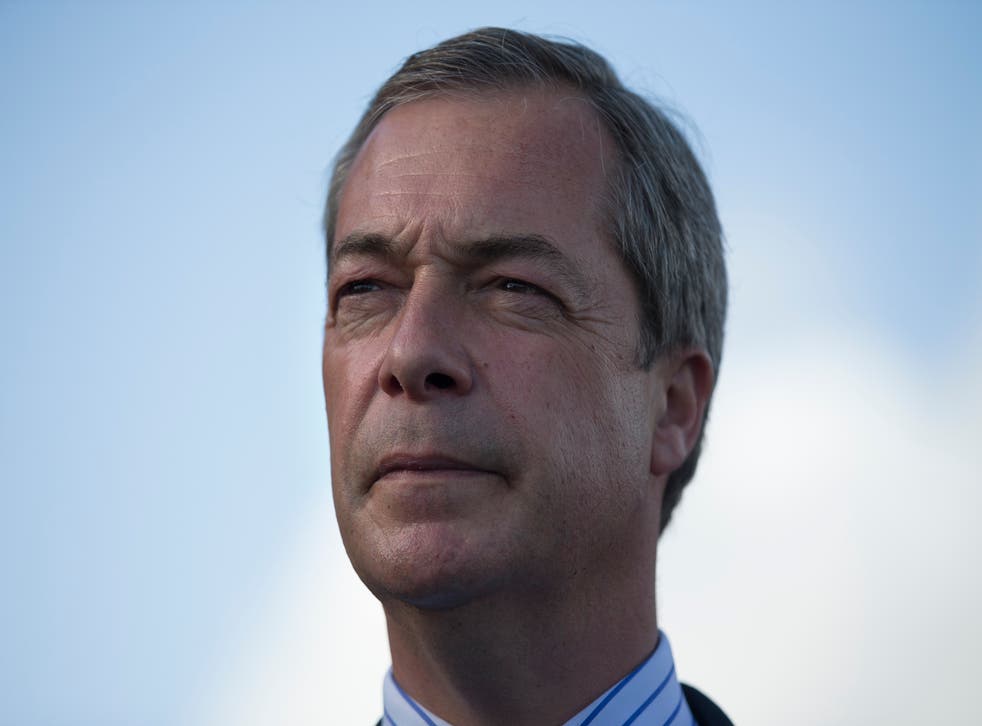 Nigel Farage has come to the aid of Ukip's ever-dwindling reputation for tolerance by condemning homophobic comments made by the party's former deputy leader this week.
Lord Christopher Monckton, who is also a former Conservative advisor, claimed that AIDS was the "wages" of gay promiscuity and dismissively referred to LGBT people as "QWERTYs".
Writing for WorldNetDaily, he asserted that some gay men "had as many as 20,000" in their "short, miserable lives" and declared HIV a "gay disease".
In a column for The Independent, Farage said there was "no place for men like Monckton", the Glaswegian politician lwho eft the party in December 2013, in Ukip.
"Now, I'm not sure where Viscount Monckton is getting his statistics, but to frame these comments as he has is both deeply offensive and fundamentally wrong," Farage commented.
"This sort of disruptive, crass and insensitive work serves to underscore why people with views such as these, openly mocking while seeming oddly threatened by homosexuals, should get no support from Ukippers."
He went on to highlight the existence of an "LGBTQ in Ukip" Facebook page for gay Ukip supporters, which has notched up over 1,200 followers thus far.
He then added: "How many other parties have an MEP who describes himself as 'spectacularly homosexual' and a 'great big screaming poof'? David Coburn MEP's words – not mine!"
Ukip gaffes and controversies

Show all 18
Farage concluded by writing that Ukip wasn't "a place for division or malice" and pointing out that "the word 'United' is in our name".
He didn't, however, mention his tireless defence of Ukip's rampantly homophobic Newark by-election candidate Roger Helmer earlier this year.
Helmer provoked anger after he said some people find homosexuality "distasteful if not viscerally repugnant". He has also likened same-sex marriage to incest.
Farage spoke in support of his views, saying that many people of Helmer's generation, who grew up in a period of time in which homosexuality was illegal, would have harboured similar opinions.
"Actually if we asked the 70s and over in this country how they felt about it, most of them still feel uncomfortable. He has said the world has moved on, he now accepts there's been a big social change in Britain and he's relaxed about it."
Spinning tolerance on its head, he further told the BBC that if modern society was as accepting as it believes itself to be, it would also find a space for that of Helmner's off-kilter assertions.
Henley-upon-Thames Ukip councillor David Silvester was, however, suspended from the party, after he blamed Britain's extensive floods on the passage of the gay marriage bill in January.
On the subject of gay marriage himself, Farage told LBC in March: "We are opening up a very big can of worms here, with many very big risks.
"I think the Church of England is going to go through a very difficult and miserable time as it is dragged through the courts of Strasbourg. I can't prejudge what will happen there, but possibly forced to conduct gay marriages in those churches against the will of vast majority of churchgoers."
Asked to further explain his position on gay marriage, were Britain not part of the EU, he said: "I do not support same sex marriages all the while we're under the auspices of the European court of human rights."
Register for free to continue reading
Registration is a free and easy way to support our truly independent journalism
By registering, you will also enjoy limited access to Premium articles, exclusive newsletters, commenting, and virtual events with our leading journalists
Already have an account? sign in
Register for free to continue reading
Registration is a free and easy way to support our truly independent journalism
By registering, you will also enjoy limited access to Premium articles, exclusive newsletters, commenting, and virtual events with our leading journalists
Already have an account? sign in
Join our new commenting forum
Join thought-provoking conversations, follow other Independent readers and see their replies