Nigel Farage says it is prejudiced that Ukip is banned from Pride in London parade
Farage said UKIP had many gay members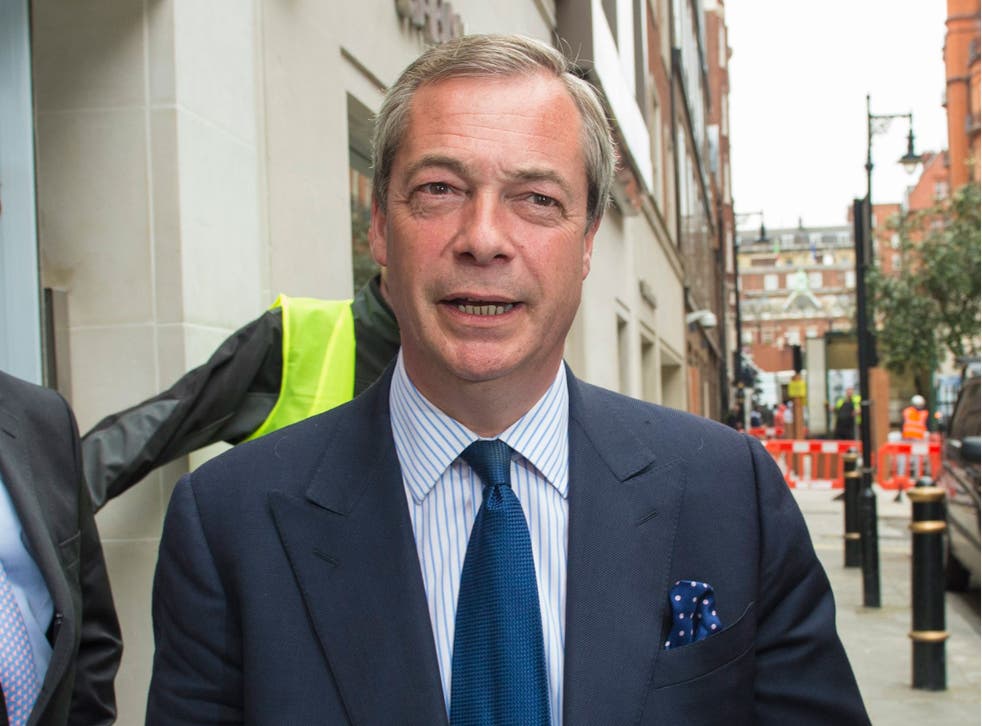 Nigel Farage has said the London Gay Pride Parade is prejudiced against Ukip after it "outlawed" the party from attending.
"There can be little doubt that Ukip is the most demonised political party in Britain today," he said.
In an outspoken column for the Daily Express on Friday, Farage criticised parts of the media and political class for trying to "incite hatred against Ukip".
"There seems to be a new modern phenomenon in British politics that no matter how nasty, there is no level of prejudice that is unacceptable as long as it is directed against Ukip," Farage said.
"Indeed, the party has been banned, outlawed in fact from attending the London Gay Pride Parade, which I was under the impression was about standing for tolerance rather than censorship and hate."
The 9 worst car crash interviews in recent politics

Show all 9
The politician said although he was "sorry not to confirm" the prejudices of the "metropolitan elite", Ukip had many gay members.
Organisers of Pride in London faced criticism from campaigners after initially approving the attendance of UKIP LGBT+ to the parade, set to take place on 27 June.
Earlier this month, political campaigner Peter Tatchell told PinkNews: "It is not appropriate for any organisation that opposes LGBTI equality to participate in the Pride London parade. Ukip campaigned against same-sex marriage and supports the right of faith organisations to discriminate against LGBTI people."
A petition set up to remove Ukip from the parade won the support of more than 2,300 people.
In a statement from the Board of Directors of LGBT+ London Community Pride made after turning down Ukip's application to join the parade, it said: "We aim to unite our community, not divide it, and our intention is to serve the whole of our community with an inclusive event, so to exclude any group is not a decision we take lightly."
The statement said the decision was not "made on a political basis" and that it was undeniable that there were LGBT+ members of Ukip.
Farage's column went on to discuss Kellie Maloney, who had previously ran for a Ukip parliamentary candidate in 2010, but this year showed support for the Conservative party.
"I wondered why," said Farage. "Then I found out that Kellie came under a huge amount of pressure and indeed abuse from some in the LGBT community for her links with Ukip."
This, he said, was illustrative of "wider attempts by segments of the media and political class to incite hatred against Ukip".
Deliberately trying to "whip up animosity" towards Ukip was "one of the most disgusting elements of British politics today," he said.
Join our new commenting forum
Join thought-provoking conversations, follow other Independent readers and see their replies