Om Puri: I knelt before Helen Mirren and said - 'Your Highness, I am your slave'
The 'East Is East' star on working with the great Dame, and why he has no plans to retire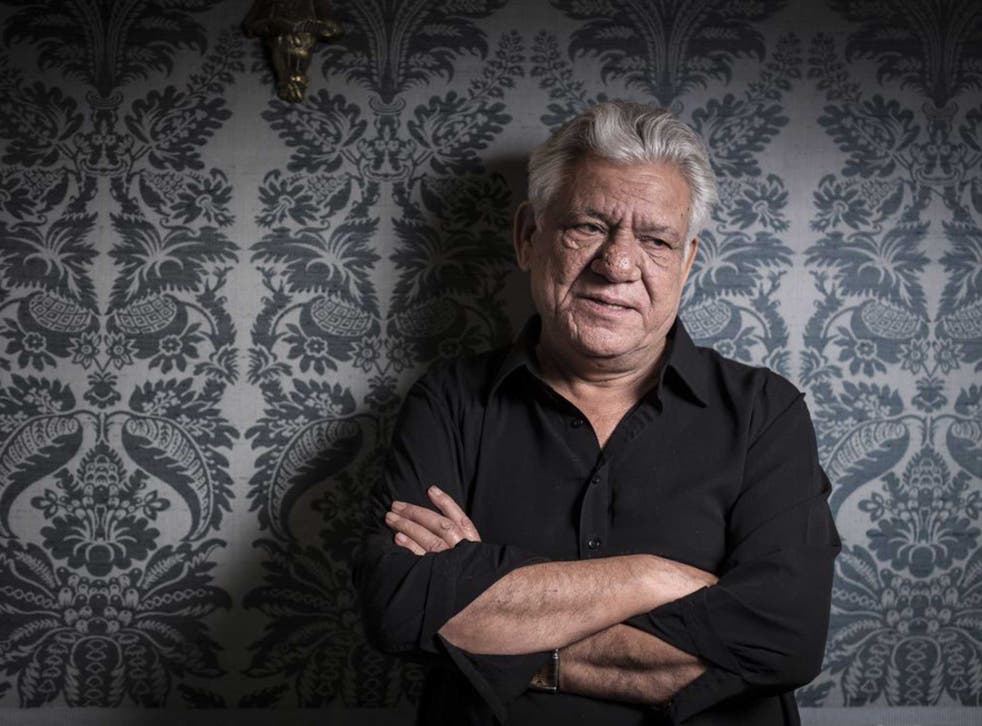 For nearly a decade, the Indian actor Om Puri worked regularly in the UK, appearing on the big and the small screen. But then, in 2005, after he was presented with an honorary OBE for his contribution to the British film industry, the roles dried up. "I thought that was a golden handshake, that we [have] had enough of you – here is your prize, now get lost!" he laughs. "Really. After that, I never got any part in Britain. But I'm grateful. I have no regrets. England gave me enough."
Best known for his Bafta-nominated role as George Khan in the 1999 comedy-drama film East Is East, and its 2010 sequel West Is West, shot in India, Puri's 40-year career has spanned British, Indian and American film and television. In his latest role he stars opposite Helen Mirren in Chocolat director Lasse Hallström's culinary yarn The Hundred-Foot Journey. As Papa, he and his family open a rustic Indian restaurant in the south of France, a hundred feet from the Michelin-starred French establishment run by the formidable Madame Mallory (Mirren).
He hopes it will lead to more work. It seems a strange thing for us to discuss; after all, this is a man who has acted alongside Hollywood big hitters such as Tom Hanks, Jack Nicholson, Patrick Swayze, Michael Douglas and Val Kilmer. But he doesn't have much work in the pipeline: partly, he says, because he is now "much more choosy" but also because, at the age of 65, there is less work for him.
The Indian film industry, while technically very good, "basically caters to entertainment" and whereas some films once talked about the problems of rural India, today's offerings are "urban based". "And besides, we have a concept of hero-heroine, singing, dancing, so [for] the age group I am in there are hardly any roles because it is basically youngsters," he adds. "Like for example, this film [The Hundred-Foot Journey] – I can't imagine getting a role like that in India because we don't make films about elders' relationships or what happens in old age."
Working with Mirren was, he says, "pleasure, pleasure, pleasure". After admiring her from afar in films such as The Queen, he was so looking forward to meeting her that he planned exactly how he wanted to introduce himself. His chance came when the British dame arrived on set during a lunch break.
"When she got up [from a table], she picked up her plate and she was going towards the buffet to get some food," says Puri, who lives in Mumbai. "I went and kneeled down in front of her and I said, 'Your Highness, I am your slave.' She picked me up and she hugged me. She said, 'How wonderful we are going to be working together.' "
While it is his on-screen son, the talented chef Hassan Kadam (played by Manish Dayal), who does most of the cooking in the film, Puri showed off his own culinary skills by making meals, including Indian vegetables and lentils, sometimes with chicken or prawns, for the cast, particularly his on-screen children, and crew.
Born in Ambala, then part of Punjab but now in Haryana, Puri's first memory is of contracting smallpox aged three. "I remember I was tied to the cot," he says. His mother, busy working and cooking, "would tie my hands so I didn't scratch my face".
The youngest of seven, he only knew three of his siblings, as two of his brothers and one sister died in childhood. His mother came from a farming family and was an uneducated, affectionate, religious and "very simple woman", who never let a beggar go from her door empty-handed, despite not being able to buy much herself. His father was in the British army. "I used to look at officers on a railway station, or see a parade, and look at them as people look at film stars," he says.
Thoughts of following a military career changed when he reached college and the theatre group Punjab Kala Manch invited him to join. "I used to be very sensitive to the environment around me – the disparity in India, the poverty in India, the beggars on the road used to disturb me – and since I was shy, introvert, I couldn't articulate my feelings," says Puri. "When I was doing these social plays, I felt these plays are giving words to my feelings."
He went on to get scholarships to the National School of Drama and the Film and Television Institute of India, winning his first national award in India for the 1982 Hindi film Arohan.
On his latest production, Mirren took him "under her wing" and came to the rescue when they had to record a dancing scene, before a "terrified" Puri had been able to practise, by showing him how to move. "She was absolutely fantastic," he gushes. "I consider her a much better actor than myself but she never tried to dictate – because some actors have a habit of telling the other actor: 'If you do this, then I'll be able to do this.' She never once did anything like that. She treated me as an equal, which was very kind of her."
Despite having more than 250 films under his belt, the veteran is still grateful for opportunities that come his way. He says he has never minded playing a small part if it is significant: in the 1994 romantic horror film Wolf, he had only one scene, albeit opposite Jack Nicholson. "I had a very small part in Gandhi but I felt very proud, because that scene was shown during the Oscar ceremony," he adds.
Even though there's little work on the horizon, Puri has no thoughts of retirement. "I want to fall down and die either on stage, or on the last shot of the film," he says.
His 17-year-old son, Ishaan, is considering following his father into acting and has his eye on studying in England. So, even if Om doesn't work here again, it might not be too long before we see a Puri filming in Britain after all.
Join our new commenting forum
Join thought-provoking conversations, follow other Independent readers and see their replies