Oscar Pistorius sentenced: Athlete 'may only spend 10 months of five year term in jail'
A women's violence charity said the sentence was 'worryingly short'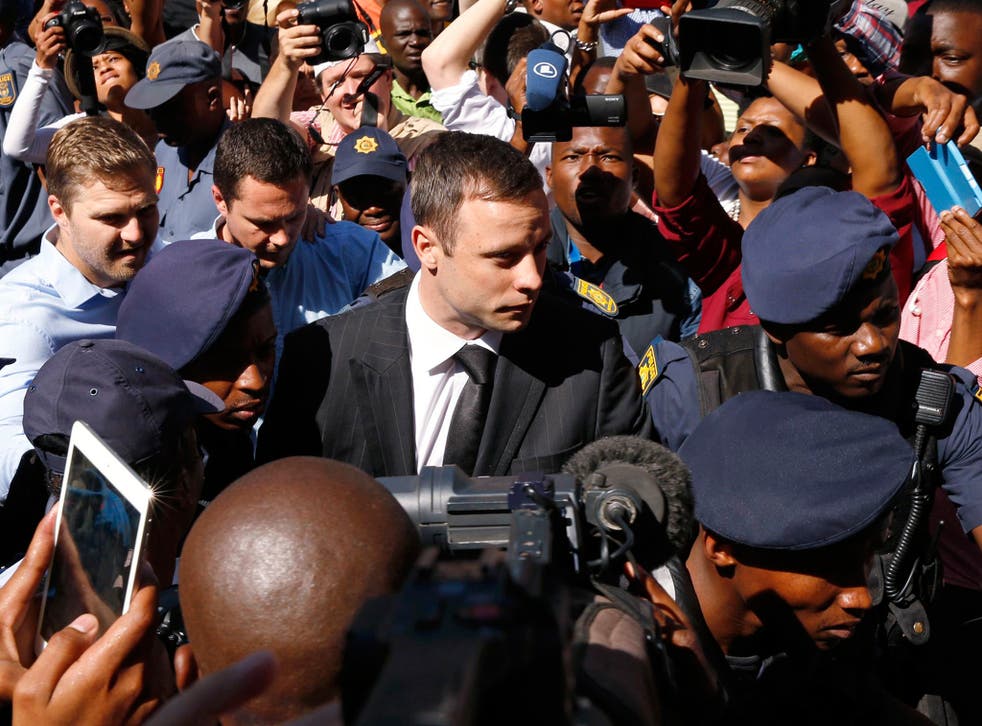 Oscar Pistorius may have been handed a five year prison sentence for killing his girlfriend but he may only spend less than a year in jail.
The disgraced athlete's defence lawyer, Barry Roux, said he expects the athlete to serve only 10 months behind bars and the remainder under house arrest.
Pistorius' legal team had argued against a custodial sentence, calling a witness to detail the dangers of drugs, violence and poor sanitation at South African prisons.
Annette Vergeer, a probation officer, told the court he could be subjected to gang rape and incarceration would "break him as a person".
But the prosecution called for a 10-year sentence, arguing anything but prison would be a "shockingly inappropriate punishment" for taking Reeva Steenkamp's life.
The athlete was sentenced to five years imprisonment for culpable homicide, the South African equivalent of manslaughter, in Pretoria today.
Judge Thokozile Masipa also gave Pistorius a three-year suspended sentence for a firearms charge.
"It would be a sad day for this country if an impression were to be created that there was one law for the poor and disadvantaged, and another for the rich and famous," she said.
"The loss of life cannot be reversed. Nothing I say or do today can reverse what happened on February 14 2013 to the deceased and to her family."
Her sentencing powers ranged to a maximum of 15 years imprisonment and a minimum of house arrest or community service.
Speaking after the sentencing, Dup De Bruyn, a lawyer for the Steenkamp family, told Reuters that "justice was served".
But June Steenkamp told Sky News: "There's no closure without Reeva unless you can magic her back."
Pistorius was convicted of culpable homicide in September but cleared of murder – a result the state is reportedly considering whether to appeal.
He shot Ms Steenkamp, 29, through his bathroom door on Valentine's Day 2013, claiming he thought she was an intruder and did not intend to kill her.
One domestic violence charity called even the full five years in prison "worryingly short".
Oscar Pistorius: The sentencing in pictures

Show all 53
Polly Neate, chief executive of Women's Aid, said: "Although we are pleased he has received a custodial sentence, the length of the sentence is worryingly short, given the severity of the crime.
"Violence against women is a very serious issue, and two women a week are killed by a partner or ex-partner in this country alone.
"Strong sentences are essential to show perpetrators of violence against intimate partners that society and the law take their violence seriously."
Meanwhile, Bethan Cansfield, policy manager at Womankind Worldwide, said short sentencing sends the wrong message.
"Low levels of convictions and short sentencing given to perpetrators of violence against women is rampant across the world," she added.
"These violate a woman's right to justice and send a strong message that states do not take violence seriously."
Pistorius, 27, was held in cells at North Gauteng High Court after the sentencing and will be transferred to Pretoria Central prison.
Join our new commenting forum
Join thought-provoking conversations, follow other Independent readers and see their replies