Oscar Pistorius sentenced to five years in prison for killing of Reeva Steenkamp
Athlete was convicted of culpable homicide for shooting Ms Steenkamp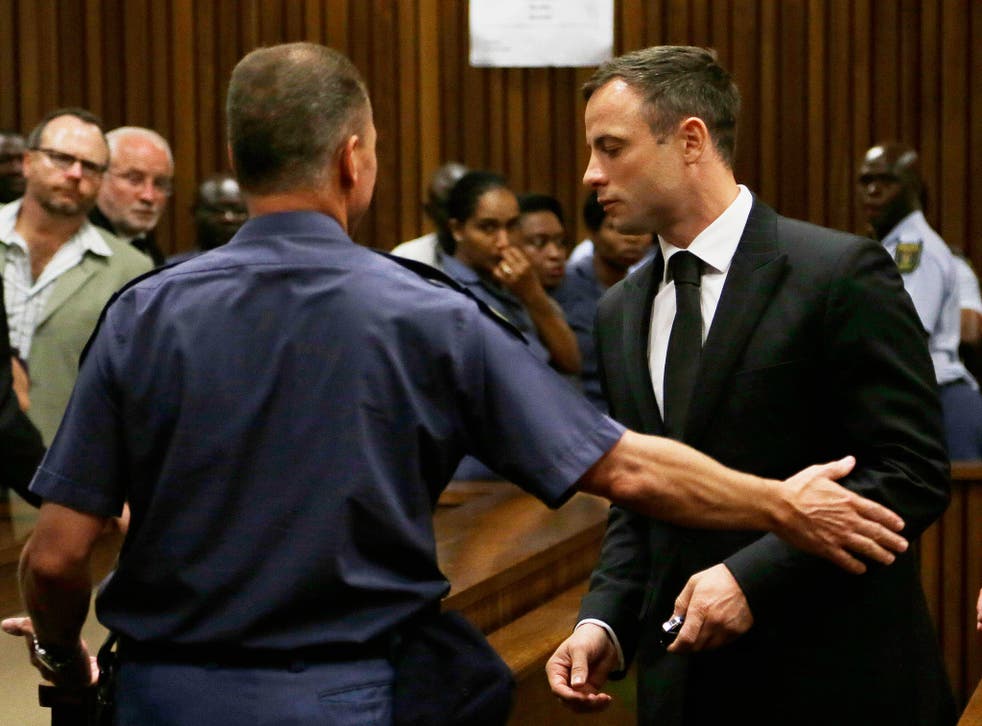 Oscar Pistorius has been sentenced to five years in prison for killing his girlfriend Reeva Steenkamp on Valentine's Day 2013.
The South African athlete was cleared of murder but convicted of culpable homicide by Judge Thokozile Masipa on 12 September.
He has also been sentenced to an additional three years in prison, wholly suspended, on the second count of a firearm contravention.
In her sentencing, Judge Masipa ruled a non-custodial sentence would send the wrong impression to the community, but a long sentence would not be appropriate because it would appear to lack "mercy".
Judge Masipa said: "The loss of life cannot be reversed. Nothing I say or do today can reverse what happened on 14 February 2013 to the deceased and to her family.
"Hopefully, this judgment on sentence shall provide some sort of closure for the family and all concerned so that they can move on with their lives."
She also dismissed expert evidence about the ability of South African prisons to deal with Pistorius's disability, describing it as "slapdash" and "disappointing".
Dressed in a dark suit with a white shirt and black tie, the 27-year-old showed little emotion as he was sentenced to prison.
The parents of Ms Steenkamp, 29, were also in court to hear the sentence. They said the punishment "is the right sentence" for the athlete after Pistorius was led away by police to holding cells.
Oscar Pistorius: The sentencing in pictures

Show all 53
However, a spokesperson for South Africa's state prosecuting authority has not yet decided whether to appeal against Pistorius' conviction for culpable homicide, spokesman Nathi Mncube said after the hearing.
Judge Masipa said the state had failed to prove his intent to kill when he fired four rounds through the door of a toilet cubicle in the early hours of 14 February.
Pistorius' defence lawyer Barry Roux said he expected the jailed athlete to serve only 10 months of the five-year sentence behind bars, and the remainder under house arrest.
South Africa's state prosecuting authority disputed this opinion, saying Pistorius was likely to serve at least a third of his sentence in prison - effectively 20 months.
Prosecutors had argued Pistorius should serve at least ten years in jail, while his defence counsel called for a community sentence or house arrest.
Culpable homicide can carry a 15 year sentence, although there is no minimum length in South Africa.
Join our new commenting forum
Join thought-provoking conversations, follow other Independent readers and see their replies