Oscars 2016: Most memorable quotes from after the Academy Awards
A selection of the most insightful, hilarious and politically charged quotes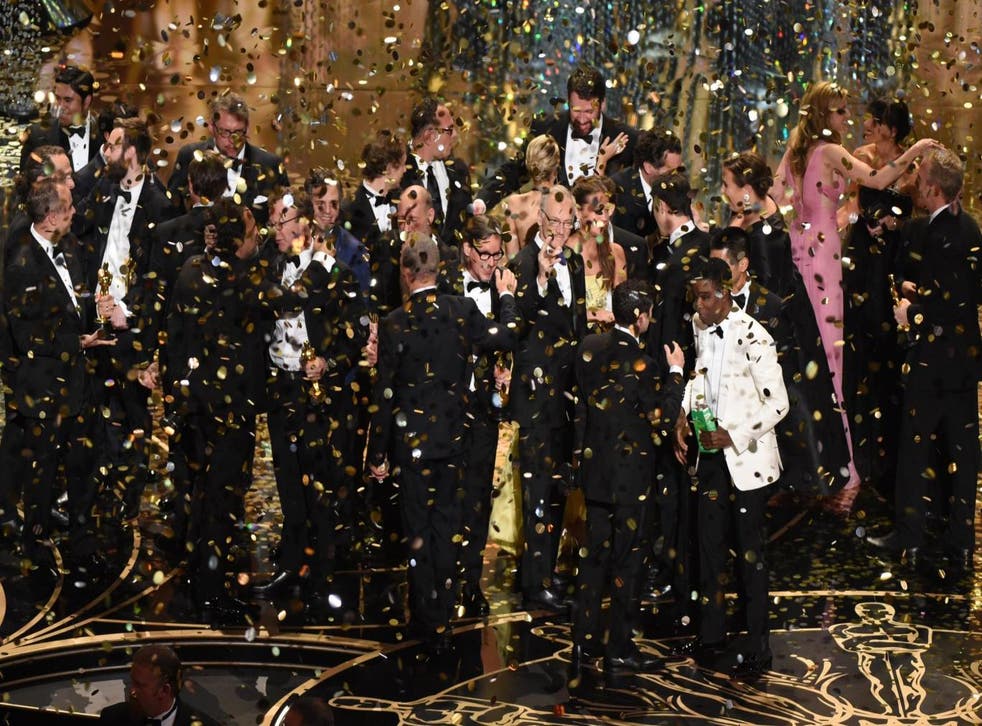 After months of anticipation and controversy over the lack of diversity, it will be hard to forget the 2016 Oscars ceremony. From Chris Rock's take on the #OscarsSoWhite to Sam Smith mistakenly dubbing himself the first openly gay man to win an Oscar to Sacha Baron Cohen bringing back Ali G, it was a night of surprises.
While party-goers celebrated and commiserated in equal measure, actors, directors and costume designers made a number of memorable comments at the after parties.
As everyone expected, diversity was one of the decisive issues of the day and few shied away from confronting it head on.
Here is a selection of the most insightful, hilarious and politically charged quotes from the Oscars backstage speeches and after parties:
Brie Larson on sexism
"There were many times that I would go into auditions and casting directors would say, It's really great. Really love what you're doing, but we'd love for you to come back in a jean miniskirt and high heels ... I tried maybe once.
"And it always made me feel terrible because they were asking me to wear a jean miniskirt and heels to be sexy, but a jean miniskirt and heels does not make me feel sexy. It makes me feel uncomfortable".
Louis Gossett Jr. on racial diversity
"We're not going to get to this 'promise land' until we regard one another as part of the whole family. One family, one nation, indivisible. That mentality is essential for our salvation. When we look at each other we are the same family - black, latino. We're one family. That is America".
Mark Rylance on being confused with Mark Ruffalo
"Mark Ruffalo told me on the Red Carpet that that had happened to him at the BAFTAs, that whoever was giving the award had slowed down after the "R" and a number of people on his team, as people call it, had looked around to congratulate him, and then the dreadful y‑l‑a‑n‑c‑e had come forward and crushed his dreams".
Chris Rock on racism in Hollywood
"Is Hollywood racist? You're damn right Hollywood's racist. But it isn't the racist you've grown accustomed to. Hollywood is sorority racist. It's like: 'We like you, Rhonda, but you're not a Kappa.' That's how Hollywood is."
Patricia Arquette on women living in poverty
"Why are 3.56 million women turned away from domestic abuse shelters a year? Because they're women. One of the main reasons for homeless families is domestic violence … We got 33 million women and kids living in poverty because their mum is not getting paid their full dollar even though she is working full time".
Oscars 2016 winners

Show all 24
Leonardo Di Caprio on climate change
"If you don't believe in climate change, you don't believe in modern science or empirical truths and you will be on the wrong side of history".
Pete Docter on disability
"We have heard from a lot of folks, teachers, especially parents of special needs kids who have said this film has given them a new vocabulary to talk about emotions for the first time, and that is nothing we were aiming for, but it is such an amazing by‑product of the movie".
Alicia Vikander on female solidarity
"A lot of things can be possible, things that I would never, ever, ever have believed in and that is only because I have had some incredible women supporting me so that is probably what I wanted to say to some young girls, just keep on doing it, I guess".
Sam Smith on finding out he wasn't the first openly gay man to win an Oscar
"Sh*t. F*ck that. Two's my lucky number so it's all good".
Jenny Beavan on clothes
"I really don't do frocks, and I absolutely don't do heels. I simply can't wear them. I've got a bad back that, and I look ridiculous in a beautiful gown. And this was an homage to Mad Max and I didn't get it quite right at the Baftas obviously. The scarf was supposed to be an oily rag, but I'm actually in Marks & Spencer's with a little Swarovski addition on the back. And unfortunately, I had a shoe malfunction".
Alejandro G. Iñárritu on storytelling
"And I think that storytelling is a way for us to feel, in a way, can confront a huge amount of emotions and possibilities and feel, you know, beautiful and horrible emotions … So storytelling is, I think, oxygen for life that protect us".
Alicia Vikander on The Danish Girl and LGBT rights
"With Caitlyn Jenner coming out, with Transparent and Tangerine, it's like a social change and I just wish that ‑‑ in the same way that this film has been so educational for me and with so many people that I got to meet and in preparation for it I hope that it can open up an even wider conversation, if our film can be a part of that discussion".
Sacha Baron Cohen on Oscar Race Row
"There has to actually be greater diversity at all levels of hollywood, I think it would be a shame if there's just tokenism and a few more black actors appear in front of the screen. I think at all levels, in all the production companies and in all the studios, there needs to be actually positive discrimination and affirmative action".
Brie Larson on perfectionism
"I personally have problems with trying to be perfect and being devastated when I realise every day that that's not a possibility".
Join our new commenting forum
Join thought-provoking conversations, follow other Independent readers and see their replies