Paris attacks: Madonna breaks down after stopping concert to pay tribute to victims with powerful speech
'They want to shut us up. They want to silence us, and we won't let them. We will never let them'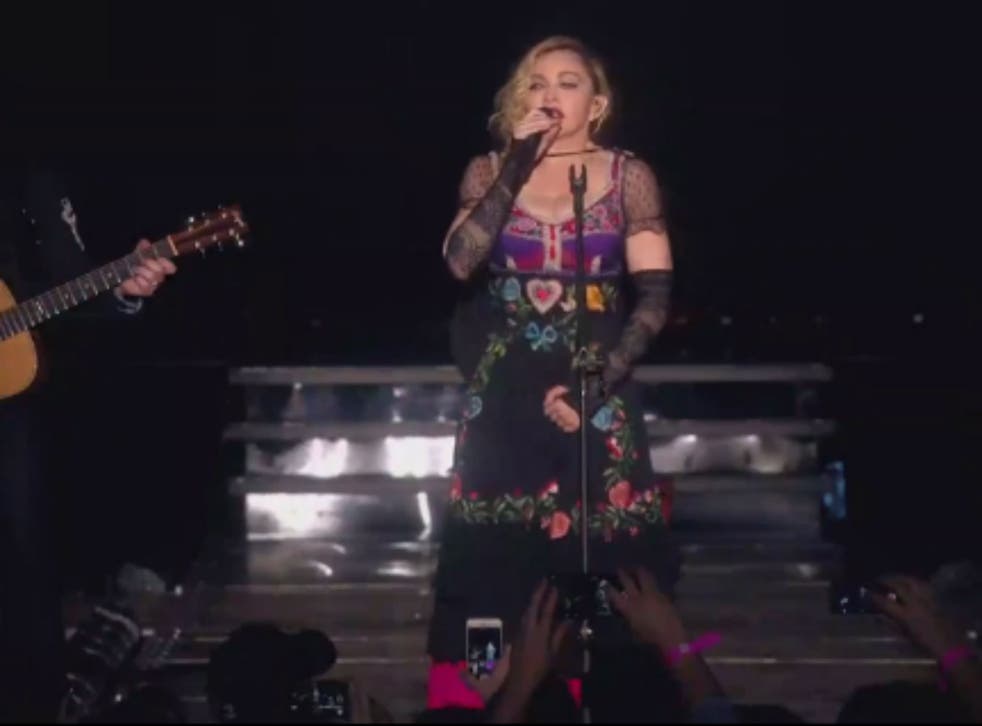 Madonna broke down into tears as she stopped a concert in Stockholm to pay tribute to those killed and injured in the Paris terror attacks.
Militants launched gun and bomb attacks on five venues in the French capital, killing 129 people and injuring over 300.
Bands including U2, the Foo Fighters, Coldplay and others canceled shows and tours after the devastating massacre.
Madonna went ahead with a concert in Stockholm, Sweden on Saturday, but stopped the show mid-way to respond to the tragedy in a tearful, six-minute address.
Becoming visibly emotional, the Rebel Heart singer said she was left "disturbed" by the attacks and denounced the "senseless endings of precious life".
"In many ways I feel torn, because it's like, 'Why am I up here dancing and having fun when people are crying over the loss of their loved ones?"' she told the audience. "However, that is exactly what these people want to do. They want to shut us up. They want to silence us, and we won't let them. We will never let them.
"I was going to cancel tonight, but then I thought to myself, 'why should I give that to them? Why should I allow them to stop me? And to stop us from enjoying freedom. All of the places where people were killed were places where people were having fun. Where people were enjoying themselves. Eating in restaurants, dancing, singing, watching soccer matches. These are freedoms that we take for granted of course, and we must not, but they are freedoms that we deserve."
Madonna claimed the only way to counter such devastating attacks is to change the way humans treat each other.
"There are people who have no respect for human life, and there are people that do atrocious, degrading and unforgivable things to human beings. But we will never, ever, ever change this world that we live in if we do not change ourselves. If we do not change the way we treat one another on a daily basis.
The world mourns Paris attacks - in pictures

Show all 25
"The way we change the world is not to elect another president, not to kill a hundred more people. The way we change the world is that we change the way we treat one another on a daily basis, in the simplest ways. We must start treating every human being with dignity and respect, and this is the only thing that will change the world."
Join our new commenting forum
Join thought-provoking conversations, follow other Independent readers and see their replies