Piers Morgan attacks Theresa May on Ed Miliband smear campaign: 'People don't like it, they think this is nasty, personal, vindictive'
The former Mirror editor interviewed the Home Secretary on GMB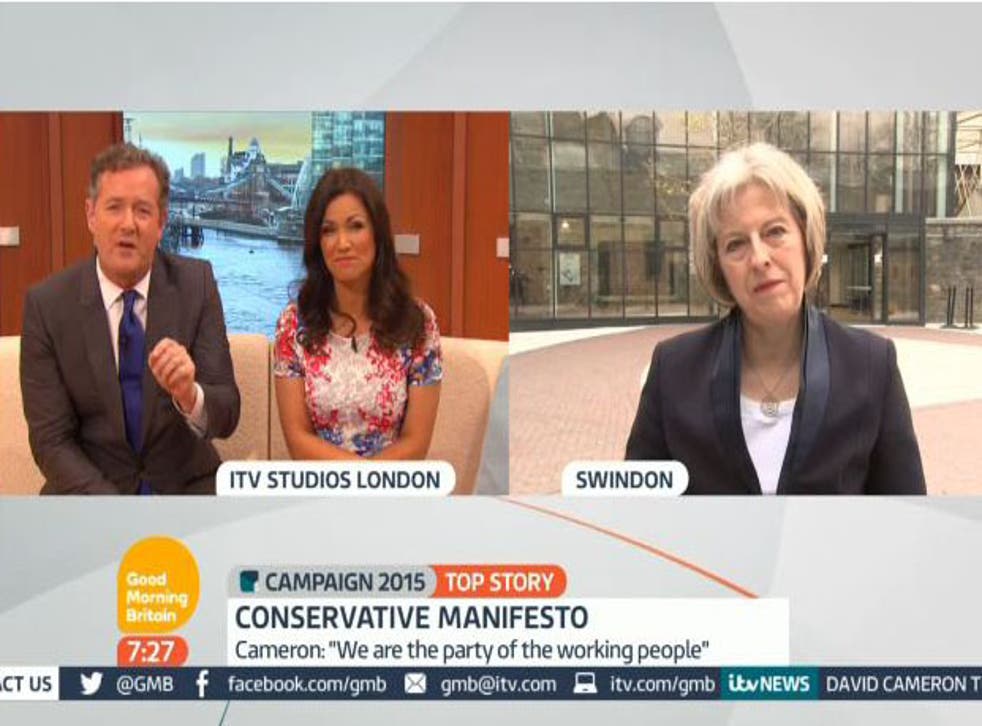 It's only his second day in the Good Morning Britain driving seat, and the second time Piers Morgan has ruffled a few political feathers.
The former Mirror editor put Ed Balls aside to take on current Home Secretary Theresa May, who patched into the studio to join him and Susanna Reid from the campaign trail in Swindon.
Morgan started his attack by playing May a clip of her speaking during a Conservative Party conference in 2002.
"There's a lot we need to do in this party of ours," May said at the time. "Our base is too narrow, and so occasionally are our sympathies. You know what some people call us? The nasty party."
"So here's my question, Home Secretary," Morgan asked. " You were clearly disturbed in 2002 by the nasty reputation of the party. And what I've learned from this General Election melee over the last week is how there's clearly been a concerted effort to get nasty with Ed Miliband."
In particular, he cited senior Tory MP Michael Fallon branding the Labour leader a "backstabber" while discussing the future of the Trident nuclear deterrent programme. Meanwhile, Conservative-leaning publications labelled Miliband a "womaniser" over his past relationships, and described him as "ruthless".
Piers Morgan in quotes

Show all 20
"Oddly, the more this goes on, the more I find myself warming to Ed Miliband, which is something I never thought was possible," Morgan continued. "This strategy of demonising your opponent is not only not working but it also smacks of the same nastiness you yourself were concerned about over a decade ago."
"No, I disagree with you Piers on that," May countered. "I think it is important for people to look at the characters and look at the track record of the two people that is the choice to be in Downing Street.
"There's a very clear choice between David Cameron and Ed Miliband, and I think it is entirely right to draw out that choice and show the sort of decisions that people will be making as a result on May 7 and what they would see for the future.
"What you will see today from David Cameron, from our manifesto, is that positive vision for the future on that sort of government that Conservative government would be."
"But when you talk about positivity, everyone is talking about the complete opposite of that with your party," Morgan countered.
"They are talking about the relentless negativity that is now pouring out of all the Tories in Miliband's direction. Again, I say to you, is it not nasty for a senior Conservative to get up on national television, clearly as part of an orchestrated campaign driven by the leadership, and use phrases like 'backstabber'. People don't like it, they think this is nasty, personal, vindictive, and as I say, I think its self-defeating. Ed Miliband's popularity is increasing the more you do this."
"Well on that particular issue, the topic that was being discussed was a very important one that was about the future defence for our country, it was about the future of Trident, the future of our nuclear deterrent," she responded.
To which Morgan said: "I know you to be a decent person, and a decent politician, I liked it when you made that speech in 2002. I'm just curious as to whether you felt it was fair.
"The character of the person who is going to be Prime Minister is an important issue, particularly when you're looking at an issue like the nuclear deterrent.
"We're committed to ensuring we have that nuclear deterrent, Labour hasn't fully committed to that, and of course if they were to get into bed with the SNP at some point."
"Final question," Morgan concluded. "Yes or no, do you think Ed Miliband is a backstabber?"
"Well there's absolutely no doubt that he did stab is brother in the back in order to get the leadership of the Labour party," May said.
Morgan is co-presenting the ITV show all week.
Join our new commenting forum
Join thought-provoking conversations, follow other Independent readers and see their replies