Virginia Roberts sex claims: Prince Andrew arrives in Davos amid calls for him to answer 'sex slave' allegations under oath
Virginia Roberts goes public with detailed account of 'sexual contact' with royal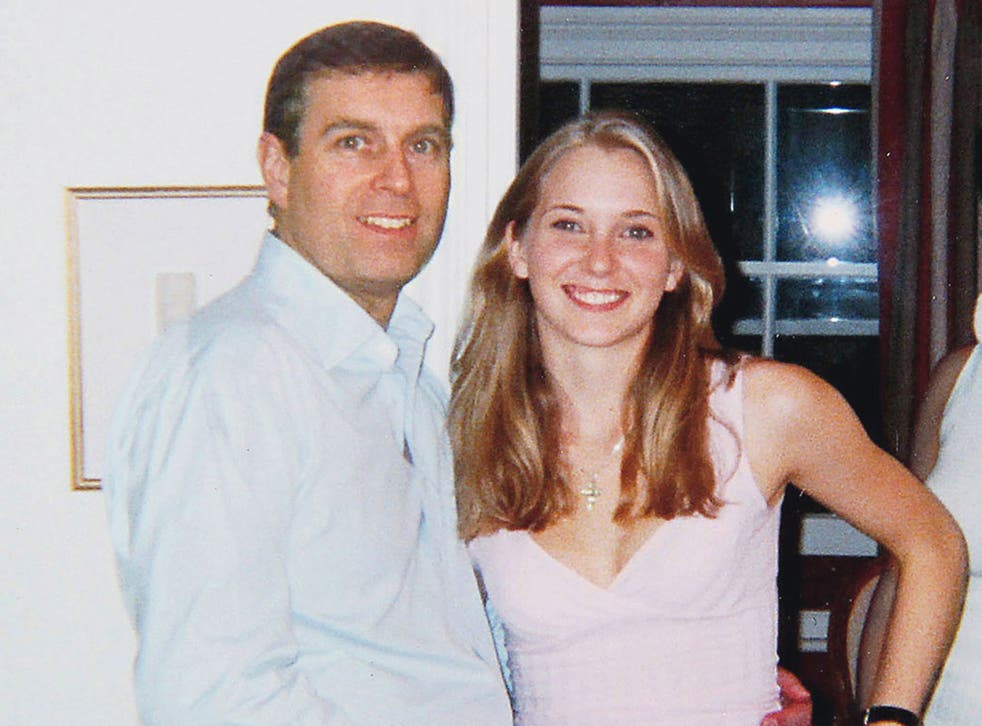 The woman who says she was forced to have sex with Prince Andrew has formally requested he responds to her allegations under oath - while outlining further accusations in her own words for the first time.
Virginia Roberts claims she was compelled to have sex with the Prince by his friend, the disgraced financier Jeffrey Epstein, in 2001 – when she was 17 years old. Mr Epstein, a former hedge fund tycoon, was convicted for sex offences in 2008.
This is the first time Ms Roberts has given her own account of the allegations to the court in Florida. When she met Prince Andrew, she claims, she was aware that he was a British royal, but knew him only as "Andy". In her sworn affidavit, she said Buckingham Palace's forceful denial of her accusations was both "false" and "hurtful".
"I did have sexual contact with him [Prince Andrew] as I have described here – under oath," Ms Roberts said. "Given what he knows and has seen, I was hoping that he would simply voluntarily tell the truth about everything. I hope my attorneys can interview Prince Andrew under oath about the contacts and that he will tell the truth."
Ms Roberts' lawyers also included, in the legal bundle submitted to the court yesterday, a letter addressed to Prince Andrew, inviting the 54-year-old to respond to the allegations in person and under oath. The letter, dated 14 January, includes a photograph of the Prince with his arm around Ms Roberts, which she says was taken by Mr Epstein in 2001.
Prince Andrew: Life in pictures

Show all 15
The letter also refers to alleged "subsequent interactions" between Andrew and Ms Roberts in New York later that year. In her affidavit, Ms Roberts reasserted her claim that she was forced to have sexual relations with the Prince on three occasions, one of which was at an orgy.
Signed "under penalty of perjury", the affidavit says: "Since I filed my motion in this case, my credibility has been attacked.
"I am telling the truth and will not let these attacks prevent me from exposing the truth of how I was trafficked for sex to many powerful people.
"These powerful people seem to think that they don't have to follow the same rules as everyone else. That is wrong."
She says she had sex with Andrew "three times, including one orgy", with the first encounter allegedly taking place in a London townhouse.
Ms Roberts allegedly had sex with Andrew a second time at Epstein's New York mansion in spring 2001.
"I had the impression that Andy had come there to see Epstein and to have sex me with. There was no other apparent purpose for Andy to be there.
"I was told to go upstairs with Andy and to go to the room I thought of as the 'dungeon' (the massage room, but it is really scary looking).
The third and final time she claims to have had sex with the Duke of York was during an alleged orgy on Epstein's private island in the US Virgin Islands, when she was "around 18".
"Epstein, Andy, approximately eight other young girls, and I had sex together," she claimed.
The letter to Prince Andrew was a "formal request", it said, "to interview you, under oath, regarding interactions that you had with Jane Doe No 3 beginning in approximately early 2001… The interview could be conducted at a time and place of your choosing, and with your co-operation, I believe the interview could be completed in two hours or less."
Ms Roberts' lawyers say the letter was returned to them, apparently having been refused by its recipient. Ms Roberts said in her affidavit that she had asked her legal team to "pursue all reasonable and legitimate means" to bring criminal charges against the "powerful people" with whom she had sex at Mr Epstein's behest.
Buckingham Palace quickly and strenuously denied the renewed allegations. When Ms Roberts' claims first emerged, the Palace described them as "categorically untrue", "false" and "without any foundation", denying the Prince and his accuser had "any form of sexual contact or relationship".
In 2011 Andrew stepped down as UK trade envoy amid controversy over his close relationship with Epstein.
Harvard Law Professor Alan Dershowitz, who has also been named in the case, today repeated his strong denial of the allegation that he had sex with Ms Roberts.
"I've never seen her, I've never met her," he said in an interview on NBC's Today show.
He went on to say: "She is categorically lying and making the whole thing up."
Dershowitz also said he never saw "anything improper" while in the presence of Epstein.
He said: "I was never in the presence of a single young underage woman. When I was with him it was with prominent scientists, prominent academics and they are just again lying about this. I never saw him doing anything improper, I was not a witness, I was not a participant and I will prove it categorically."