Prince George first birthday: Defining moments of the Republican Slayer's career - from photo scandals to political snubs
He's been dubbed a Republican slayer, a style icon and the most influential toddler in the world. All in a tidy 365 days work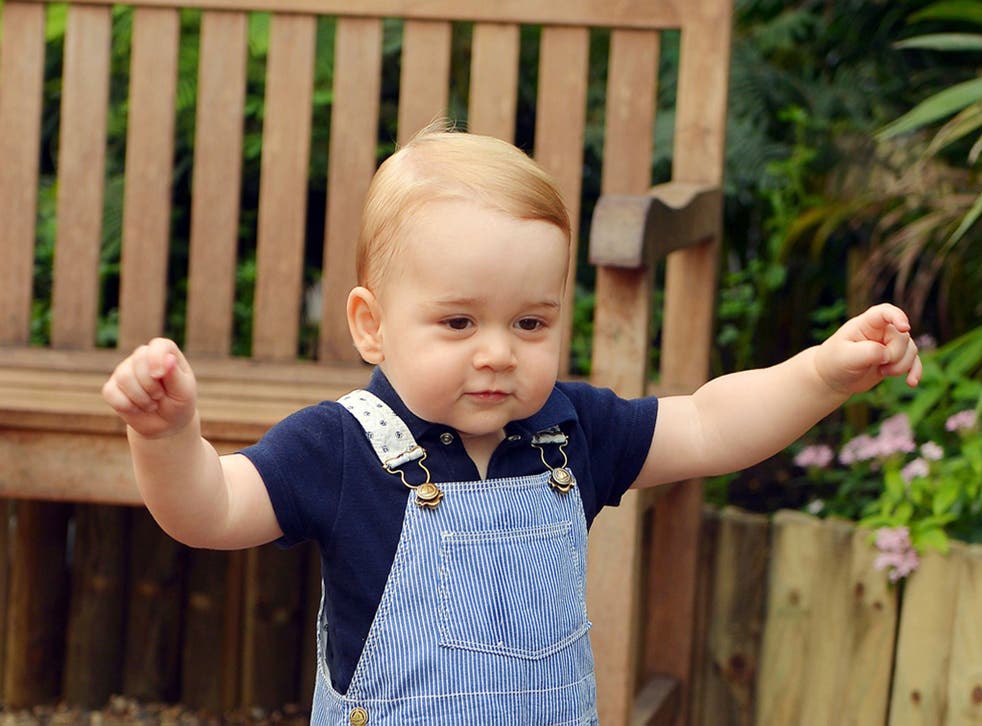 It wasn't the greatest of starts for young Prince George.
Born George Alexander Louis was born at 15:24GMT at London's St. Mary's Hospital on 22 July, he weighed a fairly average eight pounds and six ounces (3.8kg).
But unlike Jesus (one of the only major historical figures he seems not to have been compared to. Yet.), he was far from meek and mild. He was a perpetually hungry child, who cried hard, ate hard and could not be sedated.
According to Vanity Fair journalist Katie Nicholl, who wrote about his "colicky beginnings" for his first ever cover feature, it wasn't until the Duchess of Cambridge introduced him to solids over the New Year that he finally started to drift into a routine and slept through the night.
Coincidentally, it was right around January this year that his international career as the "world's most eligible toddler" really kicked off.
Beating stiff competition from the likes of North West and Blue Ivy, he quickly became an icon in his own right, revered as much for his deft handling of public occasions as much as he was for his clever sartorial choices – no infant rocks a nautical stripe quite like him.
So without further ado, here are his defining moments thus far – from the photo scandal that changed the media to the political snub that echoed the thoughts of an entire nation…
Baby's first official public engagement…
Prince George avoided a near international row over a soft Mary Lou doll on the third day of the Duke and Duchess' tour of New Zealand and Australia. The event, staged at Wellington's Government House, saw the future King greet civilian peers for the first time.
Including a girl called Paige, who he briefly made cry after stealing her toy, but soon returned it and deftly crawled on. Thus the engagement was deemed nothing short of a diplomatic triumph.
Baby's first photo scandal…
Prince George reacted with drool and disdain when unauthorised shots of him being carried on his mother's shoulders, playing on her lap and being pushed in a buggy first emerged. No such bottom embarrassment as would befall the Duchess later on during the tour, but a long lens humiliation captured by an Australian paparazzo on the private grounds of Government House in Canberra none-the-less.
The press expected a public outcry over the incident, but wise Prince George simply turned the other rashed cheek.
Baby's first press-coined moniker…
That's HRH 'Republican Slayer' to you; a grisly title awarded to the Prince – then just nine months – by Australian TV host Shelly Horton, who noted a huge 51 per cent swing in favour of keeping the British royal family as heads of state since his arrival in the country.
The popularity poll showed the highest figures in more that three decades.
Baby's first political snub…
Prince George echoed the thoughts of a large percentage of the Australian population when he refused – point blank – to look Prime Minister Tony Abbot in the eye during an official meeting with him in April.
Turns out, the infant is more in tune with the electorate Down Under than most politicians are – Abbott is the least popular leader to win an election in the last 26 years, a recent study concluded.
Baby's first Vanity Fair cover…
Magazine editors clambered over themselves to have the Prince as their cover star. But ever the first with the world exclusives, it was down to Condé Nast title Vanity Fair to do the honours, lavishing praise upon their tiny subject as if he were nothing short of a saint.
The cover feature saw him branded a "style icon", a "media star" and a "P.R. triumph". Oh, and the "world's most eligible toddler". Which was, you know. A bit weird.
Baby's first magnum of red wine…
He might have only just taken his first steps, but alongside a home-baked birthday cake, and a card from his great grandmother the Queen today, the Prince will also receive a thunking great magnum of wine, gifted to him from the Otago Valley in New Zealand. Rest assured, however, we're unlikely to see young George echo his Uncle Harry's antics any time soon.
"It will be laid down in the cellar at Kensington Palace until he turns 18," royal reporter Nicholl confirmed.
Join our new commenting forum
Join thought-provoking conversations, follow other Independent readers and see their replies