Amanda Holden interview: The actor and presenter on Phillip Schofield, David Walliams, and not being picked on Blind Date
Holden, 44, made her name on TV series 'Cutting It' and has appeared on a host of TV programmes since. She is now a judge on 'Britain's Got Talent', co-presents 'This Morning'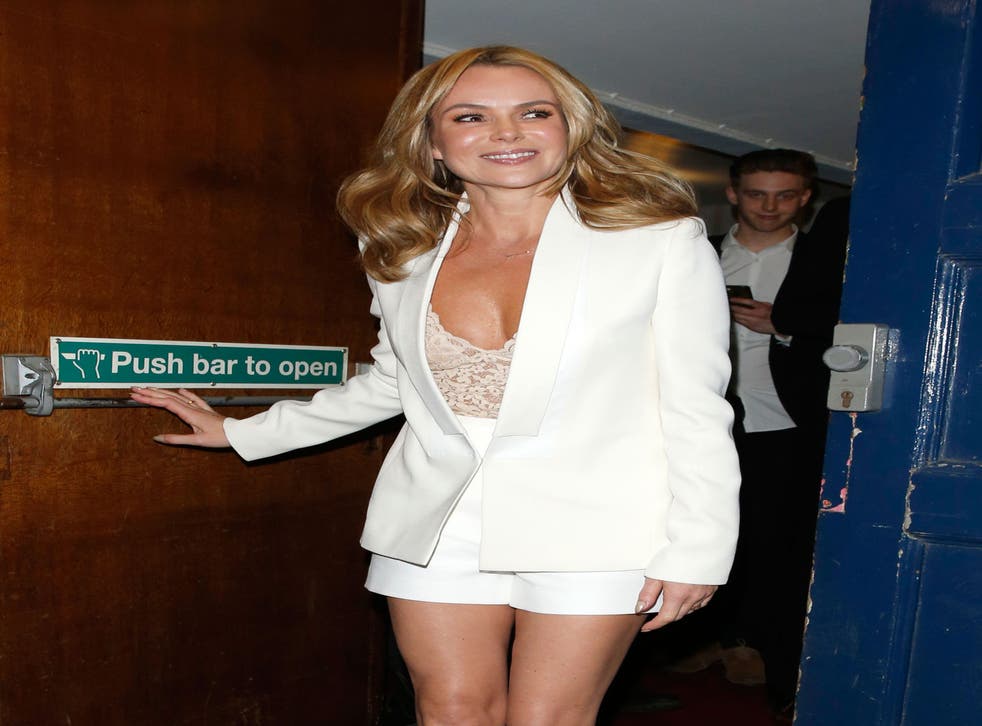 You're presenting This Morning, which means early starts on the weekdays. So what do you do at the weekend?
Weekends are very healthy but Sundays I will do a fry-up. We have a place in the Cotswolds and we normally go for a massive walk then to the pub for a Sunday lunch. It's really nice, very lazy. We head back to London later in the evening. But we're always in the country for the weekend, in the middle of nowhere, with the dogs and the garden.
This Morning is a TV institution. It's livened up every now and then with a touch of accidental smut. I was watching one clip where you and Phillip [Schofield] get the giggles over you saying that you wouldn't let someone 'come in my key hole'.
I know! I'm very aware sometimes that I forget my filter, so I found a very good one for This Morning. But that was one that just slipped out. Phillip started laughing and it took me a minute before I was like "Shit. Yes. Oh no!"
It's quite charming for it...
But it's a morning programme and it's got lots of mummies watching so I like to think that I'm behaving myself more than normal. But Phillip Schofield... He is so bad. So naughty and so wicked. And so brilliantly funny. Late-night Phillip Schofield is what I want people to see... Filth!
He has this status as a bit of a silver fox, doesn't he?
I know! He is a silver fox. He's definitely got a twinkle. And he's in really good shape – I think he takes the same jeans size as me. He's fantastic.
How do you both keep in shape?
Phillip's exactly the same as me. We both eat whatever we want and drink whatever we want but we do everything in moderation. I often take my calories in a glass of wine. I can't bear diets, I think they're pointless. People always say there's so much pressure on women in the television industry but I just don't feel it. I think that's my upbringing, of being around solid females all my life and not letting anything upset me.
That sounds pretty feminist...
F**k 'em! Yes! I'm growing my armpit hair!
You have one spot on a lifeboat – which of your Britain's Got Talent co-hosts do you save?
David [Walliams] would be good – he could be killed and I could end up living off him for about a year. He's quite a bulky chap. Simon [Cowell] would be dreadful because I'd have to look after him. It'd have to be Alesha [Dixon] – we'd turn into warriors and fish and throw spears. We'd be fine.
You're a public figure who has chosen to speak about their private life before. Where should the line be drawn?
I think that it's a very fine line. I've always talked about my husband and my children openly. I hardly ever put pictures out. I don't do spreads and "accidental" shots walking down high streets with my children. I think that there should be some respect – to the children. My husband's an adult, he can handle it. Although he hates it and never comes to any red-carpet events with me. But I've got lots of gay hairdresser friends I can take.
And you were on Blind Date in 1991...
Yes, I was contestant No 2 – and I never got picked.
How was Cilla?
She was great to me. She was brilliant and funny. I said that I was going to be an actress. It's the bizarrest thing – I have now worked with some of the directors and producers who were on it. When I said that I was going to be an actress, I knew that I was going to be one – but not necessarily that I'd go down the TV route.
Biography
Amanda Holden, 44, made her name on TV series 'Cutting It' and has appeared on a host of TV programmes since. She is now a judge on 'Britain's Got Talent', co-presents 'This Morning' and is currently fronting the Alpen Brighter Mornings Challenge, encouraging the public to eat a bowl of Alpen every day for seven days. She lives between London and the Cotswolds with her husband and two children
Join our new commenting forum
Join thought-provoking conversations, follow other Independent readers and see their replies