Ann Widdecombe: 'I don't act... I have a talent to amuse'
Purists are furious at her casting in a Covent Garden opera, but, she tells Matt Chorley, they should just 'get a life'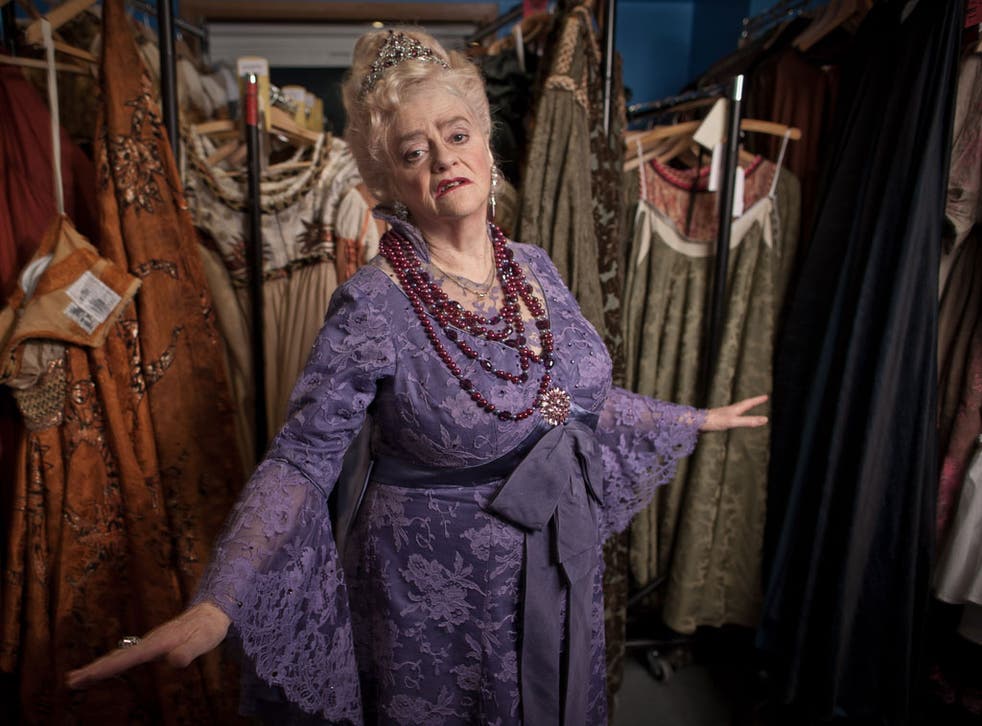 She can't sing, she can't act, God knows she can't dance, and she struggles with basic O-level French. So what on earth is Ann Widdecombe, the hard-line Tory ex-minister of legend, doing appearing this week in a French language opera? At the Royal Opera House in Covent Garden?
It's just the latest stage of the transformation from the pro-death penalty, anti-gay-marriage former prisons minister who, legend has it, wanted to shackle pregnant prisoners, into the nation's favourite maiden aunt. "The first thing is, have you been offered tea or coffee," she begins disarmingly, little trace of the, rasping voice which became her trademark during 23 years in Parliament.
The 64-year-old, relaxing in a tired armchair in an unglamorous ROH dressing room, thought it was a joke when she was asked to join the cast of La Fille du régiment. When she played panto in Dartford – as Widdy in Waiting, a servant to Craig Revel Horwood's Wicked Queen in Snow White and the Seven Dwarves – someone from the ROH was in the audience and became convinced she could be La Duchesse de Crakentor, a role played with acclaim by Dawn French two years ago. "They had seen a certain similarity of circumference."
No fan of opera – "I am tone deaf, I can't hear music" – she just wanted another challenge. Luckily it's a spoken role, though she has struggled with how to convey "irony, mounting anger, frustration" in French. "It's like trying to write in wax instead of on paper. You can get the letters right, you can get the words right, but you can never quite get the shape right."
The Duchess is a comic role in Donizetti's tale of a tomboy who follows her heart, and involves brief appearances at the start and at the end of Act Two. "If it had been a tragic role I would have been fired on day one. I don't act, I have a talent to amuse, that's what I am being cast for, to amuse. Not to deliver Hamlet."
Kasper Holten, the ROH director of opera, hailed the former MP's casting as an "irresistible option". But visitors to the ROH website were unimpressed, denouncing the "crass choice", "a quite shocking deviation from good judgment", and "a cheap attempt to generate publicity".
But this is all water off a duck's back for Ann Noreen Widdecombe, spinster, relic of the pre-Cameron Tory modernisation and, it seems, national figure of fun in the making. To her critics: "Get a life... get a life."
Since standing down as an MP in May 2010, she has been determined to have fun. "The problem is politicians aren't supposed to have life after Parliament, we are supposed to be pseudo-politicians forever more... And I was never going to do that."
The original plan was to retire to Dartmoor, and write novels. Then the call came from Strictly Come Dancing, which led to a national tour, panto, quiz show Cleverdicks, an offer to star in Grease and now La Fille du régiment, which opens on Thursday. She had turned down Strictly for five years, but once retired thought: "I don't owe anybody a duty of time or dignity." She predicted she would last three weeks and was still there in week 10. Partnered with Anton du Beke, a lowlight (or highpoint depending on your perspective), came when she flew in a harness high above the dance floor.
All this, though, is a long way from her role as arch Tory traditionalist, darling of the grassroots, unafraid to hold controversial views. "I probably still do, but I don't give political interviews during opera." Except, of course, she cannot resist.
She "hates" the coalition, but concedes that David Cameron had little alternative. "So I hate it, but it was necessary, and for that reason I wish it well for this Parliament and a speedy death immediately afterwards." Despite rumours she might stand for election as a police commissioner in Kent or Devon and Cornwall, she says she would not be tempted, because commissioners "don't have the powers of [Mayor Rudy] Giuliani in New York".
She doesn't do regrets, certainly not leaving politics when she did. "I had come to prefer Countdown to Question Time." She ruined Michael Howard's chances of becoming prime minister in 2005 when, eight years earlier, she said he had "something of the night about him". She later criticised Michael Portillo and his supporters as "backbiters".
Nor should other ex-colleagues sleep easy. Widdecombe is penning her life story. "I don't want it to be... rude about all and sundry." But an amount of truth is always necessary. "So I will be rude about some people... I will be judicious about some people."
No major regrets, then, but maybe one or two "tweaks" if she were to do it all again. Notably her 2000 party conference speech calling for zero tolerance on cannabis possession, which became much mocked after several senior colleagues admitted smoking dope. "It was good policy but we foresaw the wrong headline."
Wrong headlines have followed her around. She left the Church of England for the Catholic Church, in part in protest at women priests. Her most infamous moment, which earned her the moniker Doris Karloff, came in 1996 when as prisons minister she backed cuffing female prisoners while in hospital. "The myth is that I believed in shackling women in childbirth, I damn well did not." She did, though, defend the practice when a documentary showed a woman chained to a male warder an hour after giving birth. She dismisses the controversy as a "press myth" and took to answering her phone "Karloff speaking" to disarm critical journalists.
She will take the same approach when the opera critics take their seats. "They will come and slam me and I will say get a life." So what next? "I don't know what offers I'll get, there could be none." We definitely won't see her in the I'm a Celebrity... jungle and she has turned down "a huge sum" to do Big Brother.
One role remains frustratingly out of reach. "If they had offered me the Lords, which they did not, I would have taken it." With the prospects of becoming a baroness fading, she'll have to make do for now with being a duchess.
'La Fille du régiment' is at the Royal Opera House from 19 April to 10 May
Join our new commenting forum
Join thought-provoking conversations, follow other Independent readers and see their replies