Antonis Samaras: The 'lightweight' who must lead his nation to stability
Samaras must prove himself at home and in Europe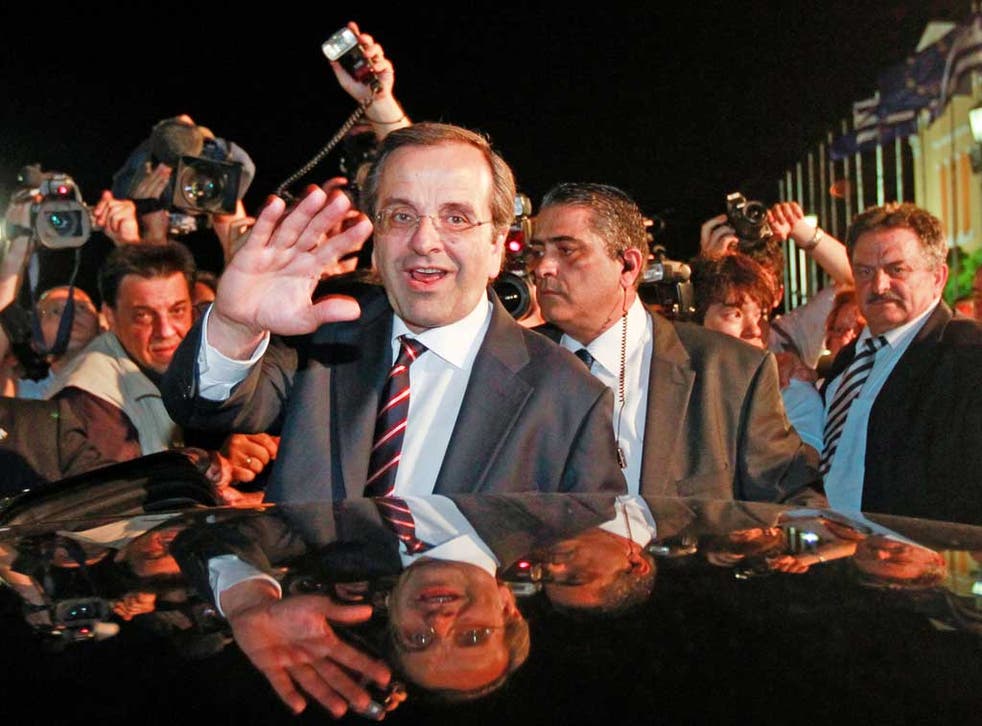 If, as seems likely, Antonis Samaras becomes Greece's Prime Minister he will have done so despite a long period of political exile and the bitter opposition of much of the conservative elite that has held the reins of his party.
It was typical of the drama of politics here that the matriarch of the country's right-wing royalty, Marika Mitsotakis, died on the morning of the May edition of Greece's general election. The wife of former conservative premier Costas Mitsotakis and mother of former Foreign Minister and conservative heavyweight Dora Bakoyianni had told close friends that she did not want to live to see Mr Samaras take the top job.
He took the leadership of the conservatives in 2009 after forcing a nationwide primary against Ms Bakoyianni, who had been favourite to take over from Costas Karamanlis.
While the rivalry for leadership of the New Democracy party partially explains the enmity of the Mitsotakis family for the 61-year-old, he has struggled to win the trust of others on the centre-right. In establishment hang-outs like the Athens Club where Greece's most prominent families gather to talk politics, Mr Samaras is regarded as a "lightweight" with dangerous populist tendencies.
The new Prime Minister must prove himself more able than his old room-mate from Amherst College in the US, George Papandreou, to steer Greece out of its debt crisis, while balancing the demands of its creditors with the needs of the country's increasingly desperate people.
Hopes back in 2009, when Mr Samaras led the opposition and Mr Papandreou was premier, that the pair's shared past might ease the prospects for co-operation were dashed as Mr Samaras opposed the initial bailout deal from the troika – the EU, European Central Bank and IMF – and expelled Ms Bakoyianni for voting in favour of it. He used his spell in opposition to rail against the terms of that deal.
"He needs to show he can work across party lines," said Athens-based analyst Philip Ammerman. But while the Greek economy has unravelled, the New Democracy leader has picked fights across the spectrum.
When it became clear last year that Greece would need a second bailout he initially refused to support the measures demanded in return and came to be seen as obstructionist. He eventually gave in to international pressure to support the deal but only after two weeks of prevarication, which will sour his reception in Brussels and Berlin. At home, his ambition was blamed for pushing Greece back into elections after a unity government led by technocrat premier Lucas Papademos appeared to be making headway.
But his eventual decision to take an unpopular stance over the bailout and to keep Greece in the euro have given him some strength with which to seek concessions from Germany and the EU.
Join our new commenting forum
Join thought-provoking conversations, follow other Independent readers and see their replies