David Lammy: 'It's not just the black community any more – police credibility is questioned by the wider public'
The Monday Interview: Lessons from the riots are not being learned, the Tottenham MP David Lammy tells Paul Peachey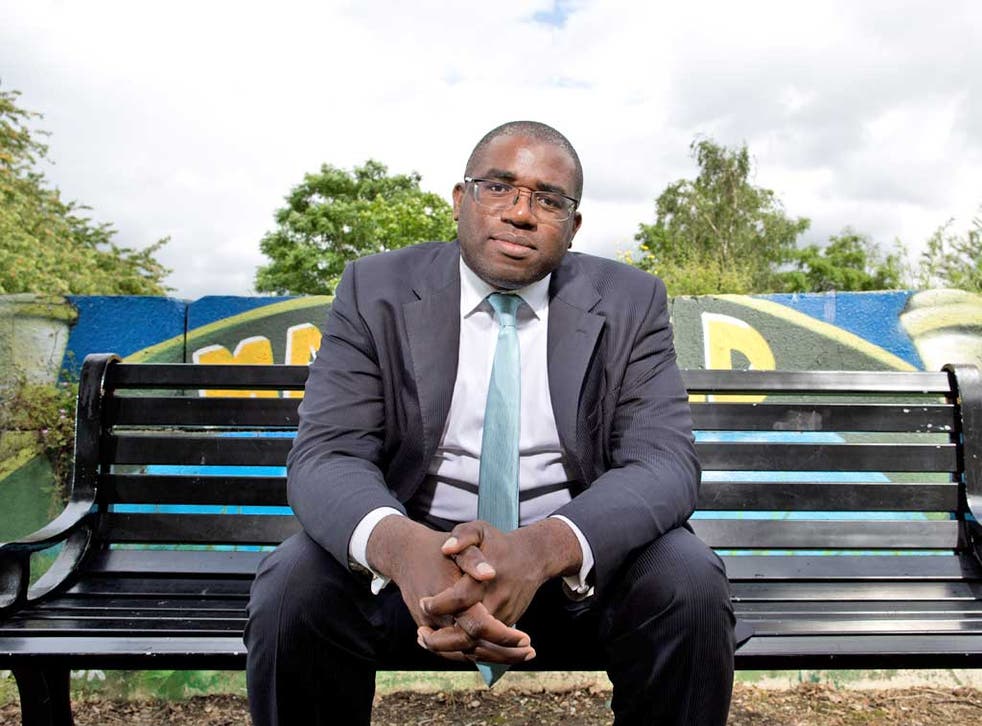 Following the Labour Party's election defeat in 2010, David Lammy's summer holiday last year was supposed to be different. For the first six years of his married life, his luggage was weighed down with ministerial briefing papers and his breaks always interrupted by calls from civil servants. Any hope that the short holiday he began on 1 August would somehow be more relaxed ended abruptly with a phone call from a senior police officer three days later.
He was told that the specialist police team dealing with gun crime in the black community had shot a man, Mark Duggan, from Tottenham. Mr Lammy cut short the holiday and headed home to an uneasy calm which swiftly degenerated into Britain's worst riots for decades. He says he had been predicting civil unrest for a year. But he had not expected it to happen so quickly, so close to home and with such ferocity.
In the months that have followed, the Tottenham MP has been a prominent critic of how the authorities dealt with the riots and their aftermath. He is one of the foremost accusers of the Independent Police Complaints Commission's handling of the shooting in the first hours, which contributed to a sense of crisis. The IPCC wrongly stated that there was a shootout between Mr Duggan and the police and it, along with officers, apologised to the dead man's parents for failing properly to inform them about his death.
"I think it's impossible to be the MP for a deprived area In London and not have engaged on different occasions with the IPCC," says Mr Lammy, 39. "We have seen errors at the beginning of this case ... this is not just in constituencies like mine, this is not just in the black community, [the IPCC's] credibility amongst the wider general public is now being questioned."
With a budget smaller than the disciplinary body of the Metropolitan Police, the IPCC is struggling to cope with the caseload and, with a significant number of its staff being former police officers, its independence is in doubt. Mr Lammy says: "We have now got to a point where we have to examine how the IPCC functions."
The IPCC inquiry into the shooting has, in part, been hampered and delayed by police officers declining to be interviewed by its team. An inquest into Mr Duggan's death may never be held because, under current legislation, a coroner is not allowed to see police intercept evidence from the minutes before the shooting.
Mr Lammy met Theresa May, the Home Secretary, this month to press her for a change in the law. He highlighted the case of Azelle Rodney, another young black man shot dead by police in 2005, whose inquest was scrapped and whose death will not be subject to a public inquiry until later this year. "It is impossible to conceive of a scenario in which our country has seen four days of mayhem and rioting in which there [was millions of pounds] of damage ... and not hearing answers to what happened to Mark Duggan, given that this all started with his death," he says. "We need to understand that our justice system is falling into ill repute if ... we cannot have an inquest into a case like Mark Duggan."
The ramifications of the riots are still felt in the constituency where Mr Lammy grew up and has been the MP for 12 years, and where his father worked as a taxidermist. He highlights several cases, uncluding the Congolese landlord of the Pride of Tottenham pub, who had to scramble on to a roof to elude a knife-wielding mob ransacking the place. The landlord has received only a portion of the compensation he asked for.
Then there is the Cypriot family whose garage business was burned down. One of the family, who is only in his 40s, had a heart attack because of thepressures of trying to rebuild their lives. They have received only minimal payments from their insurer. Businesses are worried about premiums for next year, says Mr Lammy, and more than 660 people are awaiting payments under the riot compensation scheme.
"The barometer of whether we have recovered is whether they are recovering," he says. "When I looked into their faces, I saw my father. I saw someone who gets up early and got back late, day after day after day, while the family breathes their highs and their lows. We are coming up to the anniversary and these businesses are still struggling."
Mr Lammy bemoans the failure to hold a "Leveson inquiry into the riots" to try to understand the causes and to ensure such disturbances do not happen again. He claims the issues that prompted the violence were swept under a "giant-sized carpet called deficit reduction".
He wrote his own book to try to answer the questions. As well as the leaden-footed police response, he aims his fire at the failure of parenting and criticises legal restrictions on smacking children that he says have contributed to a "fractured, anonymous and individualistic" society.
He praises the police for reducing the use of blanket stop-and-search powers on young people in his area which, he says, has done much to reduce tensions since last year. He believes this summer's events, from the Jubilee to the Olympics, have bound communities together again. But he says the Government has failed to deal with some of the key issues that led to the riots. More than 2.6 million people remain unemployed and he believes that "on the whole you don't riot if you have a job and a mortgage".
"I don't sense the kind of tension I was sensing last summer, but the issue of civil unrest will not be judged by one summer. You only have to look at the eurozone and how that affects us all to see how we are going to be looking over the next decade."
He predicts further riots if the issues highlighted in the Metropolitan Police report are not addressed. It pinpointed failings in intelligence, problems between the Met and the IPCC, and the need for better links with the community.
"Four days of mayhem involving very different communities – black and white – involving wide-scale looting and the trying on of clothes, and involving communities that had no relationship with Mark Duggan, I think demonstrate wider and deeper issues than we've seen before. Only time will tell if I was right."
His story: David Lammy
1972: Born in Tottenham, north London. One of five children raised by a single mother. His father left for a new life in the US when Lammy was 12, but died there penniless in 2003.
1985: Having secured a choral scholarship, Lammy was away from Tottenham during the riots, in which PC Keith Blakelock was killed.
1991: Lammy was studying law when the convictions of the men jailed for killing PC Blakelock were quashed for being unsafe.
2000: Becomes Labour MP for Tottenham following the death of Bernie Grant. Serves as minister in Labour government for nine years until the party loses power in 2010.
Join our new commenting forum
Join thought-provoking conversations, follow other Independent readers and see their replies