Desiree Akhavan & Ira Sachs: 'Seeing an out person living the kind of life I wanted made me want to emulate it'
The writer and actress met the independent film-maker at New York University while she was studying film directing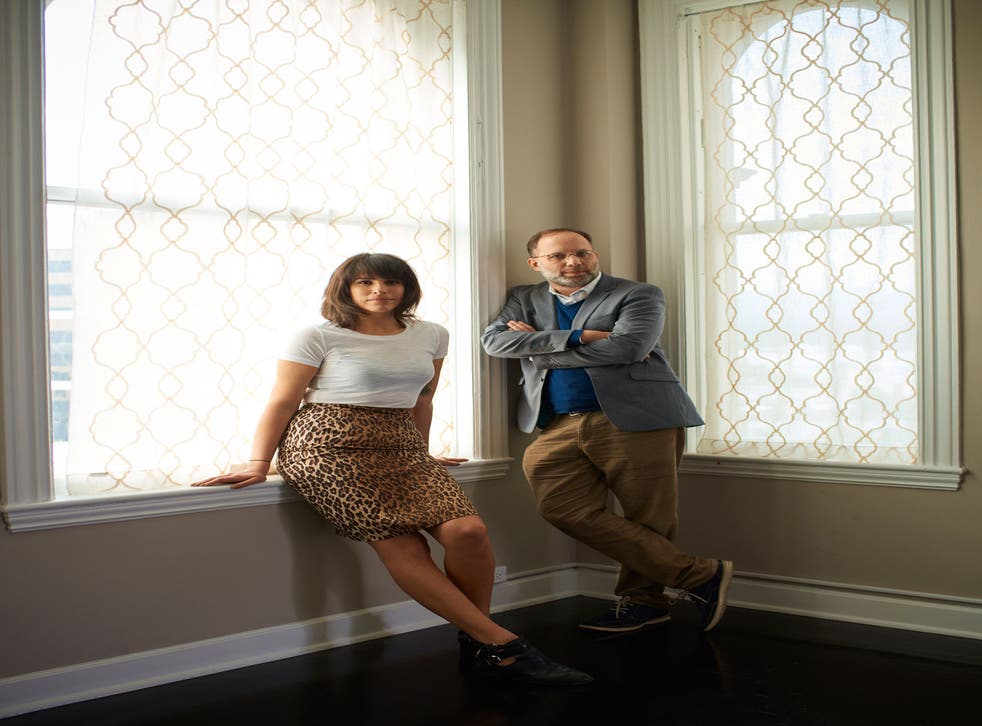 Desiree Akhavan, 30
An Iranian-American writer and actress from New York, Akhavan currently lives in Los Angeles, where she recently completed her debut feature film, 'Appropriate Behavior'
I've been telling stories as long as I can remember, and appearing in plays from about the age of 13. My parents sent my brother and me to a fancy school, and struggled to do so. He went on to be a surgeon, but I was a pretty terrible student, and was unemployed for many years. In other words, he was the good investment.
At 22, I went to New York University to study film directing. In my third year I met Ira, who taught a masterclass. He was incredible, and changed my whole university experience.
I met him at a significant time in my life. Just a few months before, I had come out to my parents, and as a result was in a really bad place. The thing about being gay and Iranian, at least in my experience, was that it was unprecedented: I had never even heard of another gay Iranian. I remember one family friend once saying they would rather their kid have cancer than turn out gay. My parents initially reacted with a lot of pain, but also a lot of love, and they have been very supportive since. The general mindset was this: we have brought you to this country, sacrificing everything, to give you the best possible life; why would you choose to live like a second-class citizen? The whole thing was further complicated because I'm bisexual, not gay, and they couldn't understand why, if I could potentially love a man and live with a man, I wouldn't automatically do that.
Ira was an inspiration because just seeing an out person living the kind of life I wanted made me want to emulate it: family, normalcy, making films. Watching Ira, I knew I wouldn't have to remain in social jail for ever, that I had the same opportunities as anybody else. But it was more than just the gay thing. He inspired me – and every other student – to go and tell our stories, to be honest.
After I graduated, I was an extra in his film Keep the Lights On. It was great to watch him work up close, because I saw that film-making was something you can have control over. At the time, I was still wondering how I was ever going to make a living out of this, but watching Ira made me realise that you simply put one foot in front of the other.
When I wrote the script for my film Appropriate Behavior, I asked him to read it. I had asked many other people as well, and I got all sorts of advice: change this, change that, do XYZ. Only Ira said: "I think you are ready to go shoot this." That's what he is so good at doing: he enables people; he doesn't put up roadblocks.
There is often a lot of silent dick-measuring contests between film teachers, but also between teachers and students. Film-makers can be spoiled in two ways: either they become so successful that the world no longer treats them like a regular human being, so their relationship with humanity is intrinsically ruined; or their lack of success makes them bitter, which means they are incapable of giving freely in class. Ira was never like that. That's refreshing. And very rare.
Ira Sachs, 49
An independent film-maker whose work includes 'Forty Shades of Blue' and his latest, 'Love is Strange', Sachs lives in New York with his partner and their two children
I met Desiree when I was teaching film at NYU. She stood out in my class as being very tall, but also very funny. I remember she was coming out to her parents at the time, but coming out in 2010 was very different from when I came out, back in 1986, so I somehow managed to disconnect myself from the pain she was going through. I never pandered to her emotional turmoil, but then that's part of being a teacher: to empathise within the realms of analysis. I saw how it affected her: it did wonders for her comic writing, and though she initially felt insecure, the insecurity masked a very strong personality. She had a very self-denigrating, somewhat self-mocking sense of humour, but a lot of internal strength.
What I tried to teach my students is that, although it's a cliché, write what you know remains very true. What we have to offer, especially as independent film-makers, is our own perspective on things. Yes, most stories have been told by now, but the one that hasn't been told yet is yours.
Desiree and I both went on to live in pretty much the same orbit. We were independent film-makers together, queer artists in New York, and we also happened to be people who really liked each other. I always knew she had a very good chance to make her name in what is a very competitive industry because she had already proven that to me in class.
When it was ready, she showed me the script to her movie. I thought it was great; it had a voice – her voice. A lot of first-time movie-makers think that they have to rewrite endlessly until at some point they end up with the perfect script. It's more important to just go and make the movie, and I know that she needed that permission from me – someone who was older and more experienced.
Now she's having all this great exposure, with the film and also from appearing in Girls. The media is already calling her the next Lena Dunham, of course, but that's this industry for you: you become a commodity.
I'm so pleased she is doing well, and proud. Often, my students impress and intimidate me in a positive way. If you have a really good relationship with your student, they can become your peer. I don't mean that they necessarily become friends or even colleagues, just that teaching doesn't necessarily have to be as hierarchical as implied.
Akhavan's 'Appropriate Behavior' (15) and Sachs's 'Love is Strange' (15) are in cinemas now
Join our new commenting forum
Join thought-provoking conversations, follow other Independent readers and see their replies