Eric Pickles: The man who wants to bring back blame
Exclusive interview: The Communities Secretary is a plain-speaking foil to his privileged boss. But there's steel behind the charm. Matt Chorley meets Eric Pickles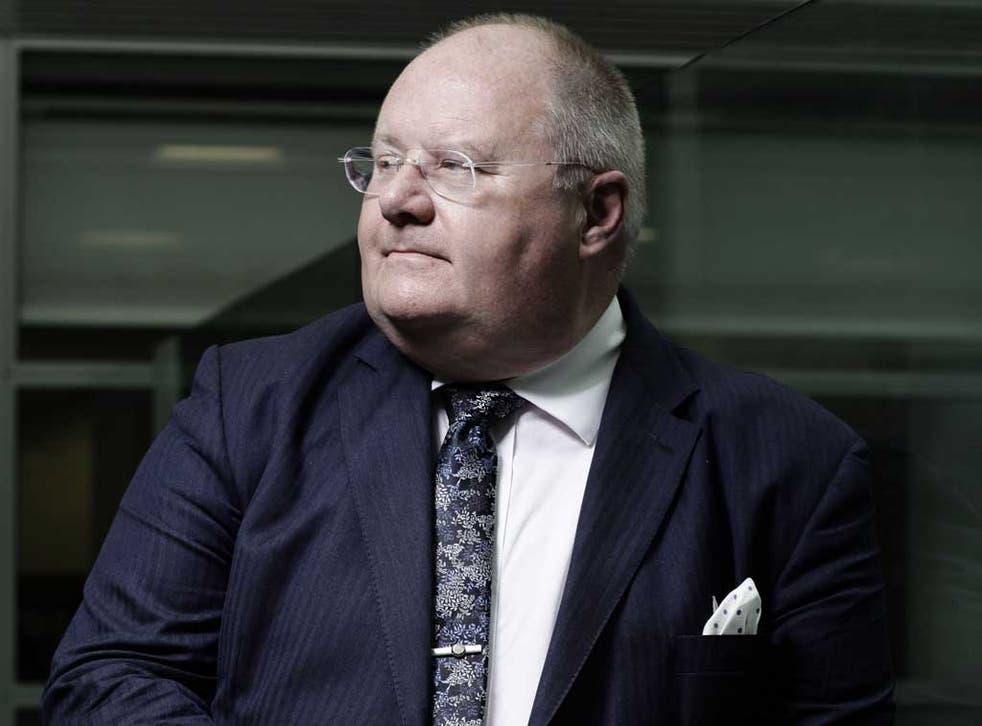 If Eric Pickles came round to your house and declared: "You're ruining your life – get yourself sorted", you'd sit up and take notice. Too easily characterised as the Tories' token cuddly northerner, the Communities Secretary has a steely streak that flashes through when he turns off the folksy charm. He can switch from jolly uncle to "Don't mess with me" in an instant.
As he unveils an ambitious, if controversial, plan to repair so-called Broken Britain, the 120,000 "troubled families" that he has in his sights should note that he draws inspiration from a photo of a gun-toting John Wayne in The Man Who Shot Liberty Valance – "just in case I get any feelings of self doubt".
In fact, his ministerial office says a lot about the man. A large, rare terracotta bust of Benjamin Disraeli glowers from a glass case behind his desk. On a nearby table, in a nod to the coalition, he has a pocket-sized Gladstone. There are two models of "the great Margaret"; Churchill and de Gaulle, too. High on a bookcase stands a black and white photograph of Che Guevara "to remind me that if I'm not constantly vigilant, the cigar-chomping commies will be back".
He will hate the idea, but there is just a touch of the John Prescotts about him. Traditional Conservatism in a modern setting: a straight-talking, northern bit of rough to offset an ultra-smooth, privately educated leader. He even has the office that was once Prezza's lair, though he jokes about having had it exorcised.
In fact, Pickles, who turned 60 in April, is a difficult man to pin down. Throw a tricky question at him, and he'll side-step it with a joke. Try again, and he'll be blunt: "I obviously haven't given the answer you want, 'cos you keep asking the same question."
Nor is he easily pigeon-holed politically. Describing himself as "very much on the [Tory] right", he takes several stances – notably on gay marriage and Britain being "nowhere near" a referendum on leaving the EU – likely to annoy those still unhappy at Cameroon modernisers.
Yet he was in his element waving the Union flag and chomping his way through egg sandwiches at Jubilee street parties. He enjoyed hosting the Downing Street festivities on Sunday, even if it meant having the "mind-numbingly stupid" BBC coverage of the river pageant on in the background. And then he sat down with a cup of tea to watch the "amazing" Sir Tom Jones at the concert on Monday night. "Just fantastic."
He is a man with a hinterland, certainly. His Who's Who entry lists recreations that include "film, opera, serious walking". Musical theatre doesn't normally inspire social policy, but then Pickles is not a normal politician. In act two of West Side Story, the Jets gang launches into "Gee, Officer Krupke", in which they blame everyone but themselves for fighting: "Our mothers all are junkies,/Our fathers all are drunks./Golly Moses, natcherly we're punks!" According to the minister, it's a great song that sums up an excuse culture that has blighted whole communities. "Some families, they've got the language... they're fluent in social work."
Political correctness, he believes, is also to blame. Politicians of all parties have "run away from categorising, stigmatising, laying blame". All sorts of verbal contortions have been deployed in lieu of plain speaking. Even getting mandarins to agree on how to refer to the people he wants to help was not without difficulties. "Folks sat round this table, saying: 'We can't call these people troubled families because that's stigmatising them.' Well, what do you want to call them? Mildly discomforted families? No, these folks are troubled: they're troubling themselves, they're troubling their neighbourhood. We need to do something about it."
At one point, he apologises for relying on anecdotes – "I'm sorry if I keep telling stories" – but they illustrate clearly how hard solutions are to come by. The people Pickles wants to help are a million miles from the Gruffalo-reading, Baby Gap-loving generation of parents who will, with some justification, baulk at what appears to be extreme nanny-state-ism. But those who question the Government's methods may well struggle to suggest an alternative.
"There was this teenage father with a kid," he recalls, "and I'm making small talk to him, saying it must be really nice for you. The best bit is reading stories; revisiting all the things you liked as a kid and reading to your child.
"The man replies: 'Oh, I don't talk to him.' 'Why not?' 'He doesn't speak English.' I said he will never learn to speak, will he? If you don't speak to him, if you don't talk to him and engage. He might not understand every word, but it will come."
Later, he remembers a family where Dad was out of work, Mum on the verge of a nervous breakdown and the children being bullied "because they smelled", as the parents did not know how to use their washing machine. "Now, you are not going to find that on a government score card."
The focus on troubled families however, is not just a reaction to last summer's riots. In fact, many middle-class people took part in the looting too. But the four days of madness last August when "Middle Britain met an underclass" was a wake-up call. "Nice people said to me, where are these people's parents? What are they doing? I will tell you, they are not at a whist club or a Sunday social."
At a time when the Government, especially the Tory side of it, is being pummelled by accusations that it is out of touch, Pickles is a rare voice of authenticity. He was furious when he saw three rioters on TV pointing at their homes and complaining about deprivation. "I thought, bloody hell, that's better than the house I was brought up in, much better, but I didn't go looting."
While playing up his credentials as a tough northerner – born into a Labour-supporting household, he toyed with communism before joining the Tories – he is sensitive to the fact that he risks, by implication, criticising his Old Etonian boss, David Cameron, and the wallpaper dynasty heir George Osborne. "Just because you've got a bob or two or been educated at a good school, I don't think that disqualifies you from wanting to do something about the lives of people who don't," Pickles says, diplomatically, adding that Labour is "not exactly full of Keir Hardies" either.
There is also, once again, a whiff of sleaze in Whitehall. Baroness Warsi, who succeeded Pickles as Tory party chairman, has faced a string of accusations of conflicts of interest and undeclared rental income. Pickles is unabashed in his support for Lady Warsi, who, like him, comes from Yorkshire. "I love her," he declares. "She's bossy, self-opinionated and doesn't have any doubt, and she shares that with me and Geoffrey Boycott. She is gutsy enough to ride this thing through. She's a woman of very high probity."
It is also an exaggeration, he says, to suggest the Government has been swamped by an "omni-shambles" of policy panic and U-turns since the Budget in March. Life under John Major in the run-up to 1997 was "38, maybe even 39 times" worse.
It's time, he says, for the Government to refocus on turning its policies into reality. "Delivery is not an abstract thing, it's rolling your sleeves up and delivering and making sure that people's lives are affected in a good way by what you are doing."
But it's a hard sell at a time of austerity, and many will remain hostile to any government attempts to help the most disadvantaged. But Pickles is an optimist. "Government should be a little – I don't want this to sound daft – but it should be a little bit about the pursuit of happiness."
Curriculum vitae
1952 Born in Keighley, West Yorkshire into Labour-supporting family.
1968 In protest at the Soviet invasion of Czechoslovakia, he joins the Tory party.
1970 At Leeds Polytechnic, studying for the Law Society qualifying exams.
1976 Marries Irene Coates.
1979 Becomes a councillor in Bradford.
1988 Becomes leader of council.
1992 Elected as MP for Brentwood and Ongar, Essex
2001 Sees off a challenge from the independent candidate Martin Bell.
2002 Joins the Shadow Cabinet.
2008 Masterminds Crewe and Nantwich by-election win with a 17.6% swing.
2009 Appointed Tory chairman, to oversee the 2010 election campaign.
2010 Joins the Cabinet as Secretary of State for Communities and Local Government.
Join our new commenting forum
Join thought-provoking conversations, follow other Independent readers and see their replies