The evolution of Andy Serkis: First Gollum, then King Kong - now the actor is swinging through the trees in Dawn of the Planet of the Apes
The British actor is the doyen of motion-capture performance but, he tells Craig McLean, he has ambitions beyond the 'mo-cap' suit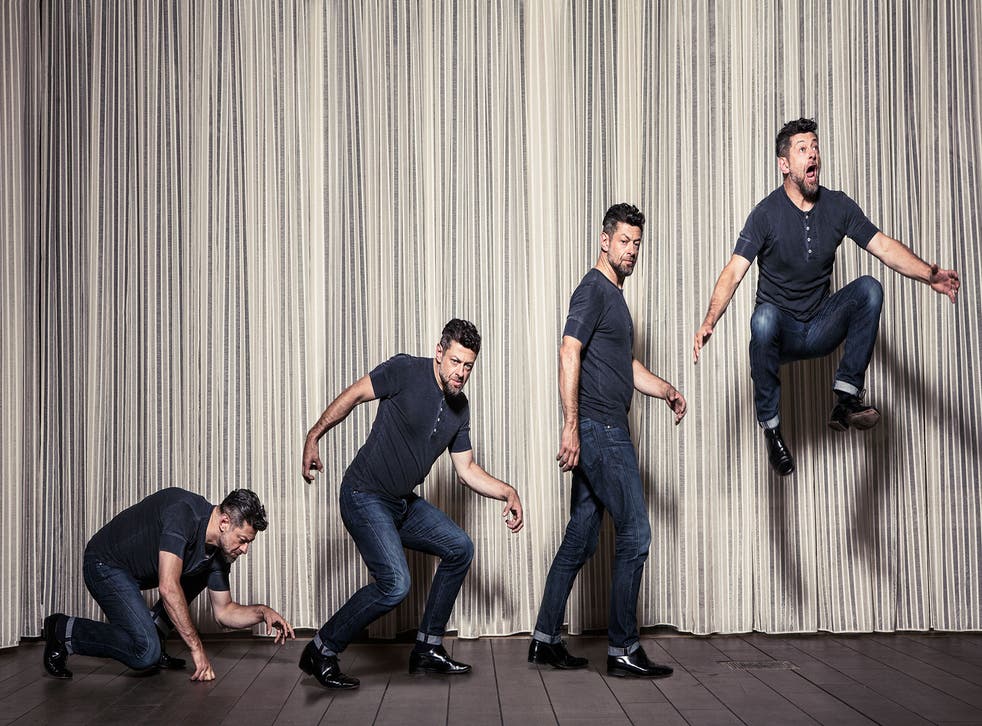 When it came to first playing one of the most iconic apes in cinema history, Andy Serkis had his work cut out. And, effectively, his tongue. But at least this summer's return of the rebooted Planet of the Apes franchise lets him shout about it. A bit.
In the follow-up to 2011's Rise of the Planet of the Apes, Serkis's role has evolved from largely mute monkeying around to a performance that's verbally expressive, too. For in Dawn of the Planet of the Apes, Serkis's Caesar, the ape leader, speaks – to flu-decimated humans, and the simian army he's established in the Californian forest.
"Caesar's speech is a lot to do with the throat," begins the British actor as he explains his character's growing vocabulary in the $120m sci-fi epic. "When we, as humans, articulate, our tongues tend to hit the back of the teeth. So this time I wore a mouth guard to prevent that from happening." Sounds painful. Did Serkis spend much of the lengthy shoot on the sequel to the $500m hit in extreme discomfort?
"Ha ha!" the 50-year-old laughs through a mouthful of posh breakfast in a central London hotel. "Well, it was worse in the last film. I wore chimpanzee teeth, but that was affecting the facial capture in a negative way," he says, referring to the technology used to turn his face into that of the ape who starts a monkey revolution on planet Earth. "They pushed out my top lip too far. Yeah, playing the infant Caesar was, I think, the most painful thing I've ever done. There were also the physical contortions. The pressure of being down on my thighs all the time was knackering. But Caesar is much more bipedal in the new film, a lot more human in his physicality."
Playing a leading role with wonky gait and appalling lines – "No" and "Caesar is home" pretty much sums up his dialogue – would have most actors running for the hills, or at least their agents. But while few might have predicted that reviving the "Apes" films for the second time (Tim Burton had an ill-fated go in 2001) would be a half-a-billion-dollar success, Serkis knew what he was signing up for when he agreed to play Caesar in the origins movies.
Dawn of the Planet of the Apes film stills

Show all 5
For one thing, the original 1968 film told us – spoiler alert! (if you've dwelt in a pop-culture cave for the past half-century) – that the planet on which the action was taking place was in fact Earth. So the new series, acting as a prequel, must chart the story of how Caesar grows from faithful pet-cum-laboratory subject of a San Francisco scientist (James Franco in Rise…) to become the leader of the shrewdness of apes that will, eventually, vanquish and enslave mankind.
"What I loved about Dawn… was seeing the character evolve," says Serkis. In the new film, directed by Matt Reeves (Cloverfield, Let Me In), humans have been devastated by a pandemic, while Caesar's increasingly evolved, 2,000-strong ape community thrives deep in the Californian woods. Inter-species conflict, it seems, is but a tick of the doomsday clock away.
"Caesar is internally conflicted. Because he is in a sense – and this is the way I played him – a human in ape skin. So he's grown up thinking he was part of humanity – until he becomes a teenager and he's rejected. Then he has to find his own inner ape, when he's thrown in with a bunch of apes that seem alien to him."
There is, of course, another reason Serkis knew what he was in for: he's the king of the non-human character performance. So while he's on screen all the time, at the same time, he's not.
For sure, he played the oily villain in Rowan Joffe's 2010 remake of Brighton Rock, essayed a brilliant Ian Dury in Sex & Drugs & Rock & Roll (2010), and was a chillingly convincing Ian Brady in Longford (2006). And his career started on the stage. He met his wife, the actress Lorraine Ashbourne, in Manchester in 1990. Both were acting in a Royal Exchange production, in the roles of people who were going through break-ups. They decided to meet in character in a pub, and improvise the ups and downs of the relationships. "We spent the whole night in character getting very drunk. It was just a rather cool way of getting off with each other!" They live in north London with their three children.
But here's what makes Andy Serkis the best-known unknown actor in Britain: The Lord of the Rings and The Hobbit trilogies – he's Gollum; King Kong – he's the huge silverback of the title; Steven Spielberg's animation Tintin – he's the voice of Captain Haddock; Godzilla, currently stomping all over the box office – he consulted on the "emotional backbone" of the big lizard; the second Avengers movie – he's been helping Mark Ruffalo find his inner, and very much his outer, Hulk. Presumably the only reason Serkis is not in any of James Cameron's upcoming Avatar sequels is that he's just too busy. We'll come to JJ Abrams' hotly anticipated Star Wars movie in a minute. And we'll come to his directing of a live-action The Jungle Book in another.
Serkis, then, is the doyen of motion-capture performance. That is, the role that requires actors to wear a light-strewn suit, which is then digitally nipped and tucked to create an on-screen creature. He even co-founded a cutting-edge "mo-cap" facilities house, the Imaginarium Studios, in Ealing, which employs a team of 35.
In the dozen-plus years since he first played Gollum, Serkis says the technology has advanced by leaps and bounds. For all the legwork he puts in – studying gorillas in Rwanda to prepare for Kong; arriving at Gollum's distinctive voice by channelling a cat coughing up a furball – the special effects only help his performances become even more transparent.
"It's crucial that people do understand that when you're approaching a role there is no difference between performance-capture technology and conventional acting," he says intently. "You're not inhibited by layers of prosthetic make-up. You can actually play something much more truthfully. The technology has arrived at a point where the fidelity to the original performance is much greater."
Serkis has been front-and-centre with this stuff ever since Peter Jackson cast him as Gollum in the Lord of the Rings trilogy in 2001. He then lost 60 years to play the younger, 540-year-old ring-obsessive in The Hobbit films, while also stepping behind the camera to shoot second-unit footage on the New Zealand-based productions. But this Christmas, with the release of the final adventure of Bilbo Baggins, he'll finally say goodbye to Tolkien. Is he relieved? Disappointed?
"Well, it has been such an enormous part of my life for the past 14 years. And not just Middle-earth, but my relationship with New Zealand. Not that that will end, as I plan to go back there and make more films. So I don't really see it as coming to an end."
Surely they're not further raiding the Tolkien hobbit-hole and making The Silmarillion next? "P'raps not," he chuckles, his London accent coming to the fore. "P'raps I'll shift around that one."
In fact, his next film will be his first full directorial project. Serkis has temporarily set aside Imaginarium's long-held plans for a mo-cap telling of George Orwell's Animal Farm to remake The Jungle Book. Serkis's film is going up against Disney's own live action retelling of the Raj-era yarn, but insists there's room enough for two – not least as he has several aces up his sleeve.
First, his script has been written by Callie Kloves, daughter of Harry Potter scriptwriter Steve, who's also a producer on the film. And they're skewing "darker, much closer to Rudyard Kipling" than the new Disney project, which is being made by another actor-turned-director, Jon Favreau (Iron Man). Second, the Imaginarium Studios will be leading the anthropomorphic charge. If anyone can set a convincing Kaa among human actors, it's Serkis. But no, the snake won't be played by the director. "I think I'll have a few other things on my mind," he smiles.
Marvel superheroes, monsters, monkeys and ghouls – it must make him the coolest dad on the block. Seemingly not. The affable Serkis insists his menagerie of blockbuster jobs is all "water off a duck's back" to his kids: he's just the grumpy old man who makes them do their homework. Both parents "keep things incredibly normal in the household. I do the school run when I can, and we just get on with it."
Normal, though, is relative. Having been "surrounded" by acting their whole lives, all three kids are signed with dad's acting agent, and all three are keen. Ruby, 15, has just played Madame Ranevskya in a school production of The Cherry Orchard. Sonny, 14, has been cast in the BBC's upcoming adaptation of J K Rowling's The Casual Vacancy. And Louis, 10, is about to play a young Mad Hatter in Disney's second Alice In Wonderland epic. "So," beams proud dad, "he's a young Johnny Depp."
As we chuckle at young Louis's imminent king-of-the-playground cachet, I try to catch the relaxed Serkis off-guard.
Is he a mo-cap character in Star Wars? "I…" he begins, "…can't answer that."
Is he human? "I can't answer that."
Is he made of metal? "I can't answer that. I'd love to be able to tell you," he insists, seemingly sincerely. But of course he can't. JJ Abrams' production of Episode VII, currently bunkered at Pinewood Studios outside London, is a black hole of character and plot information. Like the rest of the cast – from Game of Thrones' Gwendoline Christie to Girls' Adam Driver, from Carrie Fisher to Mark Hamill – Serkis has been sworn to secrecy on pain of Jedi death. But how about another tack…
Did he see Harrison Ford fracture his leg on the door of the Millennium Falcon?
"No, I didn't," he replies with a sympathetic wince. "Poor guy. But apparently he's been – pardon the pun – a real trouper. He wants to get back on set as quickly as possible and get on with it."
Still, every cloud and all that: fanboys and fangirls the world over must surely have been rejoicing that the Millennium Falcon being used on set is sturdy enough to break bone. It's clearly not balsa-wood flimsy nor CGI smoke-and-mirrors. It's not even mo-cap trickery. It's a proper, Rebel-shuttling, hunk of old-school spacecraft.
"Yeah, if you're gonna get hospitalised, that's the way to do it," Serkis laughs. "But that's the one thing that's possibly safe to say: JJ is absolutely, 100 per cent honouring the original three movies. It's filled with the love and sensibility of those films."
Is he related to Boba Fett?
"I can probably safely say that I'm not related to Boba Fett," he smiles.
Damn, the Force is strong with this one.
'Dawn of the Planet of the Apes' (12A) is released on Thursday
Join our new commenting forum
Join thought-provoking conversations, follow other Independent readers and see their replies