How We Met: Tim Booth & Gordon Strachan - 'You're not turning up in one of those dresses you wear on the cover of the album are you?'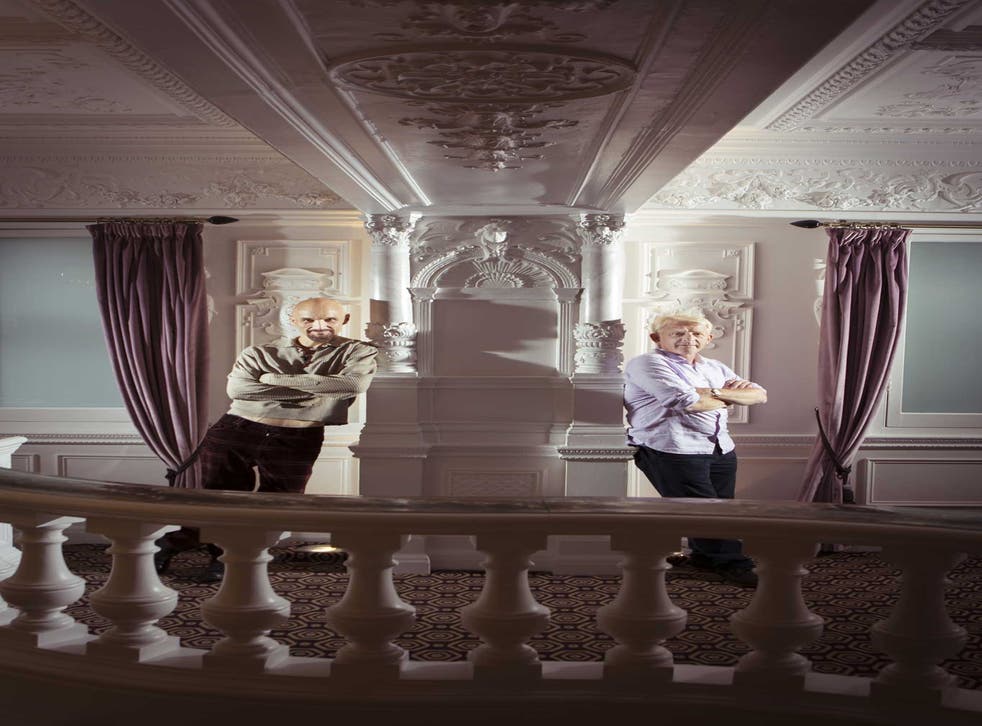 Tim Booth, 54
With fellow Manchester University students Jim Glennie, Paul Gilbertson and Gavan Whelan, Booth (left in picture) formed James in the early 1980s. The group has sold 12 million albums, with hits including 'Come Home', 'She's a Star' and the UK number two 'Sit Down'. Lead singer Booth lives in LA with his family
I've been a big Leeds fan since I was eight years old, and as an adult, Gordon was my favourite player. He was astonishing: great linking play and someone who submerged himself to the needs of the team – and there's something heroic to that.
When we released the album Laid in 1993, I was living in Manchester, and going over to see Leeds games when he was captain. I left some signed copies of my album for the team and Gordon rang me up and invited me to come to a game. He said: "Those dresses you wear on the cover of the album – you're not turning up in one of them are you?"
He's exactly as he seems on TV as a pundit; funny, self-deprecating and highly intelligent. When he moved to Coventry [in 1995 as player-manager, becoming full-time manger until his sacking in 2001] we kept in touch. I felt he could talk to me: the soccer world is a macho place and you don't see many men [showing their] vulnerabilities. I'm a man dangerously in touch with his feminine side; my lyrics are vulnerable – and Gordon and I clicked into having these intimate conversations quite quickly. When Coventry got relegated he was devastated; he felt he'd let down the people of Coventry.
I'm still filled with self doubt when I perform; it's where the lyrics come from. And from conversations I've had with Gordon, the inner critic is strong with him, too. He told me once how, when he was playing at Manchester United, there was a row of old men who hated him. Week in, week out he could hear them slagging him off, saying "Oh that ginger wanker, he's so shit!" The whole stadium was singing his praises but the ear picks up the five to six criticising you.
Gordon is as famous as Beckham in Scotland. When we went to Glasgow for the Celtic-Rangers Scottish Cup Final [in 2006], you couldn't walk 10 yards without someone on the street coming up to talk to him. Fame is a fascinating drug but he handles it brilliantly.
Gordon, like me, is virtually teetotal. But on one occasion I went back to his house for a glass of champagne. Some kind soul kept topping us up and by 3am we'd been through five bottles. I was so ill I stayed at his home for two days.
He comes with Lesley [his wife] on every James tour. When the band has had issues, he's been my confidant and has helped me make the group more cohesive. He's always been there for me: when my mother was dying he was there and when my kid was born Gordon and Lesley were among the first people we saw; I really love this man, he's family.
Gordon Strachan, 57
After starting his football career at Dundee at 14, Strachan went on to rack up a further 635 league games as a player, with the likes of Manchester United and Leeds United before switching to management, at Celtic and then the Scottish national team. He lives in the West Midlands with his wife, Lesley
James's music has always made me happy. When I was playing at Coventry we'd warm up to James, using the stadium speakers. And I used to sing "Laid" to myself during games.
We first met at a Leeds game, in 1993. I was playing for his team as captain and like myself he was in his early to mid thirties. I was a bit wary at first: I remember saying to him on the phone: "I hope you're not wearing a dress like on your album." The Leeds United players' lounge in Yorkshire was not the place to dress like that. I think he found me fascinating.
In Scotland in the 1970s and 1980s we didn't do hugs: I can't even remember having a handshake from my father, so when this man my age comes up and hugs me and is very tactile… it was unexpected.
I have a fantastic lifestyle, so I've always felt that I shouldn't be under pressure, considering my dad did night shifts. But very quickly Tim became one of the few who could tell how I was really feeling within a minute of speaking to him; whether depressed or pressured, he knew if I was trying to disguise it. And the times when I've felt, "I'm beat," Tim would be my first port of call; he's a calming influence. Though when he got a call from me he probably thought, "Uh-oh, here we go."
Over the years, though, I think I've learnt a bit from Tim. And my boys speak to me now more openly than I'd ever done with my father.
I'll not forget Tim's wedding to Kate till my dying day. I'm from Scotland, my dad's never given me a hug, and we're all sat in a semi-circle in this field looking towards this tunnel-of-love gazebo with Tim humming a song he's produced for Kate, with the rest of us singing the chorus.
People find our relationship strange. The fact that we're from different places and we're such different people: he has this studious calm and is quite laid-back and I'm, I'm not. But we both have a profession that we love and a pride in performance and that's where we come together. I've seen him so many times, and he has this attitude of no one's leaving this arena till they're enjoying themselves.
I think he handles the pressure a lot better than I do. It's only now that I'm 57 that I can look back at my career and think, "I was no bad at that!" But when I was playing I never thought that I was fantastic, I just wanted to be a good teammate.
When I was having a lousy time at Middlesbrough [in 2010], I drove away listening to James's greatest hits. I got sacked on Monday, but that night, I felt better.
James's new album 'La Petite Mort' (BMG records) is out now; the band tours in November (wearejames.com/live/)
Join our new commenting forum
Join thought-provoking conversations, follow other Independent readers and see their replies