Iris Grace Halmshaw, profile: Six-year-old painter with a reputation as an internationally renowned artist
She is undeniably gifted – and in hot demand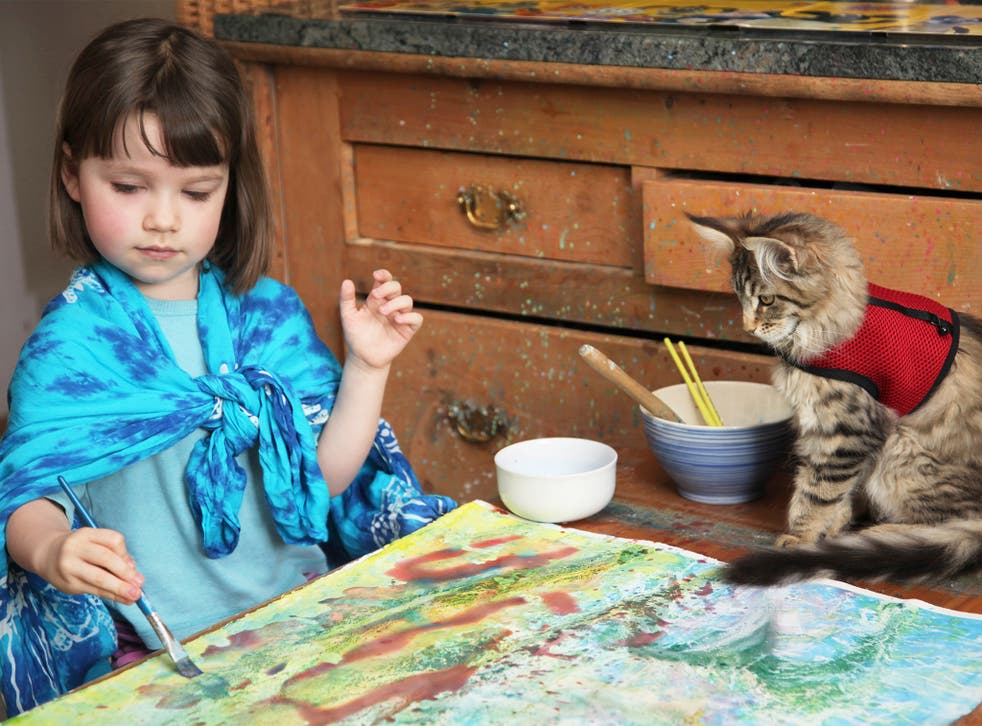 A creative genius hard at work?
Iris Grace, from Leicester, is only six years old but she has already cemented her reputation as an internationally renowned artist.
What's her secret?
Nobody knows but she is undeniably gifted – and in hot demand. Iris, who has autism, has sold paintings to private art collectors around the world, including Angelina Jolie and Brad Pitt, who recently purchased an Iris Grace original. The artist's mother, Arabella Carter-Johnson, said the sale was "so exciting, and wonderful for autism awareness and acceptance".
Iris Grace and Thula the therapy cat
How long has she been wielding a paintbrush?
When Iris was diagnosed with autism aged two in 2011 her parents encouraged her to express herself paint; it quickly became her favourite activity. "She has an understanding of colours and how they interact with each other and she beams with excitement and joy when I get out the paints," Ms Carter-Johnson said.
UK news in pictures

Show all 50
Sounds like one proud mum.
So much so she has written a book about Iris. Named Iris Grace, the book details the "remarkable bond" that developed between her daughter and their pet cat, Thula, which she credits with saving the family.
That's an unlikely saviour…
Before bringing home Thula, Iris barely communicated at all and rarely smiled or spoke. But the once "unreachable" artist developed an affinity with the cat and "slowly blossomed", her mother said. With Thula by her side, Iris will paint for hours. Ms Carter-Johnson said she hopes the book spreads a message of hope.
Join our new commenting forum
Join thought-provoking conversations, follow other Independent readers and see their replies