Jerome Flynn: 'Being a pop star? It was a Disney ride...'
Actor, singer, recluse: he has walked a long and less-travelled road since 'Soldier Soldier' – and now he's back in a new prime-time thriller. Susie Mesure meets Jerome Flynn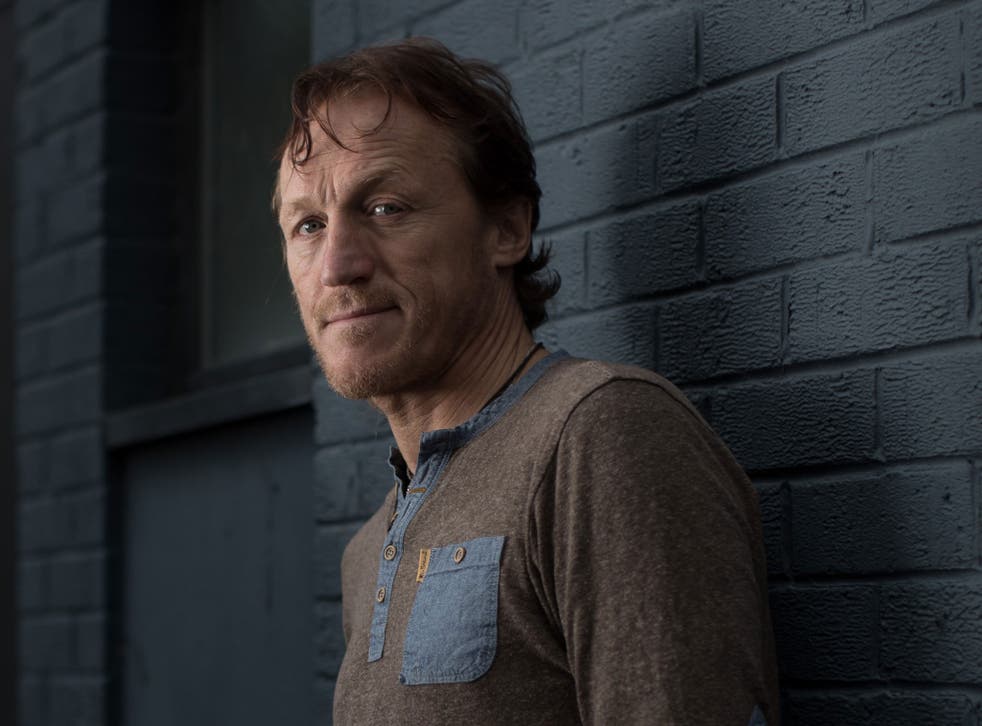 What a Nineties tabloid hack wouldn't give to swap places with me! Outside, on the metal fire escape, high above a west London street, Jerome Flynn is posing for our photographer. Jerome Flynn, in the flesh. Of Robson & Jerome fame, the "Unchained Melody" crooners whose 1995 hit is still one of the UK's bestselling singles. Ever. Housewives' heartthrob ex-Soldier Soldier Jerome. And yes, the Jerome who spawned enough outlandish newspaper headlines to keep chips warm the length of Britain after throwing it all in to join a cult. That Jerome.
Five minutes later, in he walks, grimacing. "I'm nearly 50, and I don't look like I used to," he says, shaking my hand and grazing my cheek with his stubble as he leans in for a kiss. It's his first photo-shoot for more than a decade and he's anxious. More pertinently, it's the first time he's opened up to a journalist since the press rounded on him for his choice of friends back in those "monk-like" years that followed the heady Top of the Pops era.
Sitting in the box of a room where we meet to discuss his return to Britain's living rooms next week, Flynn is doing a good impression of a caged animal. Not because he's tearing the place apart: he's very calm, but because clearly he'd rather be released back to the wild where he lives. The wild coast of Pembrokeshire, west Wales, that is, where he is still restoring the Georgian farmhouse he bought with his pop spoils, the same spoils that reputedly made Simon Cowell his first million.
Flynn, who is dressed in an unbuttoned granddad shirt and jeans, a long, thin scarf wound round his neck, canvas trainers, and a collection of charms on various bits of leather round his neck, is in town to catch up with his family. All his siblings – he doesn't distinguish between those from his father's second marriage – followed their dad, Eric Flynn, on to the stage, who in turn trod in his own parents' footsteps. "It is a bit of a dynasty," he admits.
Despite turning his back on the industry for years, he is making a comeback in the BBC's new period crime drama, Ripper Street, starring alongside Matthew Macfadyen as detectives pounding the streets of 19th-century Whitechapel. "It's very raw, London at that time. It's still trying to civilise itself," Flynn says, in his slow, soft voice as he eases himself back into the task of pimping prime-time shows.
It's brutal stuff. My stomach turns as I remember how his character, Sergeant Bennett Drake, picks a tooth out of his hand, five minutes into the first episode, during a boxing brawl. His lead part follows a cameo, Bronn, in the medieval fantasy Game of Thrones. Now he's somewhat older – think craggy – he says he is "able to come in and play darker parts. Both men use violence a lot to express themselves and have definitely got wounded pasts, and it's nice to explore that, because I think it's probably, yeah, it's safe to say, it's gone along with my journey in terms of exploring the darker parts of myself."
Ah, yes: that journey. "I kind of..." he pauses, inhaling deeply as he embarks on explaining how and why he disappeared from our screens. "It was a combination of being a bit disillusioned with the industry and a bit resentful about how much time acting seemed to take up."
Later, he adds, in between mouthfuls of the vegetarian sushi that's been left for us, that the more he worked, the harder "I found it to know who I was. I discovered the whole unreality of that world. I think it's part of what took me off on a spiritual search, for the meaning ..." He trails off, sentence hanging, like so many others.
Press cuttings from this time claim that Flynn, who has never married, absconded from reality to live in India with an American guru called Andrew Cohen. In fact, the actor was holed up in London's Belsize Park, with fellow Cohen-ites, living "a very intense spiritual life". Stumbling over his words, Flynn adds: "It was equivalent to being a monk for eight years." Pause. "And certainly, the practice of meditation that I learnt turned my life on its head and asked a lot of the biggest questions that I was searching for. But," pause, "and I'm really glad I did it," pause, "but there came a time when I," pause, "when it was," pause, "when it became too exclusive for me," pause, "and I needed to reconnect with my own part of me that had started off on the journey."
The headlines all shrieked cult, I remind him. "I didn't see it like that at the time." I ask how best to describe it, without reopening old wounds. "It's a delicate thing. I wouldn't want to paint it in a totally light or totally dark way. It wasn't the perfect situation that I thought it was. Andrew turned out, for me, to be more human. I had the belief that he was a Christ-like figure. I think I wanted, part of us wants, to find that Messiah. And I think I kind of put that on him, as many people do with their gurus. And he didn't discourage that in a way that I think he should have."
Another pause. And was it a cult, I ask. "Well, I don't think it takes much for a cult to be a cult. Many parts of our society are cultish and you only need a charismatic leader and some teachings, and before you know it you have a cult. So I think it wouldn't be unfair to call it a cult, but at the time when that word was used, it was upsetting for me."
I'm fascinated. It's rare to hear someone divulge what it's like to wear guru blinkers, but Flynn's anxious for me to treat his revelations "sensitively". He adds: "The effect of going in there made me arrogant in a way that I didn't realise I had become. I think I just suddenly started waking up to this need to reconnect."
Today, Cohen's website describes the man as a "modern mystic", a "cultural visionary" and "one of the defining voices of the new evolutionary spirituality". Whatever that means. His devotees, who still include the actor Linus Roache, are today based in Islington, but they no longer include Flynn.
His spiritual journey has instead taken him on a more physical path; one that involves a "more dynamic qigong shaking meditation" as propagated by a different spiritual teacher, this time from Indonesia, called Ratu Bagus. "Shaking's great. Shaking's one of the oldest practices known to man. Standing round a fire and connecting with the earth and moving energy through the body because it's where a lot of our stuff can get trapped. Yeah, I would recommend it," he adds.
We've been chatting for ages and I realise we still haven't touched on the singing. "Sometimes it's better not to," he roars with laughter, smiling for perhaps the first time all morning. "That really was a kind of Disney ride for three years. It was surreal and fun and we just about got out in time," he says, referring to his ex-Soldier Soldier co-star, Robson Green. The pair sang "Unchained Melody" while still on the show, Cowell swooped, and the outcome was a single that has sold nearly two million copies. Although conceding it was desperately "uncool" – their hit for Cowell followed his work with Mr Blobby – Flynn has no regrets, because of all that cash.
But old farmhouses are notorious money traps, even ones that offer bed and breakfast and hire out their outbuildings as holiday lets. Which leads neatly on to another subject Flynn has, until now, kept schtum about: Business Consulting International, better known as Britain's biggest ever Ponzi fraud. "Ohhhhhhhhhh. I haven't talked to ANYbody about that," he says.
In brief, the renovations were bleeding him dry. "A friend, a really good friend who was an accountant, told me about the scheme which gave 12 per cent interest. So I gave it a go. Um, what can I say? There's a certain type of character which, um, is always looking to, er, to believe in the honesty of people. You could call it naive. Or gullible." He denies putting in £1m, as reports suggested, but admits it was "quite a lot", adding: "You think it's too good to be true, which is what it was. Which my mother did tell me at the time." He says he got most of his money back, but feels terrible that friends he'd subsequently tipped off "got stung".
Any plans Flynn might have to repeat his vanishing trick if it all gets too much might have to wait a while. There is already talk of a second series of Ripper Street as well as plenty of life left in Game of Thrones Ω but at least it's highly unlikely that Sergeant Drake will burst into song in the mean streets of Victorian Whitechapel.
Ripper Street starts 30 December on BBC1 at 9pm
Curriculum vitae
1963 Born 16 March, to Eric and Fern Flynn in south London. Grows up in the Kent countryside, just outside Sevenoaks. Goes to Wilderness School, where he first starts acting. His siblings, including a half-brother and half-sister from his father's second marriage, all also grow up to be actors.
1986 After studying at London's Central School of Speech & Drama, he lands a part in the pilot for the fire-brigade drama London's Burning.
1990 Gets the role of Corporal Paddy Garvey of the King's Fusiliers in the ITV series Soldier Soldier. It makes him a household name.
1995 Quits the show to try his hand at being a pop star in the duo Robson & Jerome, with his Soldier Soldier co-star Robson Green. They record the year's bestselling single, "Unchained Melody", and follow it up with two albums.
2003 Tours the UK for two years playing Tommy Cooper in a one-man tribute show to the comic magician.
2006 Stars in Jez Butterworth's The Winterling at the Royal Court.
2010 Plays Bronn in Game of Thrones.
2012 Films Ripper Street for the BBC, Flynn's first prime-time drama since Soldier Soldier.
Join our new commenting forum
Join thought-provoking conversations, follow other Independent readers and see their replies