Kevin Macdonald: 'The world is full of opinion. What we need is people who go out and find the facts'
The Monday Interview: His feature films have won Oscars, but director Kevin Macdonald tells Ian Burrell why he could never turn his back on making documentaries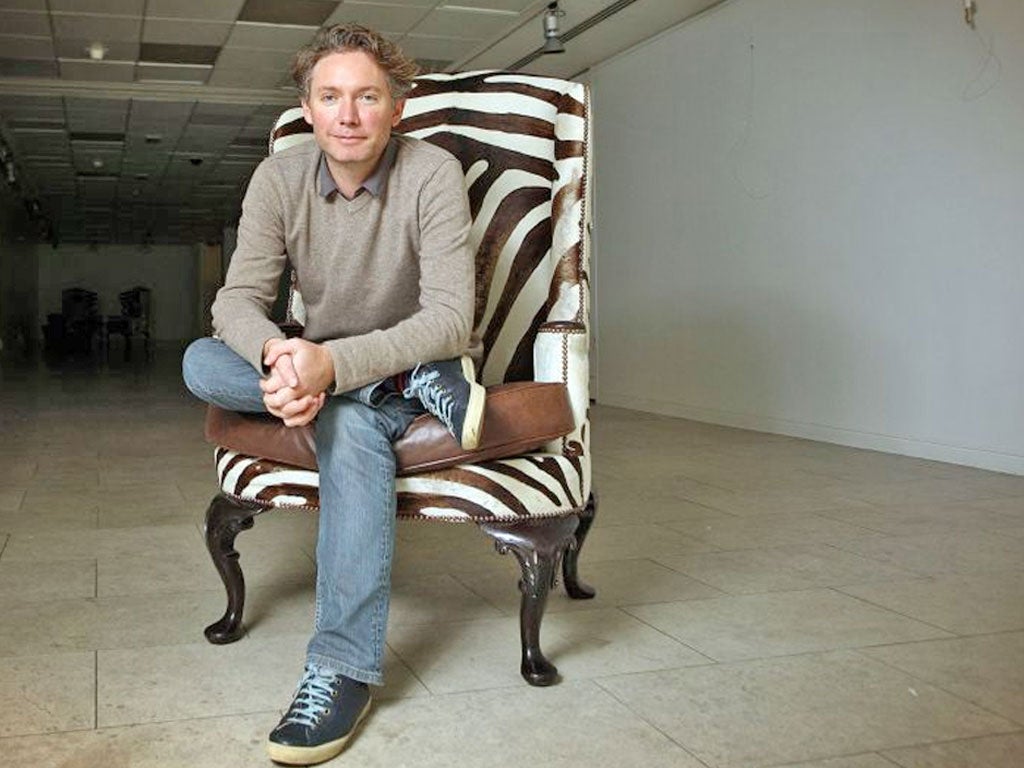 "Think before you shoot," is the advice of the Oscar-winning director Kevin Macdonald to anyone with a newly acquired video camera who fancies themselves as a bit of a film-maker.
The 45-year-old has been at the forefront of exploring the internet-driven phenomenon of amateur documentary making – celebrated in his crowd-sourced film Life in A Day, which was based on 80,000 clips submitted to YouTube, all recorded on 24 July 2010.
Yet the remarkable snapshot of modern life, later shown on BBC1, did not convince Macdonald him that the age of the amateur is upon us. "You would find beautiful little moments and very talented people who had done something really special but that was the needle in the haystack," he says. "It has become as easy to write a blog as it is to make a film or take a photograph - you don't need any particular skill, you can just do it. There's a democratising side to it but it also means that a lot of stuff gets sprayed out there. Nobody thinks before they switch on the video recorder."
So instead of emerging from the project feeling that the professional documentary maker's day was done, he "came out feeling that I have still got some talents". The Academy of Motion Picture Arts & Sciences acknowledged that when giving the Glaswegian the best documentary Oscar in 2000 for One Day in September, his account of the murder of 11 Israeli athletes at the 1972 Olympics. Many feel they should repeat the honour for Touching the Void, his film of a disastrous mountain-climbing expedition in the Peruvian Andes.
Whether or not he has a second golden night at the biggest bash in Hollywood, Macdonald's talents will be recognised again in the UK tomorrow night when he receives the Coutts Grierson Trustees' Award at the 40th British Documentary Awards.
Documentary making has become harder than ever, Macdonald maintains. "When I started doing documentaries in the early Nineties the budget for a Channel 4 documentary was £120,000 on average. These days if you had £120,000 for a documentary you would say that's unbelievable. Today, 18 years later, you are expected to make something for BBC4 on the same subject for £40,000, which is the equivalent of £20,000 back then."
As a consequence, "the loss in craft is enormous" as documentary makers cut corners and spend their time on sourcing funding. "People don't care so much about how things look or sound because they can't afford to."
Conversely, the demand for documentary material is being driven by a decline in trust of the news media. "There are terrible things going on in journalism and one of the reasons that documentary is thriving is because journalism is in crisis," says Macdonald. "Nobody is spending the money to actually send journalists out to find the facts anymore and it means that those who want to can get away with murder."
It's a subject Macdonald explored in his 2009 political thriller State of Play (inspired by the BBC drama of the same name) where he highlighted the pressures on traditional news media and difference between amateur bloggers and professional investigative journalists.
"Blogging is about opinion and do we really need more Huffington Post and more opinion pieces? No, we don't, we need people that are actually going to find out the facts about something and present them to us and then we can all have our own opinion."
State of Play is not Macdonald's only foray into feature films – among others, his adaptation of Giles Foden's novel The Last King of Scotland, set in Idi Amin's Uganda, won three Baftas as well as an Oscar for its star Forest Whitaker.
He says he tries to "alternate my life" between fictional and documentary projects. Once he used to think the factual format was "more interesting and mature" and would be "wound up" by industry colleagues who suggested that, having broken into movies he had no cause to make documentaries.
The two genres call for very different disciplines. "When you are doing documentary you tend to be much more intellectual about it and more verbal - it's all about the relationships and the people you are talking to and working with," he says.
"Whereas when you are making a fiction film you have to try and lose that overly cerebral way of thinking about things and try to react in a more instinctive way, thinking about the visual and the emotional."
He points out that as audiences are less willing to watch documentary on peak time television, the genre has found a home in cinemas - while Hollywood has become overreliant on "huge bloated epics based on comic books".
Macdonald's next project is another feature film, How I Live Now, based on the London-based American author Meg Rossof's novel on young adults. The principal star is Saoirse Ronan, who appeared in Atonement and Lovely Bones, and the core cast is aged between ten and 20. The director describes the film as "a dark, dystopian love story".
His previous work, following the alternate pattern, was the widely-acclaimed documentary Bob Marley, which he had wanted to do since filming The Last King of Scotland in Uganda and noticing the late reggae singer's enduring influence in the slums of Kampala.
In the West, Marley is often associated with "somebody who is peace and love and harmony and music and music to relax to and smoke a joint with," but in poorer countries he is seen as something more profound, a "prophet and a guru".
"Bob Marley is the only Third World superstar," Macdonald argues. "He's the only person if you are a Kenyan kid who represents me in the world, who has come from a position as powerless and poor as me and who has gone on to conquer the world."
He says that for once in his career he felt a "responsibility to history", after realising the paucity of good biographical material on the great singer. "I realised that a: nothing good had been done before, and b: most of the books that had been written were full of unresearched baloney. When you actually talk to people you realise how lazy a lot of rock journalism was in the good old days - why print the truth when the legend was better?"
Just like Russell Crowe's investigative journalist character in State of Play, the director had to go and put in the leg work and has produced the definitive biography.
The truth he is seeking in his factual work - such as Touching the Void - has not always pleased the people he is portraying. "I have had several experiences where I haven't ended with the best relationships with the subjects of the film," he says. "I think there are a lot of reasons for that. One is that we are all deluded about who we are, we all present an image to the world of who we think we are and actually when somebody comes along and shows you that's not exactly who you are it's an affront."
For all this he says he is flattered that the Grierson awards have grouped him with such famous documentary makers as Norma Percy and John Pilger. "The films I make tend to be not films on issues or subjects of great political or social substance, they're entertainments," he says. "They're not about important subjects." For once, Kevin Macdonald does not quite ring true.
KEVIN MACDONALD ON HIS SIX BEST DOCS
Listen to Britain by Humphrey Jennings (1942)
The biggest influence on Life in a Day, it's a 20 minute film filled with sound and music and little snatches of visuals of Britain at war in 1942, considered one of the great documentaries
The Sorrow and the Pity by Marcel Ophuls (1969)
Ophuls is a great French-German documentarian. The Sorrow and the Pity is about life in a French town during wartime and collaboration in France. I could equally choose his Hotel Terminus, which is about Nazi war criminal Klaus Barbie.
Gimme Shelter by Albert & David Maysles and Charlotte Zwerin (1970)
The Rolling Stones film, the best observational film ever made. It works like a novel in the depth of character and structural complexity. You can't quite believe that real life can be so full of rhymes and apposite lines, it feels totally constructed but at the same time completely real. I was in New York last week and met Albert who made it – he's about 92 now and it was a great thrill to meet him.
The Unseen by Miroslav Janek (1997)
This is a relatively unknown film from 1997 made by a Czech film maker. It has a really bizarre subject: a school for the blind in the Czech Republic where the blind children are obsessed with photography
The Thin Blue Line by Errol Morris (1988)
The film that influenced a thousand reconstructions. This is about a man on death row and Morris thinks he is innocent and through the course of the film he proves that the American judicial system is completely ridiculous and comedic. He also proves that the man is not guilty. I was very nervous making Touching the Void about reconstruction but then I watched that film again and thought: no, it is possible to pull it off.
Video Diaries by various (1990)
The genre that influenced me more than a single film, this was the first form of self-shot documentaries when the BBC used to give ordinary people video cameras. That democratised documentary and made self-shooting of things acceptable – nobody cared about crappy quality.
Join our commenting forum
Join thought-provoking conversations, follow other Independent readers and see their replies