Lee Evans: Comedy's Duracell bunny is winding down after a frenetic 30 years
His frenetic routines have had audiences in stitches for 30 years. Now the slapstick supremo's had enough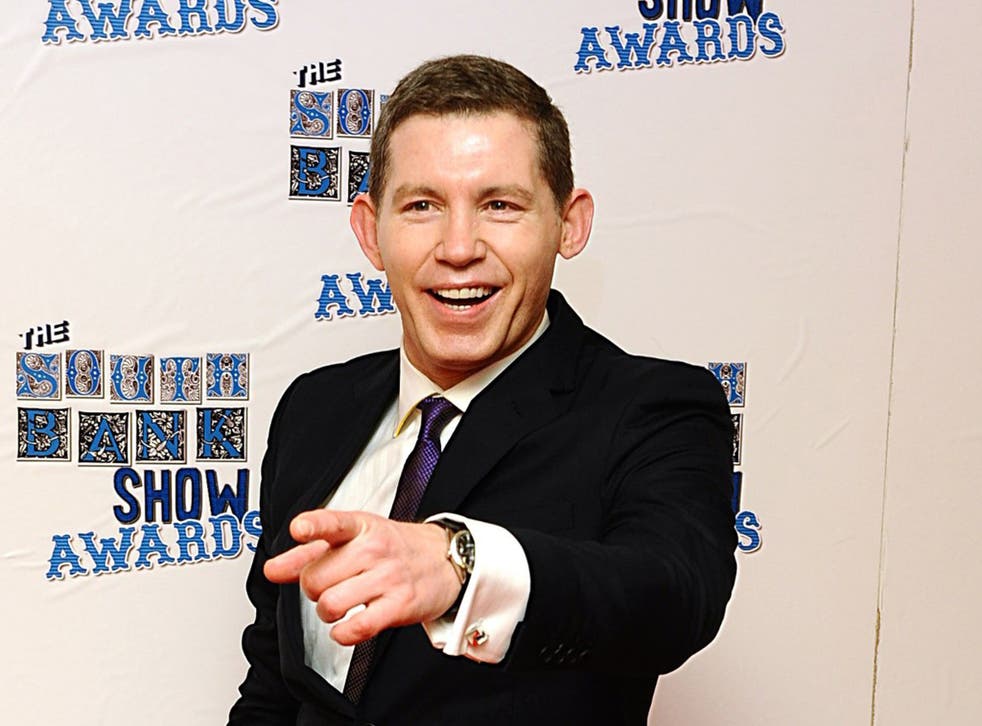 When popular entertainers announce their retirement ahead of a major tour, cynics often surmise that shifting tickets is the real motivation.
But when Lee Evans, the rubber-faced king of slapstick comedy, declared his intention to leave the stage, he did so during a run of sold-out UK arena shows and with the applause still ringing in his ears.
After 30 years entertaining audiences with exhausting routines which demonstrated his mastery of physical comedy, the Essex performer told Jonathan Ross on his ITV show that he was "deadly serious" about his decision to leave the comedy circuit and dedicate more time to his family. An unlikely Hollywood star, when studios put his elastic features to use in a number of hit comedies, Evans has reached the conclusion that, at the age of 50, he can no longer summon the energy for his manic stage shows. "I am knackered. This is it. Finished. This is the end," he told Ross, in the programme, to be broadcast tonight.
Should Evans make good on his promise to devote his time to Heather, his wife of 30 years, and their daughter, Mollie, he will be waving goodbye to a devoted fanbase which has bought one million copies of his live DVDs and generated £12.9m in box-office takings from his last nationwide tour.
Lee Evans gags

Show all 10
A reflective character, who enjoys painting, Evans has successfully restricted insights into the man behind the cartoon clown stage act –until the death, last December, of his manager and best friend, Addison Cresswell, who suffered a heart attack at the age of 53.
Cresswell guided the career of a comic who was brought up on a housing estate in Bristol and accompanied his entertainer father around the rowdy, working men's club circuit. Evans drummed in a punk band and drifted from job to job until entering a talent show in Southend in 1985. He bumbled his way through a musical performance, but instead of his dying an instant death from heckling, the audience roared with laughter and the stunned performer won the £250 prize.
A quiet loner by his own account, Evans honed a frenetic, sweat-soaked act. A latterday Norman Wisdom in appearance, whose apolitical comedy pointed a way forward from the "alternative comics" who broke through in the early 1980s, Evans's gurning, self-mocking routine achieved national recognition when he won the 1993 Perrier Comedy prize at the Edinburgh Festival.
Although he made the transition to television, his was an act which had to be experienced live to be appreciated. Mixing one-liners with a frenzied portrayal of an exasperated everyman against whom the world conspires, Evans broke ticket sales records. He became the first comedian to move from theatres to arenas, where huge screens relayed his performance to the distant top tier.
In doing so, he paved the way for a new breed of mainstream comedians, such as Russell Howard and Miranda Hart, who have parlayed television exposure into lucrative, multi-night runs at vast venues like the O2 Arena.
Sufficiently ambitious to have a crack at Hollywood, Evans built on the success of his screen film debut Funny Bones by winning a starring role in the family comedy MouseHunt and acting opposite Cameron Diaz in There's Something About Mary.
Evans now enjoyed a dual career as a children's favourite and a stand-up entertaining their parents with adult gags such as "People tell me: 'Lee, you should take up golf. It's good for you.' You know what I say to that? 'Fuck off.'"
There was never time to rest on his laurels, though, as the live shows made ever-greater physical demands and the DVDs continued to fly off the shelves. New material would be painstakingly crafted and Evans had to psych himself up for hours before each draining performance. "You've got to give it everything, I think. It's got to hurt. You've got to cry from pain," he said.
Evans's 50th birthday, shortly after the untimely passing of Cresswell, British comedy's most powerful agent who died after snorting cocaine at a Christmas party, has prompted a reassessment of his priorities.
"He was my friend. I miss him," Evans said this week. "As I'm insecure, I suppose I always look for powerful people to take care of me, and Addison was one of those people.
"I was very young and unknown when we met and he was the person who said: 'I'll look after you.' He protected me; he allowed me to go off and develop my work."
Some critics have identified a curdling of Evans's usually feelgood act in his current "Monsters" show. One singled out a "terrible line about his wife being able to 'take a punch', which rather detracts from the levity of the occasion".
A closing parodic power ballad in which Evans declares his love for his wife gave the evening a schizophrenic feel. The Guardian identified an air of "suppressed desperation and fatigue".
The comic finally laid bare his demons in an interview with The Sun. Asked if he gets depressed, Evans replied: "Every single day. Not on the outside, but at home I do. I get very gloomy and dark, very deep and depressed. Everyone does sometimes, don't they?
"I can sit there for ages, with my head in my hands. It's mostly out of being criticised, because then I don't feel worthy and slope off on my own."
Along with the death of Cresswell, the suicide of Robin Williams, with whom Evans had worked at the Comedy Store, also affected him. Evans said: "He was really lovely, with an enormous amount of pathos. I guess he was a case in point, where somebody is trapped in their own little bubble and just wants to be liked, to be accepted."
"Comedy is all about that: it comes from fear. I fear everything. Darkness, light, fear of insecurity, fear of women, fear of conversation… ."
It is with such dark thoughts running through his head that Evans is currently required to entertain 13,000 fans each night until the epic 65-night "Monsters" concludes in Cardiff next weekend.
The manic Duracell bunny comic is finally winding down, as Evans recognised in his interview with Ross. He said: "My dad always said to us: 'You've got to work,' so I've just continuously worked, done comedy, toured, but I've ignored, I think for far too long, my missus, and I want to spend a lot more time with her. I'm a nightmare to live with because I'm always working."
He has no route map for the future. "I've come to a junction in my life where I've done musicals and plays and films and stand-up and you sort of get to a point where you go: 'I don't know what else to do next.'"
Evans will retreat to the family home in Billericay, Essex, but it's not too hard to imagine the retirement being rescinded after a recuperative period away from the entertainment business.
"It probably won't be long before they're [his family] saying: 'Get out!'" he said. Even at his lowest, "I'll do a show and the audience reaction is humbling and I say to myself: 'Come on, sort yourself out.'" And the Monsters Live DVD? It's already in the shops for Christmas.
A life in brief:
Born: 25 February 1964 in Avonmouth, Bristol.
Family: Son of an Irish mother, Shirley Hunt, and a Welsh father, Dave Evans, a nightclub performer. Married Heather Nudds in 1984. They have a daughter, Mollie, 10.
Education: Attended Billericay School; left with one O-level. Two years at Thurrock Art College.
Career: Record-breaking comic who has played to two million UK fans. His 2011 Roadrunner tour grossed £12.9m. Films include MouseHunt and The Fifth Element.
Join our new commenting forum
Join thought-provoking conversations, follow other Independent readers and see their replies