Les Dennis & Alan Bleasdale: 'We bonded over being Scousers, and the humour of Liverpudlians'
The TV dramatist and the actor met while on holiday in Venice 20 years ago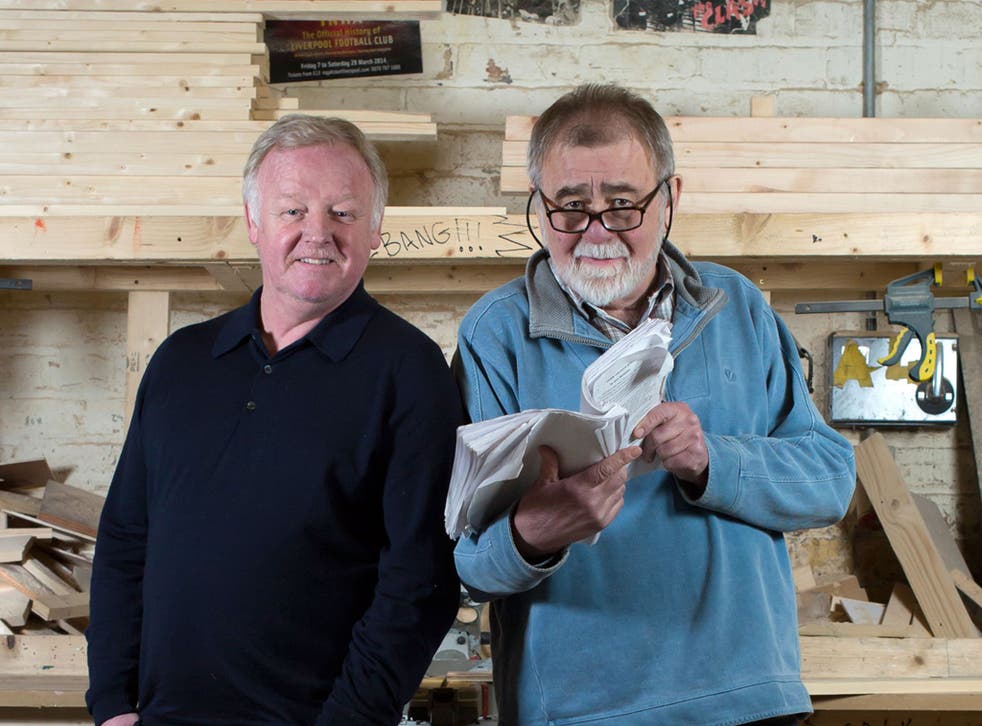 Alan Bleasdale, 69
A TV dramatist known for his social realism, Bleasdale (right in picture) has written series including 'Boys from the Black Stuff' and 'GBH'. Married with three grown-up children, he lives in Liverpool
I first met Les in Venice 20 years ago. Twenty years would become a particular thing for us, because 20 years previously he had first seen my play Down the Dock Road, and now, 20 years on, he has revived it at the Royal Court in Liverpool, as actor and producer.
Anyway, Venice. I was there with my wife, Julie, to mark our 25th wedding anniversary; Les was there with his then-wife, Amanda Holden, to celebrate their first. We were all staying at the Cipriani, and Julie and I had arrived in style, on the Orient Express – although you couldn't really say the same for me. I arrived in quite a state. I managed to break a wisdom tooth while eating something posh on the train, then I fell from the top bunk in my cabin and broke my toe. By the time I arrived at the hotel, I looked like Quasimodo.
Les and Amanda had better things to do with their time than spend it with us, but one night Les suggested we all have dinner. I was reluctant due to vanity: I looked grotesque. But I relented, and we went to Harry's Bar.
Back then, I only really knew Les by reputation, that he had tremendous charm and professionalism. I knew he was a popular game-show host, but Family Fortunes kind of passed me by. But he was lovely, and we bonded so much that we said that one day we'd work together, which I never say to anyone.
Then the decades passed until, two years ago, he contacted me again saying he wanted to revive Down the Dock Road. Now, I never revive anything, and I never look back – I've not even seen Boys from the Black Stuff since it first screened on TV – but Les persuaded me to re-read the play. I surprised myself by quite liking it. It stands up, I think.
We've spent the past two years preparing it for production. I do love a good working relationship, and the intensity that comes from it. And Les has been very understanding. I don't really go out any more. If I were placed under house arrest, I'd cheer from the rooftops. So Les very graciously always came to my house, where we talked about anything but the play. He's a great conversationalist, and he always greeted bacon butties and an all-day breakfast with considerable pleasure.
You would have to be a deeply unpleasant person to argue with Les about anything. I once worked at great length with Michael Palin on GBH. Michael was such a lovely, gentle man, and I feel much the same way about Les. He is very calm, too. I'm a pretty passionate person. I don't look for trouble, but when I see how Les manages to express his own passions so much more calmly than me, I'm aware that it's undoubtedly a good thing.
Culture news in pictures

Show all 33
Les Dennis, 62
Formerly a comedian and TV quiz-show host, Dennis is now an actor of stage and screen, currently appearing in 'Coronation Street'. He is married and has three children
I'd always been a massive fan of Alan, and I've had a couple of near-misses in getting to know him over the years. The first time, I was on a train to Euston and he was three seats up. He was sat there with every newspaper – every broadsheet, every tabloid – poring over them. I didn't really want to interrupt him, but while I was trying to pluck up the courage to do just that, somebody else did. I kicked myself.
I then met him briefly a few years later when I was doing a charity theatre show. He was in the audience with his wife, and I was hoping he might like my performance and offer me a part in something. I was horribly jetlagged that night, and so zombified that I couldn't even remember the show's name. Basically, I just did my Family Fortunes routine.
We eventually met properly in Venice on our respective wedding anniversaries. I saw him sitting on a sun lounger, but he had this really swollen face – a root canal that went wrong, I think. He was clearly in agony. But I couldn't miss the chance, so I said hello. We ended up going out for dinner with our wives. He went home the day after, but left me a note saying that one day we would work together.
Two years ago, I got my chance. I wanted to revive Down the Dock Road. He re-read it on my request and said that it had its heart in the right place, but that it needed to go on a bit of a diet. In other words, we were in business.
At first, we spoke mostly on the phone. He would end every conversation with, "I'll see you on the phone." We were getting on very well, and I think he probably realised just how much I loved his stuff, though hopefully not just how much of a stalker I had been!
When I started visiting him at his home, we bonded over being Scousers, and the humour of Liverpudlians. The first time I went to see him, he said: "Bacon butties at 11 o'clock." I asked for some brown sauce. "Brown sauce?" he said. "Never put anything on bacon! And you certainly don't want to spoil it with brown sauce!" I took his advice; I haven't had it since.
It has been such a thrill to work with one of my heroes. Forty years ago, I really wanted to play Our Kid in Down the Dock Road; now I'm playing Grandad. I love the humour in the play, how he can communicate so much pain and emotion through laughter. He is so absolutely true to his heart, and so passionate about so many things: the closure of docks then, the closure of print newspapers today.
When the play was first produced, he told me he sat with his wife on the opening night and she ended up with her arms bruised as he was holding on so tightly with trepidation. She told him that on this opening night he's going to sit at the back, on his own.
'Down the Dock Road' is at the Royal Court in Liverpool (royalcourtliverpool.co.uk) to 9 April
Join our new commenting forum
Join thought-provoking conversations, follow other Independent readers and see their replies