Lord Allen: Putting an obsessive attitude to work – and making it pay
The Chris Blackhurst interview: Juggling roles that range from chairman of Global Radio to an adviser for Goldman Sachs, Lord Allen is seemingly all business, all the time. And that's how he likes it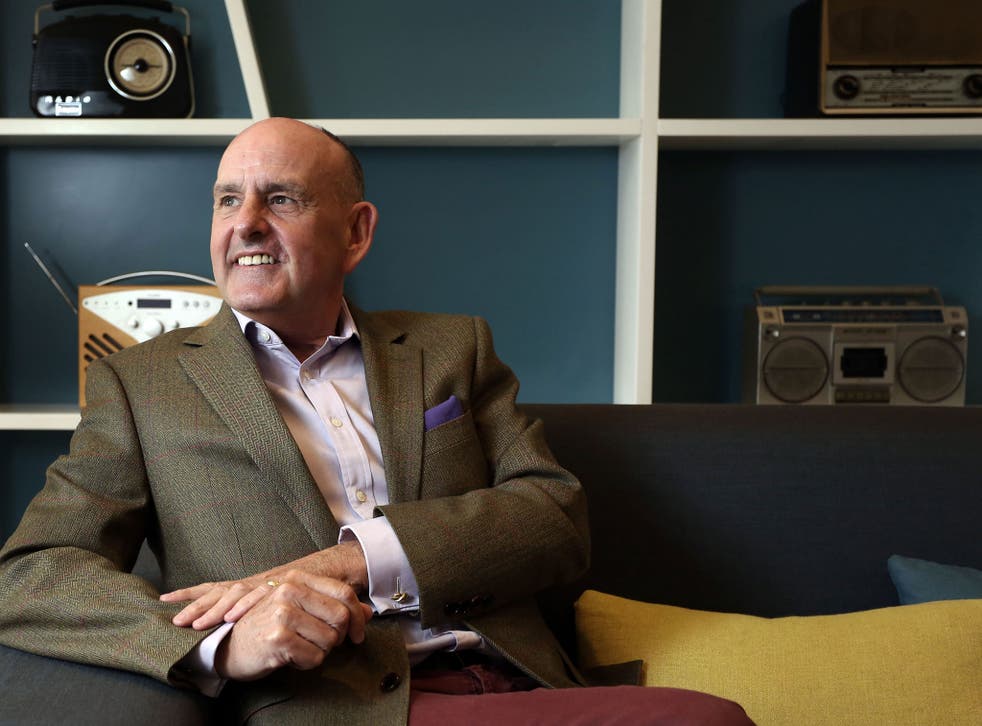 On the wall in Global Radio's headquarters in London's Leicester Square is an Obsession Statement. "Here's to the obsessive ones who strive to make each detail right, here's to the obsessive ones who listen late at night, here's to…"
You get the picture. "It came from all four of us, all the top four people here are obsessive compulsives," Lord Allen, the Global Radio chairman, says. "That's Ashley Tabor, Stephen Miron, Richard Park and myself. We're all obsessive about different things and we wrote it down."
What's Lord Allen obsessive about? "Strategy and where we're going. Equally, I like to dip down and see what's on the ground. I'm both big picture and detail. It's easy to sit in splendid isolation in the boardroom. You've got to get out, to wander round and look at what is really happening."
We're sitting in the chairman's top-floor office. Below us, Global Radio, home of Capital, LBC, Heart, Classic FM and other stations, is all abuzz. Up here, it's quiet.
Usually, Lord Allen is wearing a standard business dark work suit and white shirt. Today's it's red trousers and a green jacket. Lord Allen is also chair of the executive board of the Labour Party. Is this the effect Ed and his dress-down mates have had on him? Allen the hard man, the tough accountant? He smiles and says in his Scottish brogue: "It's more of a relaxed day."
It's no wonder Allen is contented. From the pressure cooker of running ITV and before that Granada, he's established a reputation as the consummate chairman, seemingly of anything.
He's now got a host of part-time jobs. As well as Global Radio and Labour, he's a consultant to Goldman Sachs, chair of ISS, the giant office services group, and chair of 2 Sisters Food, the food manufacturer. Until recently, he was chair of British Red Cross. For the London Olympics he was "Mayor" of the Olympic Village ("I lived there for a month, I was the only person in the village with wine in my room"). He was one of the main organisers of the Games, having previously played a part in bringing the Manchester Commonwealth Games to fruition and then pushing with Sebastian Coe and Tessa Jowell for the Olympics to be awarded to London. In the past, he's been on the boards of Tesco and Virgin Media, chair of EMI, and a "Secret Millionaire" for the Channel 4 programme.
There's no doubt he's happier for another reason. Before, while not secret, his homosexuality was not exactly public either. Now he's openly gay, right up there in the gay power rankings. Aged 57, he lives in Kensington in west London (he's Lord Allen of Kensington) with Michael, an architect, his partner of more than 20 years.
They live in some style. They're both wealthy – Lord Allen likes to joke that Michael, whose speciality is renovating and redeveloping mansions for high-rollers, is richer. Suffice to say, they are both millionaires many times over.
Lord Allen is chipper, too, because ISS has just floated on the stock market. The shares were nine times oversubscribed and the group is valued at more than £3bn. ISS is based in Denmark but is a worldwide firm, employing 530,000 staff around the world, many of them in the UK. "Take Barclays. We provide all the services for Barclays globally, from the doormen to the technology people to the cleaners to the caterers. We do the whole lot."
So he's back to where he began, in contract catering (a role that earned his business partner and pal Gerry Robinson the rebuke of "upstart caterer" from John Cleese when they marched into Granada TV and took it over)? "It's very similar," he says, laughing. "I've never really left, but I've had a lot of fun in the interim."
We slip into a discussion about managing media and keeping costs down, something we're both familiar with. He volunteers: "I bumped into Tony Hall [the BBC Director-General] yesterday and said 'I want to get you in and have a look at how we work'. Do you know, BBC Radio 1, 2 and 3 have a combined content budget of £123.6m, and Capital, which is up against Radio 1, Heart, which is against Radio 2, and Classic, which takes on Radio 3, have a combined content budget of £19m. Look at Radio 4 in the morning. On LBC we will have a presenter like Nick Ferrari and a producer, and that's about all – and we're all the better for that."
The BBC annoys him. "It should have a licence fee for a set period of time but not forever. We couldn't take away the licence fee right now because it hasn't got alternative funding sources, but once they're developed it should go. The BBC needs to become less bureaucratic. It's also got governance and management problems that require sorting. What the BBC needs is a very strong chairman, a very good D-G, its own board and a regulator, an Ofcom or 'Ofbeeb' to oversee them. Then the trust board should be scrapped."
He's been with Goldman Sachs since 2007, one of the "senior advisers" to its private equity arm. He was originally hired to bring in new business but he says he's spent most of his time helping sort out existing investments, including Endemol, the TV production company.
Which brings us onto Labour. Here he is, a man of many capitalist chairs, seriously wealthy, known for being a hard man, for running tight ships and cutting expenditure, which means, invariably, jobs, and he is heading its executive board? I'd never marked him down as Labour. "You're wrong, I've always been Labour; back to whenever, I've been Labour. I grew up in humble beginnings; I was working in the steel works when I was 17."
He is a cash donor to the party but he does not give much – his main gift is his time. He was first asked by Ed Miliband to conduct a review of Labour's structure. The result was the recommendation of an executive board, "to make it more joined up". The NEC, Shadow Cabinet and leader's office all deal with policy; his board takes care of resource and staffing.
Contrary to what has been said in some quarters, he says: "I am not there to usurp Iain McNicol, the general secretary. I'm confident in saying that Iain would see me as a help not a hindrance."
But does Lord Allen ever play a role in devising policy? "No." Does he ever express a view, about the planned mansion tax (he lives in one), the party's attitude to bankers (given his pals at Goldman), the proposed energy-prices cap (something the business community finds abhorrent as straight political interference in the markets)? He does not give a definitive answer, instead preferring to say that the notion that big business and Labour are incompatible is overstated, and indeed, "all those business friends of mine aboard HMS Tory have sent out a few tenders in recent weeks. It's not all sweetness and light over there."
It's "really important", he says, that "business reaches out to Labour and Labour reaches out to business". The two, he says, should work together, to make society better and fairer – that way both can prosper.
The freeze on energy prices was attacked by the City, he acknowledges, but "it's interesting how the Tories have now come in behind it. Something has to happen. If you go out of London, out of the London bubble, you will find that the cost of living is a massive issue and that includes the cost of energy. We have to balance our society more". Look, he says: "We can't continue to have a situation where there's a fast lane but there are not enough people even able to get on to the road."
Listen, he says: "Ed took the view, 'this is not right, this model is broken, let's fix it'. He's put energy bills on the agenda – same with the mansion tax, where he is seeking more balance, and Europe, where he is after clarity. Ed is saying, 'right, let's get them on the agenda, let's have the engagement'."
As a Scot, he is determinedly anti-independence. "There's been a lot of wrapping in tartan up until now. It's been an emotional debate. But we need to move from Braveheart to reality. We should ask, how do the numbers stack up? An individual in Scotland costs the NHS £900 a year, in England and Wales it's under £500. How is Scotland going to find the money? Scotland won't be in the euro, what are the implications? It won't have the Bank of England as a lender of last resort, what are the implications?"
He hopes the nationalist campaign "will unravel. I hope the pendulum keeps swinging in the right direction. Don't get me wrong, I'm very proud to be Scottish but I'm equally proud to be British".
His PA taps on the door. He must go. "I've some work here at Global Radio to do, I'm going to the House of Lords, I've got a 2 Sisters meeting and I had a call about ISS first thing this morning. I like this, I love the fantastic range." He can spare 10 minutes to have his picture taken but only if we're quick.
The many roles performed by Lord Allen
Born: 1957, in Scotland
Education: Bellshill Academy, Lanarkshire
First job: Trainee accountant, British Steel
Current posts: chairman Global Radio, chairman 2 Sisters Food Group, chairman ISS, senior adviser to Goldman Sachs, chairman of the executive board of the Labour Party, Labour peer
Previously: chairman British Red Cross, non-executive director London Olympic Games committee, "Mayor" of London Olympic Village, chairman EMI, chairman organising committee Manchester Commonwealth Games, non-executive director Tesco, non-executive director Virgin Media, chairman Granada Media, CEO Granada Group.
Join our new commenting forum
Join thought-provoking conversations, follow other Independent readers and see their replies