Lucas Leiva: Strongman Suarez can take the abuse
Fellow South American tells Steve Tongue why his Liverpool team-mate will rise above everything that a hostile Old Trafford crowd throws at him today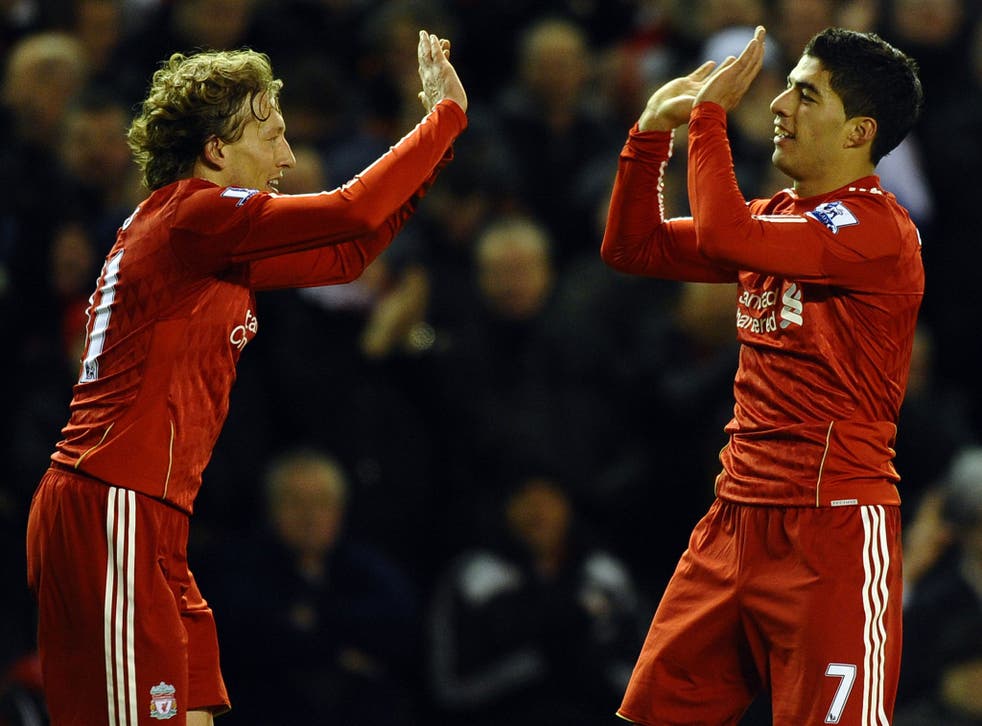 Watching Luis Suarez walk into the reception area at Liverpool's Melwood training centre last Thursday lunchtime was to observe a man for whom another week of controversy was so much English rain off his back. There was a smile, a friendly word for the receptionist; and no sign of any devil's horns protruding from the jet-black hair. The disputed nature of the winning goal against little Mansfield Town may have propelled him into the headlines again but did not appear to have cost a minute's sleep.
For all the ability to attract controversy, this is how Liverpool employees find him, easy-going and relaxed, at least until the ball comes out on the training pitch. "In training every day he doesn't like to lose, and that's what makes him so successful," observed a fellow South American team-mate, Lucas Leiva. To that can be added an apparent ability to shut out the sort of abuse that will descend on him from the Old Trafford stands this afternoon after he was found guilty of racially abusing Patrice Evra at Anfield 15 months ago and then refused to shake the Frenchman's hand before the return game in February.
"I don't think it will bother him," Lucas said. "He gets it at every stadium that he goes to, so this is just one more for him. I think he copes very well with that, and if people still criticise him for everything and he keeps on scoring goals I don't think he'll be worried about it.
"Of course it's not nice to see a player, a friend, get that amount of abuse but that's the way it is," he added. "He's a strong character and he's showing everyone the quality he has on the pitch. That's the most important thing at the moment."
A friend is how the Brazilian regards his Uruguayan contemporary, who is just a fortnight younger and therefore also turns 26 this month. "I'm very close to Luis. He's a family man, he loves his daughter and his wife and he's with them all of the time and looks after them and concentrates on his football career.
"He's very nice, very open, but I understand sometimes why he's not too open [with the media] because of the way he gets treated. I just think sometimes he tries to protect himself and that's the best way. I don't know if it hurts, I never ask him."
Could it ever hurt sufficiently to drive Suarez away from these shores? "It's hard for me to say. I've never had this conversation with him. It doesn't seem to worry him too much because if he was worried, it would have affected his performance on the pitch. If in the future he will get tired of it, we don't know. It could be too much but it could be a motivation as well, just to keep going.
"That's the strong character that he has and maybe instead of it being a negative thing it could be a positive thing. A lot of players like the boos and it gives them that bit extra."
If that is truly the case with Suarez, United should beware today. He did, after all, score the only goal in Liverpool's 2-1 defeat on that last visit, and was excellent – after a handshake with Evra – when United won by the same score at Anfield this season.
Lucas missed that game, injured again despite having only just recovered from missing the last five months of the previous season with knee ligament damage, but he remembers well the salient details.
"We lost and had a few concerns about the game, we had Jonjo [Shelvey] sent off, which didn't help, then the penalty, and at the end of the day that was crucial for the result. But we had a lot of chances. It was at the start of a new season, with a new manager and a few players coming in and some leaving, but even against Manchester United and Manchester City we showed we're capable of competing against these big teams. Of course, the start was not ideal, but afterwards we improved and have good momentum now."
If the main men this afternoon are easily identified as Robin van Persie and Suarez, there are others well aware that it is a fixture in which to make a mark one way or another – richest red or deepest black.
Danny Murphy, never a prolific scorer from midfield, seemed to save up his goals for Old Trafford – often winning ones. Nemanja Vidic has not been allowed to forget how Fernando Torres mugged him in a remarkable 4-1 win there for Liverpool in 2009, which some have unkindly suggested was the Spaniard's last outstanding display.
Lucas has reason to remember that day as well. Earlier that season, only his second at the club, he had suffered the rare indignity of being booed by Liverpool supporters in a game against Fulham.
His efforts at Old Trafford that day, however, finally convinced those who seemed to be expecting a mixture of Zico and Garrincha from Brazil's Under-20 captain that he had something to offer.
"Of course it was a very important game and probably one of the best wins at Old Trafford for Liverpool," he said. "In these big games, if you play well people give you credit, so I always try to get really focused.
"Being here for a few years, I know exactly what it means for Liverpool and Manchester United," he added. "Of course we have Everton in the same city, but Manchester is for sure the biggest rival and it is a special game to play."
Suarez or Van Persie: who would you pick? The IoS strikers' panel give their verdict
Dean Ashton
111 goals for Crewe, Norwich, West Ham
I'm a fan of both, although I'd probably veer towards Van Persie, who has it all. He's good in the air, quick, two-footed, the whole all-round package. Suarez, though, must be a nightmare to play against with that low centre of gravity; the number of times he puts the ball through a defender's legs is unbelievable. Maybe the controversies he's been involved in have detracted from appreciation of his talents.
Mark Bright
208 goals for Port Vale, Leicester, Crystal Palace, Sheffield Wednesday, Millwall, Charlton
Ask me to choose between them and I'd just toss a coin. Neither is an out-and-out centre-forward, that's a dying breed, and if Daniel Sturridge plays regularly then Suarez may play wider, which is fine as long as he accepts that. What I like about him is that whereas someone like me always had to rely on service, he has the ability to create something for himself. As for Van Persie, they say you can't buy class but that's what Sir Alex bought.
Martin Chivers
275 goals for Southampton, Spurs, Norwich, Brighton
They're both scoring a lot but I'd take Van Persie as he's the more dynamic. That was a fantastic goal at West Ham and he can score with either foot and his head. I don't regard Suarez as being as physically strong and he used to fall over a lot. It will be interesting to see him with Sturridge, as I think strikers are better in pairs, as Jermain Defoe has proved at Spurs since Emmanuel Adebayor came back.
Steve Claridge
225 goals for 16 clubs
I'd vote for Suarez if only because he's been playing in a poorer side. Yet his percentage of scoring or making the goals is something like 85 per cent. He plays every game, is never rested and is mainly up there on his own. He's got that low centre of gravity and sees things around him. In a better team, Van Persie's been absolutely sensational. His right foot, his weaker foot, is unerring and he finds the right connection and right direction. As a manager you wouldn't say no to either of them, would you?
Garth Crooks
168 goals for Stoke, Spurs, Man Utd, West Bromwich, Charlton
I'd go for Van Persie but we're talking about two world-class strikers who for goals, effectiveness and technique both tick all the boxes. So it's extremely difficult to say one's better than the other. What I would say about today's game is that although it's one where the formbook may go out of the window, you could see Van Persie making that little difference for United.
Dion Dublin
234 goals for Cambridge, Man Utd, Coventry, Aston Villa, Millwall, Leicester, Celtic, Norwich
I'd take Van Persie every time for his all-round game. He gives you more than goals because he works hard and brings other people into play. He can hold the ball up better than Suarez, who likes to be attacking a defender, not having them at his back. RVP is the better finisher; his goal at West Ham was one of the best I've ever seen technically. It is really hard to take the ball, touch it and score without breaking stride.
Malcolm Macdonald
254 goals for Fulham, Luton, Newcastle, Arsenal
As a manager I wouldn't have been able to choose between them without knowing the rest of my team and how they would complement it. I think they could play together. Sir Alex looked at what he needed to get the best out of Wayne Rooney, and Van Persie has been perfect for that. I wonder about Suarez and where he is going to play now that Sturridge has arrived.
Frank Stapleton
205 goals for Arsenal, Man Utd, Blackburn, Huddersfield, Bradford
They're two different types for me, Van Persie being more of a target man, a good header as you'd expect from a taller man, whereas Suarez is individual. Liverpool got Sturridge in to help him out because you can't keep playing all the time, and he'll just get stale. Suarez likes to dribble and is hard to knock off the ball. I'd always fancy United at home, especially now the defence has tightened up with Vidic coming back. They've got to be favourites for the title.
Paul Walsh
161 goals for Charlton, Luton, Liverpool, Spurs, Portsmouth, Man City
I'd maybe go for Van Persie slightly in front as a top-quality all-rounder and finisher. I love that knack he has of controlling the ball with his right foot and shifting it on to his left, or the other way round, like the goal at West Ham. But then with Suarez you've got that "wriggle factor" in tight spaces, getting out of tight situations. I love watching him play.
Join our new commenting forum
Join thought-provoking conversations, follow other Independent readers and see their replies