Mad about the boy: Jared Harris divulges a few secrets from the set of Mad Men
The solitary Brit among the all-American cast of 'Mad Men', Jared Harris offers a sneak peek into the making of the much-anticipated fifth series – and speaks frankly about his hell-raising father, beating Brad Pitt and Daniel Day-Lewis to film roles, and the harrowing sadness of his divorce.
Mad about the boy: Jared Harris divulges a few secrets from the set of Mad Men

Show all 2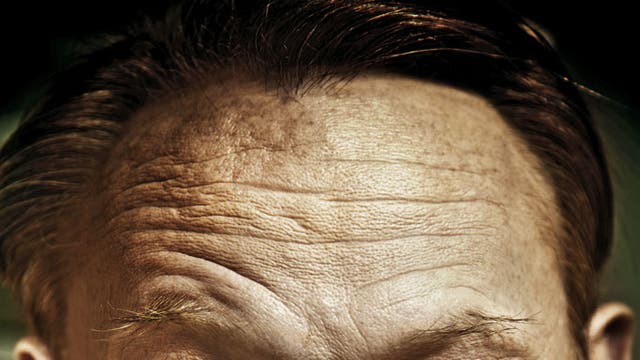 To the answer to Life, the Universe and Everything – at least for that part of the population enslaved to the cult of Mad Men – turns out to be the number seven. For now we have a firm-sounding response to fans' eternal question (or is it a nagging fear?) about how long Matthew Weiner's peerless saga of 1960s Madison Avenue advertising folk – soon returning for its long-delayed fifth season – can continue. And it comes from the only British member of the cast, Jared Harris, who plays Lane Pryce in the show. "As I understand it, it's seven and out," Harris tells me. "I'm signed up for seven (seasons) and I understand that's the same with the other actors – and that's sort of the way that he [Weiner] wants it to go. Of course it's happened before that they've changed their minds."
Pray they do, for some of us will be bereft without the denizens of Sterling Cooper Draper Pryce. Cable company AMC, whose prolonged contractual negotiations with Weiner and the show's makers, Lionsgate Television, led to the fifth-season delay, has been running a clever advertising campaign in the States, led by posters simply showing the show's iconic Falling Man graphic, creating an almost unprecedented buzz for its return. "There's an unbelievable anticipation," says Harris, whose character provides the last-named partner in the advertising firm. "Everyone's gagging for the show."
Aficionados need no explanation of the appeal, but here's Harris's concise analysis for the uninitiated: "First of all, everyone looks fantastic. And it's very clever in how it started in the 1950s with a sense that everyone can get a piece of the American Dream but it was very much a white man's world, and all the changes that were wrought during the 1960s are still being fought over and argued over now."
The buttoned-up Lane Pryce came into Mad Men at the start of the third season, as part of a hostile British take-over of Sterling Cooper, remaining to become the company's chief cost-cutter and then pulling off the coup that allows the formation of the new agency at the season's close. "He just does what he's told," says Harris of Pryce. "He [Weiner] told me that he wanted Alec Guinness from Bridge over the River Kwai. Blinkered, I took that to mean." And strangely touching, he might have added, for there is something rather moving about the stiff-upper-lipped Pryce learning to love America.
Joining an already established cast was like "being the new guy at school", although soon enough the 50-year-old was an established member of one very special Mad Men school – the regular poker sessions, along with Vincent Kartheiser, who plays Pete Campbell ("he's very good"), Rich Sommer (Harry Crane), Aaron Staton (Ken Cosgrove) and Don Draper himself – Jon Hamm. The gambling continues on set, where Harris has instituted a $100 prize for anyone who can ad-lib a line among some of the most tightly scripted scenes in television drama. "I think someone managed a 'hear, hear' or something like that, but you usually have to say it exactly as scripted."
The actors receive these scripts only the night before the first read-through. "You're not allowed to tell anybody," says Harris. "It's quite funny because at the end of the third season, when the [Sterling Cooper] guys form their own company [to include Lane Pryce], the day before I got the script, the producers called up to start to negotiate putting me on as a season regular. And when I read the script I said to my agent, 'I can't tell you anything but we're in a really good position, so don't get kicked around.'"
The Mad Men set is famously leak-proof, although, as Harris reveals: "I haven't signed any non-disclosure agreements. He [Weiner] gives us a lecture before the read-through of each episode and basically explains that the commercial value of the show is based on the fact that people don't know what's going to happen, so they tune in." In fact, just about the only leak about the new series is that Jon Hamm has directed an early episode.
"Jon's very confident, and he knows the whole world inside out," says Harris. "Matt always explains how every single line of every single scene fits into the momentum of the construction of the story... the theme of the episode and the theme of the whole season. And Jon's approach is like that – very close to Matt's."
If Weiner sounds something of a perfectionist and a control freak, Harris sees the show's creator rather differently. "He's very attentive, he's charming, he's funny... he knows everybody. He always directs the final episode of the season and on this final episode he had a bottle of whisky by the monitors and he'd come in and have a shot of whisky. He's a character." So that's where Don Draper gets it from, the whisky drinking, a subject that brings us inevitably to Jared Harris's father – the legendary, hell-raising Irish cinema actor Richard Harris.
Jared's mother, Welsh actress and socialite Elizabeth Rees-Williams, and father divorced when Jared, the middle of three brothers, was nine years old – by which time his father had become an international movie star by way of This Sporting Life, Camelot and Cromwell. "Dad was never a Mr Mum-type of person who'd stay at home," says Harris, almost redundantly. "It was a big thing when he was home – he was a circus. I remember he bought a house in the Bahamas and we arrived off a nine-hour flight. We had a soccer ball with us and it was pitch-dark out, so we couldn't kick it around outside, so we started kicking a ball around the living-room. And before long things were breaking and Dad, instead of going, 'For fuck's sake you're breaking the lamp,' he goes, 'You see those little figurines? I hate those... 20 bucks to whoever can break them with a header.'"
The house in the Bahamas came along post-divorce, after which his mother re-married, wedding Rex Harrison in 1971. The contrast between father and stepfather was stark, says Harris. "Dad loved kids; Rex didn't really like children. He enjoyed conversations, not the mundane things children want to talk about. His favourite thing to do was to sit at the lunch table out in the sun in Portofino [on the Italian Riviera, where Harrison had built a villa] and have a really good bottle of wine. I didn't really know him that well." The marriage to Harrison lasted four years; his mother's current husband, since 2003, is former MP and prison-reforming convicted perjurer Jonathan Aitken.
Around the time of his parents' divorce, Harris was sent to a boarding school, Ladycross, near Brighton, which he hated for the cold baths and regular canings, and then to Downside, near Bath – Roman Catholic institutions both. "My father was a Catholic, but my mother wasn't," he says. "She had to do that weird deal you do as a Catholic – they deign to sanction your marriage and you have to bring your children up as Catholics." Has he kept his faith? "No, I have not," he replies emphatically. "I found it to be a monkey on my back. It's not much of a choice is it: love me forever or I will burn you in the fiery pit of hell for eternity?"
He went to university in North Carolina. "I really wanted to get out of England," he says. "You know how families assign different roles to different family members, and the hardest people to convince you've changed are your own family?" And what role was he assigned? "I was like Lane, I suppose – I was hard-working, dutiful, dull... I was going to be either a schoolteacher or a lawyer when they were discussing my future, and I didn't like any of it." And, sounding more like Don Draper than Lane Pryce, Harris adds: "I thought if I went somewhere where I didn't know anybody and they didn't know me I could start all over again."
Having purposefully avoided any acting until this point, Harris, lured by the offer of free beer during freshers' week at Duke University, auditioned for a student play. "I had been curious [about acting] before," he says. "But I had never done it. I remember thinking, 'I'll audition just once and if it doesn't work out I'll never think about it ever again.'"
The rest has been history – or at least a busy and varied career in film and television, starting with the Martin Amis adaptation The Rachel Papers, in 1989, and including k Natural Born Killers, Ocean's Twelve, The Curious Case of Benjamin Button and two extremes of girth: playing Andy Warhol in I Shot Andy Warhol and Henry VIII in The Other Boleyn Girl. But it is Mad Men, he readily admits, that has given him kudos within the industry, and won him the coveted role of Moriarty in Guy Ritchie's recent Sherlock Holmes sequel, A Game of Shadows, from under the noses of Brad Pitt and Daniel Day-Lewis, by some accounts. "I'm pretty sure that Sherlock Holmes came about because [the producers] Joel Silver and Susan Downey were fans of the show – I'm sure it had something to do with reassuring them, because there's nothing in the part [of Lane Pryce] that could lead you to believe that that guy could play Moriarty."
On the subject of Day-Lewis, Harris has recently been co-starring with the Anglo-Irish actor in Steven Spielberg's big new biopic, Lincoln, playing Ulysses S Grant to Day-Lewis's Abraham Lincoln – but for now he is simply enjoying his Mad Men "hiatus", at home in Los Angeles with girlfriend Allegra Riggio, a lighting designer he met at a mutual friend's comedy night – and bonded with over a shared enjoyment of karaoke. Harris was married until 2010 to British actress Emilia Fox – having met in 2003 while performing together in an infamous West End flop production of Les Liaisons Dangereuses, their union seen at the time as a coming together of two great acting dynasties.
"I haven't really spoken about it to anybody," he says warily. "All I will say is that when it started falling apart I experienced the worst despair and anguish that I have experienced since the death of my father, and I didn't understand why it was happening. Then it became pretty obvious why it was happening, and good luck to her – she's got a child with him" – "him" being the actor Jeremy Gilley, with whom Fox had a baby daughter, Rose, in 2010. Gilley and Fox are no longer together.
Speaking of the death of his father, Harris was filming a BBC adaptation of The Other Boleyn Girl in England during the summer and early autumn of 2002 as his father lay in hospital and in his permanently retained suite of rooms at the Savoy hotel in London. He had Hodgkin's lymphoma. "The treatment had put the cancer into remission, but he wouldn't leave the hospital – he became institutionalised – and he caught a bug. I remember Sean Connery came to visit him and the difference between the two was startling. Connery was a vital, strong, physical man and my father looked like a wizard." That last description of his father is delivered without irony, although Richard Harris was dubbing his role in the second Harry Potter movie from his hospital bed; he played Hogwarts headmaster Albus Dumbledore, a role taken over by Michael Gambon.
Jared's two brothers, actor Jamie Harris and director Damian Harris, now both live in LA as well, the siblings meeting up to discuss the fates of their various English football teams (after being introduced to George Best as a child, Jared supports Manchester United). Soccer and regularly reading The Independent on Sunday, he says, keep him in touch with his Englishness. Otherwise, as he says simply of his adopted homeland: "I love this country – it's been good to me and I love the whole idea of coming here and making your fortune and reinventing who you are." Lane Pryce couldn't have put it better.
The fifth season of 'Mad Men' begins on Sky Atlantic on 27 March
Five questions for series five of 'mad men'
1. When will it be set?
It may have been a frankly outrageous two years since Mad Men was last on our screens, but what does this mean in fictional terms? After all, the show has a penchant for making irregular between-series time jumps. And since Matthew Weiner is such a stickler for withholding detail, we have deferred to the law of averages to predict that Don, Joan and co will return in early 1967. A year which, need we remind you, saw the first Super Bowl, the death of Che Guevara and the Summer of Love. What we can more safely predict is that all such events will be woven into the central narrative fabric with an allusional élan to make all other period dramas weep.
2. Will Don settle down?
It was the greatest wedding-related surprise this side of Sinead O'Connor when our Don ended series four by proposing to his secretary Megan. But is Megan really "The One" at the end of a long line of brutally discarded others? And is the barely lovable rogue about to give up those "late nights in the office" for smoochie-smoochies on the eiderdown? Since Don's epiphanies have rarely lasted as long as the next cocktail, it would take a giant leap of faith to believe that this marriage business is anything other than a cursory blip on his moral flatline. Otherwise, that's our "People Don't Change" life philosophy out of the window.
3. Will Sterling Cooper Draper Pryce survive?
It started in a blaze of "stick it to the Slimey Limey paymasters" glory, but the motley breakaway crew otherwise known as Sterling Cooper Draper Pryce were in the proverbial faecal matter last time we left them, just one laxative client from being flushed away and reeling from the resignation of Bert Cooper and his army of bow ties. So could this be the end of the company line? Obviously, splitting up many of its main characters would be a risky strategy (see Dawson's Creek: the College Years). But then, what about a breakaway from the breakaway? With Peggy as account director and Pete Campbell as mail-room stripling. On that, we are sold.
4. How low can Betty go?
Remember in series one when you thought you had Betty (below) pegged? That here was a frustrated suburbanite just a copy of The Feminine Mystique and a traumatic baking incident away from enlightenment? All props, then, to Weiner for resisting obvious character arcs and making his leading lady progressively meaner and less sympathetic. At the end of the fourth series she did the unthinkable by firing loyal family maid Carla, while the new season's teaser trailer's taglines (Jealousy is back... Discontent is back... Betty is back) do not bode well. But only because they bode BRILLIANTLY for those hoping Betty might lose the drippy Henry and wreak some dead-eyed emotional havoc.
5. Will Peggy find love?
Sorry, the very fact we were compelled to pose this question made us a little bit sick in our mouth. I mean, FIND LOVE? Ever since Ms Olsen rose from the typing-pool depths, the writers have conspicuously avoided defining her by her love life, and for that we are thankful. Yet, was there a smidgen of jealousy in her annoyed reaction to Don's engagement? Let's hope not, since Peggy and Don getting together has the potential to be devastating: the most execrable example of an intra-lead romance since Joey and Rachel in Friends. Rather, we hope Peg finds that Summer of Love we were talking about, much to her paleolithic colleagues' mutters of indignation.
Hugh Montgomery
Join our new commenting forum
Join thought-provoking conversations, follow other Independent readers and see their replies