Marianne Marston: A formidable fighter, in and out of the ring
Next Saturday, she'll slug it out to be European Champion; and she's still battling the men who run British boxing and who refused her a licence. Alan Hubbard meets Marianne Marston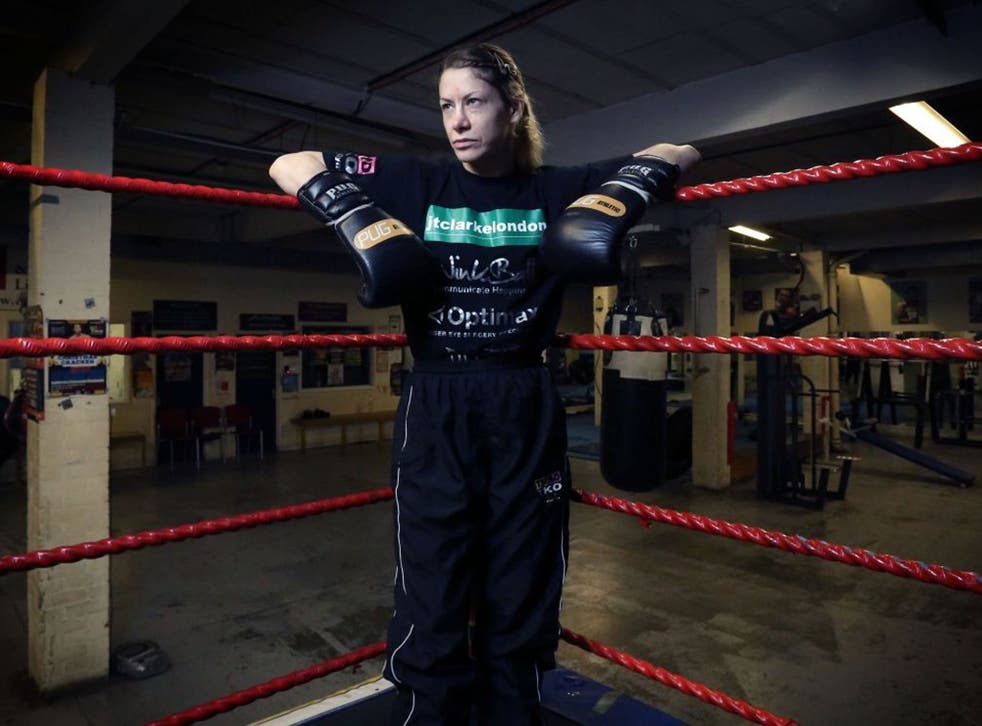 Nicola Adams struck a mighty blow for women's rights – and lefts – when she became the first female Olympic boxing champion at London 2012. Now hundreds of girls as young as 11 are taking up the sport, inspired by her gold medal.
And the number of women who attend boxing classes at least once a week has rocketed recently from 23,000 to 35,000, according to Sport England figures. Some clubs are having to close their doors as interest soars while Team GB's international amateur boxing base in Sheffield is packed with female talent vying for places in the Rio Olympics squad.
Yet unlike most other sports, there is no real path into professionalism for female boxers. They are the poor relations, with barely a fistful of paid practitioners in this country. However, one of them, Marianne Marston, 40, is aiming to be the Nicola Adams of the pro game by becoming Britain's only female world champion.
A Norfolk-born protégée of the late world heavyweight champion Joe Frazier, she fights for the vacant European super-bantamweight title against Bulgarian Galina Gumliiska at York Hall, London, next Saturday (1 March), a prelude to a promised shot at the World Boxing Union belt in the summer. It is a rare opportunity for a professional to flex her fists in the UK, where the sport is little more than shadow boxing.
She has had to fight to be a fighter, with a background far from the archetype expected of a girl who would love to be the next million dollar baby. Divorced, with a 20-year-old son, her parents were schoolteachers, she was privately educated, took part in gymnastics and fencing, gained a degree in microbiology and worked as a model before embarking on a career in television as a researcher for Dispatches and The London Programme.
She had taken up boxing in her thirties when she rejected conventional recuperation after a potentially life-threatening illness, coeliac disease, eight years ago. "I just started hitting the punchbag in the gym and that was it," she said. "I knew I was in love with the sport."
Hers has been a rocky road to potential stardom, in more ways than one, as it began in Philadelphia, residence of Sylvester Stallone's boxing screen hero. It was while working there as a television researcher that she had a chance encounter in a coffee shop with Frazier.
Even though she did not initially recognise Smokin' Joe as one of the few men to beat Muhammad Ali, she was persuaded to show him a few of her sparring moves. "I stood up and threw a few combinations and clipped him. He thought I had some talent and invited me to try out at his gym." Marston eventually moved across the Atlantic to train full time in pursuit of an unlikely ambition.
"It really was a very special time for me," she said. "North Philadelphia is not the most salubrious of places; the gym was a huge, cold, draughty, falling-apart building, but the history there, it was palpable. You were living and breathing everything that had happened there.
"The first thing Joe showed me was how to bandage my hands properly. He turned my hope into an ambition, and what he taught me has stuck with me ever since."
Deemed too old for the Olympics, Marston had seven pro bouts in the United States, and two more quick victories came last year on her return to Britain. Both bouts were on unlicensed shows because the British Boxing Board of Control has refused her its pro licence.
"Most people in boxing have been tremendously supportive but the Board do not seem to want to encourage women's boxing.
"They have stolen four years of my career. Just about everywhere has more women professional boxers licensed than the British Board. Some have had to take out lawsuits to get a licence."
Although there are only a handful of women professional boxers in Britain, there are dozens of registered fighters in western continental countries, notably Germany, France and Italy. It is even more popular in eastern European nations. While Argentina has the highest number of female fighters – believed to be approaching 700 – the hub of the sport remains the United States, also with several hundred, as there are also in Mexico.
During the 1970s, several US states allowed women to box, approving bouts of more than four rounds.However, it was not until 1996 that women's professional boxing was formally accepted in the US: a bout between Christy Martin and Deirdre Gogarty marked the birth of modern professional women's boxing.
"It has taken foreign sanctioning bodies [Marston holds a licence issued by the Maltese Commission] and small hall promoters like Dave Murphy [who stages the York Hall bout] to spearhead this in the UK. We can only hope we can embarrass the Board into licensing more women," says Marston.
"They never actually gave a reason why they blocked me, so I can only assume they are prejudiced against women's boxing."
This is denied by the Board, although it declines to discuss Marston's case. Its general secretary, Robert Smith, told The Independent on Sunday: "She applied some time ago but we decided not to give her a licence. We can't go into details.
"However, we are keen to encourage women's boxing, which is obviously quite strong in the amateur ranks. But the most female professionals we have ever had is nine and only five are currently licensed.
"The main promoters don't seem to want them on their shows. Perhaps they don't sell enough tickets. The fact is, women boxers probably can make more money as amateurs that by turning pro."
Frank Warren is one leading promoter who declines to feature women on his bills. He said: "I don't want to sound chauvinistic. I admire anyone who has the courage to step into the ring, male or female, but I don't feel comfortable working with women. There is no demand for it. Maybe I'm old-fashioned. Women's pro boxing may be more popular in the United States and on the Continent but it hasn't taken off here."
However, one of Warren's star fighters, the British middleweight champion Billy Joe Saunders, expresses admiration for Marston, with whom he has trained in east London's TRAD TKO gym.
"She's one of the hardest trainers I ever seen. She never makes excuses and just cracks on with it. She spars with the boys, hits hard, has a good technique and deserves to get something out of it."
Marston, who holds boxing and fitness classes for women, says she hopes any success she has will draw more women into boxing, as Adams has, and that some will turn professional. "There's never going to be a huge number of us, but we deserve to be given a platform."
Her opponent on Saturday has fought 38 times, including seven title bouts. "I'm nervous about this fight, working my ass off for it. But it's not just about winning, it's about winning in style. I have got to box fantastically well so I can stick a huge finger up to the Board."
Women's boxing, she maintains, is far from handbags at two paces. "I don't believe in tippy-tappy boxing. It's a hurting game. That's what it's about, a blood sport, really. But you get used to it.
"Boxing has given me confidence and, it sounds odd, but it's given me peace. I'm a lot more relaxed than I used to be. That kind of serenity is quite hard to find."
Join our new commenting forum
Join thought-provoking conversations, follow other Independent readers and see their replies