Mark Strong: 'Villains get the best lines... and clothes'
But the star of 'Zero Dark Thirty' – about the hunt for Bin Laden – is angry that a controversy over torture is casting the film's makers as the bad guys. Paul Gallagher meets Mark Strong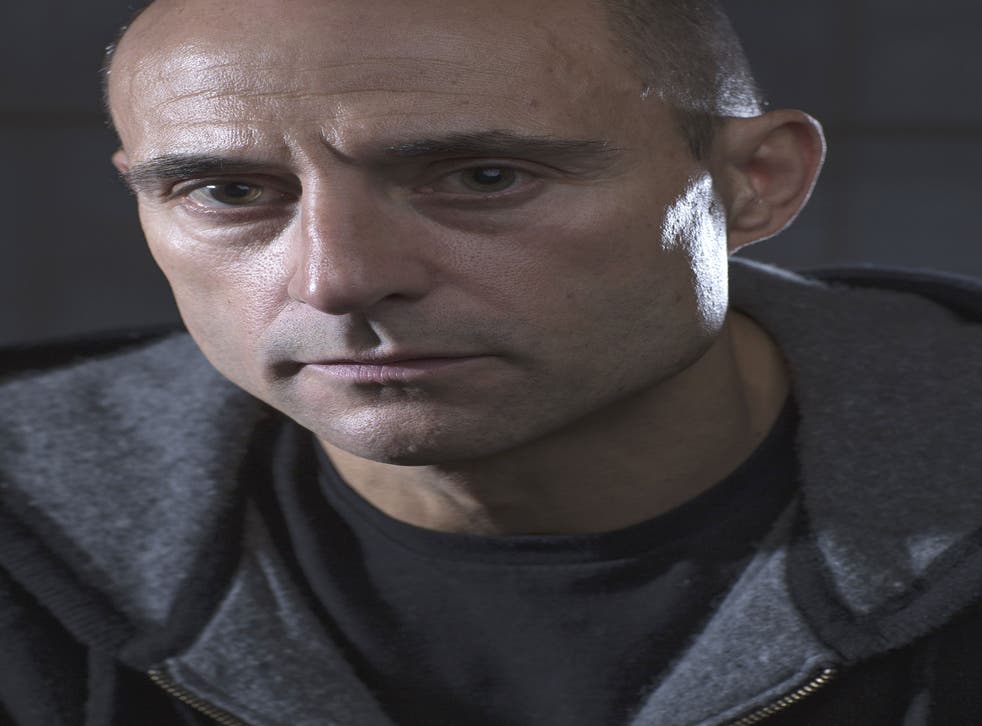 Few films result in their makers being investigated by the US Senate Intelligence Committee, but that is exactly what has happened to Kathryn Bigelow and Mark Boal – the Oscar-winning director and writer behind Zero Dark Thirty.
Controversy has clung to the film of the 10-year manhunt for Osama bin Laden ever since it was used as a political poking stick in the run-up to the last US presidential election. The opening half-hour of the film graphically portrays the CIA's torture methods, and the debate over these scenes, and the film's depiction of how useful the information obtained for the hunt was, has overshadowed Zero Dark Thirty's widespread critical acclaim.
Mark Strong, the 49-year-old British actor who plays "George", a senior CIA official charged with locating the world's most wanted man, remains mystified at the fuss. "I'd be interested to see what the CIA investigation into Kathryn and Mark yields," he says, with a look of disbelief as Bigelow and Boal face questions over "inappropriate access" to classified material. "I have been really surprised by the controversy and think it will ultimately prove to be a storm in a teacup. If people are accusing the film of saying that torture led directly to the capture of Bin Laden, then that is false.
"The reason torture exists within the film, as Kathryn and Mark have said, is that you cannot tell this story without including torture; otherwise you are whitewashing history. It was a 10-year hunt and this is a two-hour movie. It's not a documentary. The CIA will have their reasons for saying it is all untrue, obviously, because it might paint them in a bad light."
Zero Dark Thirty, military slang for half past midnight and the time the Navy Seal team arrived at the Bin Laden compound in Abbottabad, Pakistan, is a film in three acts: the first where an al-Qa'ida captor is subjected to waterboarding and sexual humiliation among other techniques, and the third an extraordinarily detailed night-time raid, bookend the central narrative on the lengthy intelligence gathering process.
In contrast to the brutal opening, a blink-and-you-miss-it scene shows a CIA analyst discovering a picture of Bin Laden's courier gathering dust among the intelligence files. It sheds a brighter light on how Bin Laden was eventually found.
"That is the essential bit that every- one forgets to mention," says Strong. "It's not the torture that leads to the discovery – it's some piece of paper already in the files."
Everyone is certainly having their say. John McCain, the former presidential candidate who was tortured in captivity during the Vietnam War, wrote to Michael Lynton, the chairman of Sony Pictures Entertainment which distributes the film, to say the filmmakers "perpetuate the myth that torture is effective". Critics have referred to it as "pernicious propaganda", with Zero Dark Thirty being described as "government-embedded filmmaking".
Speaking to The Independent on Sunday from the cavernous Infinity Suite in The Langham Hotel, central London, Strong wants to make his views crystal clear. "There is no way Kathryn and Mark are suggesting that torture led to the capture of Osama bin Laden. They are attempting to show an element of what was involved in that 10-year hunt, which also included endless paperwork, boots on the ground and the mundane role of intelligence gathering among lots of other things, all condensed into two hours."
Born to an Austrian mother and an Italian father who left the family shortly after his son's birth, Strong is enjoying a purple patch. It would have been acting's loss had he followed his first passion for law, studying at the University of Munich for a year before dropping out and returning to London. Appearances in Prime Suspect and a starring role in Our Friends in the North were followed by roles in a TV adaptation of Jane Austen's Emma and Fever Pitch, based on Nick Hornby's novel about a fanatical Arsenal supporter – Strong is a season-ticket holder.
"George" is the latest in a series of spy roles for him, after having played an Arab mercenary in Syriana, the head of Jordanian intelligence in Body of Lies, and the betrayed MI6 officer Jim Prideaux in John le Carré's Tinker, Tailor, Soldier, Spy.
"It's a coincidence," says Strong, who has various TV and film projects completed or about to begin. "Espionage is the stuff of good drama, so there are quite a few roles around in that. I just happen to have played several of them. I don't think people shout: 'Get us the spy actor.' "
Strong puts a lot of his recent success down to his Bafta-nominated portrayal of Harry Starks in The Long Firm, a 2004 TV drama based on the acclaimed Jake Arnott novel and a role he had to fight for, after BBC executives said he was "too nice". In recent years, he has had the luxurious option of turning down villainous roles, but hasn't. "They are the best parts and get the best lines, wear the best clothes and have fantastic scenes within the movie."
One memorable Zero Dark Thirty scene Strong shares with fellow Briton Stephen Dillane, who plays the national security adviser (Jennifer Ehle is the third Briton playing a top-level US figure in the film), has been used by the film-as-torture-endorsement lobby to strengthen their case. The CIA believe it has found the compound where Bin Laden is hiding, but the adviser wants proof. George replies: "We lost the ability to prove that when we lost the detainee programme." In other words, the CIA can't prove it because their intelligence-gathering methods have been restricted. "I take that to mean a number of methods were used in the hunt that were useful, such as having people in detention who might have information. That was certainly an avenue that was explored."
Peter Bergen, author of Manhunt: the 10-year Search for Bin Laden from 9/11 to Abbottabad, recently revealed that after seeing a preview of the movie, he and other national security experts advised that the torture scenes were "overwrought". They were subsequently toned down.
However, Naomi Wolf still bizarrely compared Bigelow, who was the first woman to win the best director Oscar for The Hurt Locker in 2009 (no nomination for this film) to Leni Riefenstahl, the director of the Nazi propaganda film Triumph of the Will. "That is just off the scale, it is ridiculous," says Strong. "Kathryn has been a lifelong pacifist and has tried to make a movie telling a story that happens to involve the element of torture. That she is endorsing torture is, frankly, ridiculous."
Martin Sheen has lobbied every member of the Academy of Motion Picture Arts and Sciences, responsible for choosing the Oscar winners, urging them, in an open letter, not to vote for the film in any of the five categories it has been nominated in, including best picture and best actress for Jessica Chastain. Academy member David Clennon has already said he'll follow that advice.
Strong wonders whether a lot of the critics have even seen the movie, and reserves some of his harshest words for those, such as Sheen, who have taken the line they have. "If you have any intellect whatsoever or have any understanding of movies, or are of even basic intelligence, you will realise that this film does not endorse torture. So I'm very surprised they should feel so strongly."
Zero Dark Thirty was shrouded in Mission Impossible-esque secrecy from the beginning. Bigelow and Boal had been working on a film focusing on the 2001 Battle of Tora Bora, where Bin Laden when news came of the al-Qa'ida leader's death. They started on a new script. Strong was invited to meet the makers in Los Angeles after his portrayal of Jim Prideaux in Tinker, Tailor, Soldier, Spy caught Bigelow's eye. He had 10 minutes to prepare a scene "where my character gives his staff a roasting for not doing their jobs properly". It became his entrance.
"The project was so secret you didn't get a hard copy of your piece of the script. You could get it in an email attachment. But if the attachment detected no movement for a few minutes, it would go blurry and you had to reapply to be able to read it. They didn't want anyone to know anything – it's much simpler that way."
Strong, who only saw the film in its entirety recently, is fulsome in his praise for his colleagues and is not surprised at the critical and commercial success to date. Chastain has already won a Golden Globe for her portrayal of Maya, the CIA agent who leads the decade-long quest, while Zero Dark Thirty, to be released here this Friday, has already received the New York, Washington DC, and Boston Film Critics' awards for best picture. Strong says he will be keeping his fingers crossed for Chastain on Oscars night next month.
"The thing to remember in all of this furore is that Zero Dark Thirty is a very good movie. It doesn't patronise you and allows you to draw your own conclusions. At the same time, it doesn't lag or let you down. There's no shame in making a film that doesn't work, but fortunately this one does."
'Zero Dark Thirty' goes on general release from this Friday
Curriculum vitae
1963 Born Marco Giuseppe Salussolia on 30 August in London to an Austrian father and Italian mother. His father, Giuseppe, leaves the family soon after. Later attends Wymondham College in Norfolk and studies English and Drama at Royal Holloway in London before attending Bristol Old Vic Theatre School.
1993 Makes first of two appearances in Prime Suspect as Inspector Larry Hall.
1996 Receives widespread acclaim for Our Friends in the North with Daniel Craig, who becomes a close friend.
1997 Stars opposite Colin Firth in Fever Pitch, an adaptation of Nick Hornby's novel.
2003 Nominated for a Laurence Olivier Theatre Award for best performance in a supporting role in Twelfth Night at the Donmar Warehouse.
2004 Nominated for a best actor Bafta as Harry Starks in BBC2's The Long Firm.
2005 Stars alongside George Clooney as an Arab mercenary in Syriana. Also features in Polanski's Oliver Twist and as an assassin in Guy Ritchie's Revolver.
2006 Plays the traitorous Wictred in Tristan & Isolde, produced by Ridley Scott, and becomes narrator of the BBC genealogical show Who Do You Think You Are?
2008 Plays the head of Jordan's intelligence service in Body of Lies, alongside Russell Crowe and Leonardo diCaprio.
2011 Stars as the betrayed MI6 officer Jim Prideaux in the Gary Oldman version of Tinker, Tailor, Soldier, Spy.
2013 Two movies are due to be released: Welcome to the Punch, a low-budget action thriller, and Mindscape. Begins filming next month on Before I Go to Sleep, with Colin Firth and Nicole Kidman.
Join our new commenting forum
Join thought-provoking conversations, follow other Independent readers and see their replies