Nick Clegg: 'If you ask what really makes me tick, it's this...'
Exclusive interview: The Deputy Prime Minister on his wife, children, and his relationship with David Cameron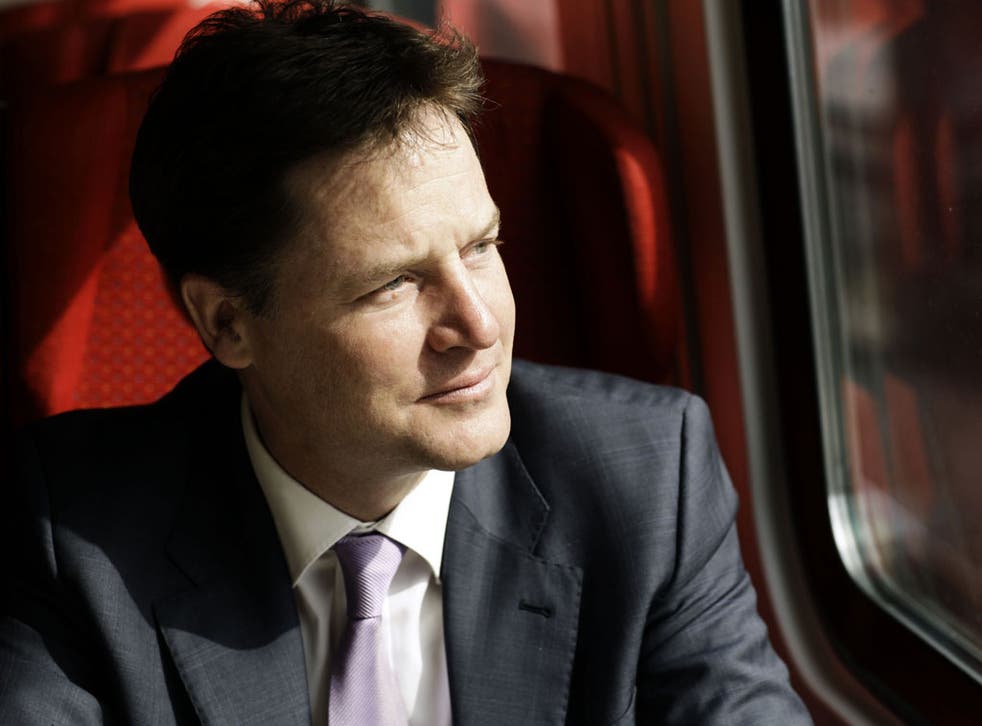 Nick Clegg is having sleepless nights. Not because of two years of coalition compromise. Not because his party's policy wins have been overshadowed by Conservative controversies. Nor because he could be about to lead the Liberal Democrats to their worst council election result for a quarter of a century.
"Our three-year-old has decided to revert to his early years and wake up several times a night," he says with a laugh. In fact, he seems relaxed, well rested, sporting the slight tan of someone who spent part of the Easter holidays on the slopes.
He credits his three sons – Antonio, Alberto and Miguel – with helping him to switch off from the pressures of being Deputy Prime Minister. "I'm very lucky. I am one of those people who is able to go home, shut the front door and completely focus on the kids. In this kind of job, if you carry it with you every second of the day and night you go a bit bonkers."
So instead of debating the finer points of policy, he has to adjudicate in rows over whether Liverpool will beat Everton, meanwhile trying to fix a Nintendo 3DS. His children are clearly his passion and he wants to reposition his party as a champion of family life. And, while, as the son of a banker, educated at Westminster and Cambridge, he admits to having a fortunate upbringing, he is keen to give people a leg up. "If you scratch below the surface and ask what really makes me tick, it's the liberalism of trying to promote freedom and opportunity. Promoting social mobility is one of the keys to that."
The coalition is now "shovelling in resources to younger children on a scale that has not happened, ever". He becomes almost emotional, banging the table and fixing me with a hard stare. He has been "very affected" by research on the "profound level of social segregation" in the UK. "Despite all the money and good intentions under Labour, when times were good, the needle of social mobility didn't twitch. It's because we didn't start early enough."
There are those who fear an arms race for ever younger intervention. But Clegg is determined; childhood policy is now an "obsession" and the Government's top social policy priority. "I say this as a young dad seeing children going into primary school: I don't think we should underestimate the formative effect on a child of those first years in primary school."
The single biggest hit to the Lib Dem brand – and poll rating – came in 2010 with the decision to jettison its policy to abolish tuition fees, and instead increase them to up to £9,000 a year. A year and a half on, he attempts to recast the move as a deliberate act designed to shift funding from undergraduates to toddlers. "What happens when they are four, five, six and seven is more important, arguably, than when they are 17 or 18." He bangs the table again. The reforms will reach fruition "in 10 years' time, 15 years' time, well after I have left politics".
The 45-year-old is in reflective mood, casting his mind forward to how his big political gamble might be remembered. "History will judge us kindly," he hopes. The increase in the income tax threshold is also a key part of his legacy, shifting the burden of tax from income to wealth. "Long after I've gone," he remarks, "I'll be able to look back and say we did that – we changed the tax system. If you are on a middle or low income you can keep more of the money you earn. What could be more liberal than that?"
Still slumping as low as 8 per cent in some polls, Clegg is nonetheless confident that his party is entering a new phase in its "roller-coaster experience" of coalition life. Now, in this mid-term phase, he believes some voters are – if not yet prepared to vote for them – prepared to at least listen. "I'm not pretending for a moment people are going to fall to their knees and say 'hallelujah – we now realise the Liberal Democrats are the best thing since sliced bread'."
He concedes that many people no longer know what the Lib Dems stand for. "I totally accept that it's a legitimate criticism that when you are involved in the day-to-day scrum of government... that what can get lost is the narrative, the hymn sheet... the song that inspires and lifts people's sights."
The Budget fallout – from pasties, to petrol, grannies to charities – has overshadowed much of what he has been trying to say. With ministers "caught out" by policy problems, Lib Dem wins "have been lost in the wash". With the Tories on the ropes, he resists the obvious temptation to indulge in Schadenfreude. All governments "get into a rut where every potentially good story turns into a bad one".
For now, things like pasties still dominate the headlines, notably in the West Country where the Lib Dems once reigned supreme. But Clegg is unrepentant: there will be no climbdown. "When you are trying to find £3.5bn to give back to basic-rate taxpayers there are no simple answers left." On the very vexed subject of pasties, he is unfazed: "I last ate a pasty at Paddington station some months ago. A very hot one as well."
He also dismisses talk of a major U-turn on curbing tax reliefs on charitable donations. "If you don't do something about these allowances which allowed very rich people to avoid paying income tax altogether, you are, in effect, asking ordinary taxpayers to subsidise them."
The clamour for politicians to publish their tax returns came a little too close to home last week, with demands to know how much tax his wife, Miriam, paid. He hits out at the "1950s-style barbs from some of our newspapers who think it's somehow unacceptable to have a woman who works hard and earns more than her husband". Such a world view, that women cannot be both mothers and have a career, is "just as weird as people who still can't get over the fact that people want to have loving, strong, stable gay relationships".
He speaks warmly of his pride in his wife, noting that her rise from a small village in Spain to becoming a partner at the City law firm Dechert is "much more of a model for social mobility than I am". "We try to support each other and make sure we do our jobs while also being good mums and dads," he says. Deeply private about his family, he refuses to be drawn on whether he will send their eldest, Antonio, to a private secondary school next year. "I am simply not going to make my children's future education a political football."
Despite being frequently dismissed as a dead political man walking, he says he is enjoying life. Relations with David Cameron are "fine" but a long way from the euphoric days of the rose garden. They no longer play tennis ("not recently"), and he reveals, rather disappointingly, that the news story at the height of the bromance – that the pair built an Ikea cupboard for Cameron's new baby – was "not entirely grounded in fact".
Some of his party colleagues believe he should "poke David Cameron in the eye" but he is determined to make the coalition work. He has little other option. "Everybody reading this interview will be working alongside people – dare I say it, it may even happen in the offices of The Independent on Sunday – who they don't entirely agree with, but you still work together in a respectful manner."
He contrasts the businesslike relationship to the "childish schoolyard tribalism and rivalry between Blair and Brown". Hyperbolic references to Labour pepper our hour-long conversation on the train to his Sheffield constituency – a seat that some claim could provide Ed Miliband with a high-profile scalp come the election. "People don't believe the Mickey Mouse economics from Ed Balls: that you can turn your back on the laws of economic gravity; that we can spend, spend, spend like there's no tomorrow." Later, Clegg claims the "hateful vitriol that has come from the trade unions and the Labour Party has been quite loopy, actually".
For the first time, he reveals how the Lib Dems will pitch themselves in 2015, making clear that he will spell out which policies were Tory inspired, and what he managed to stop. He is quick to quash suggestions that he will pull out of the coalition, or quit for a role as a European Commissioner in Brussels. "Of course, I'll go into the general election as Deputy Prime Minister," he says. "We are here for five years."
Quick fire questions
Pasta or pasties? Pasties
The Voice or Britain's Got Talent? The Good Wife
Early bird or fashionably late? Just on time
iPad or Nintendo DS? I'm personally not a great fan of the 3DS but my kids are. I like to read
Westminster or Brussels? Westminster
Ed Davey or Chris Huhne? Both
United or Wednesday? I have a constituency that is split right down the middle, and they are both hoping for promotion
Jessica Ennis or Jessie J? Jessica Ennis
Yes Minister or the Thick Of It? The Thick of It. But there is nowhere near as much effing and blinding in the Liberal Democrat press office
Join our new commenting forum
Join thought-provoking conversations, follow other Independent readers and see their replies