Nigel Evans interview: 'Even those accused of heinous crimes need trauma counselling'
Following his acquittal, the former Deputy Speaker tells Andy McSmith that those on sex charges need help too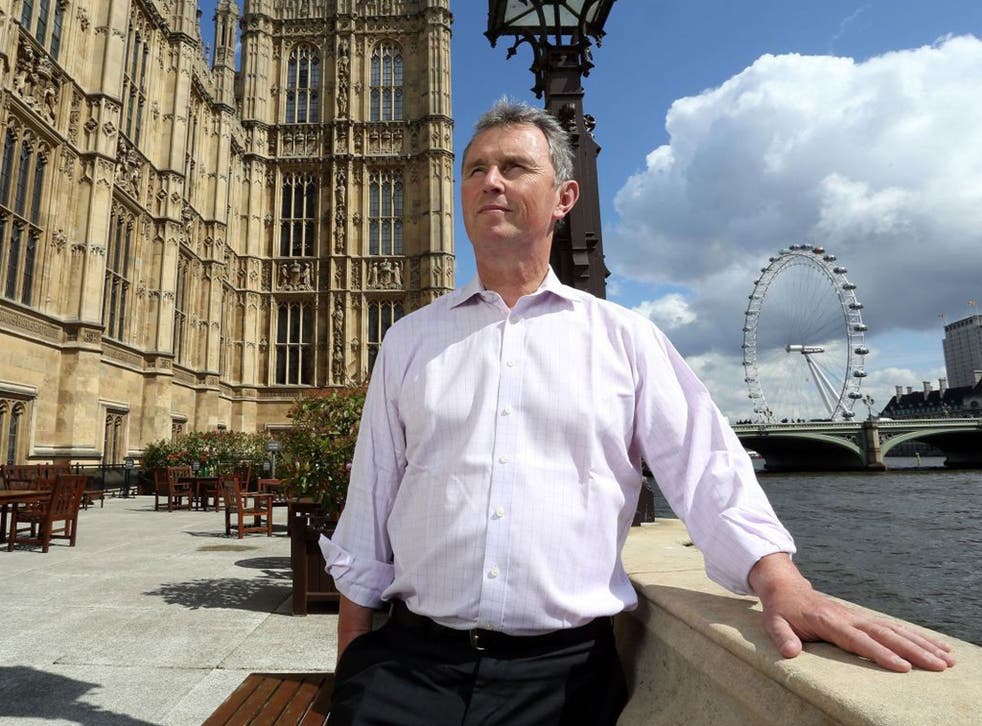 On the last day of his trial, Nigel Evans returned to Preston Crown Court from a lunch break to be told that the jury had finished deliberating and were ready to deliver a verdict.
Returning to the dock, he noticed that where normally there was one warder standing by, there were three. For a moment, he thought this must mean that the verdict was "guilty" and extra warders were on hand in case he "went bonkers" as he was led away.
Another detail caught his eye. The recorder, who was going to read out the charges one by one, had them written on a piece of paper, but the foreman of the jury was empty-handed. Either the foreman had a good memory, or the verdict was the same on all nine charges.
"Charges one and two came out as 'not guilty'," Evans recalled, "and three, which was one of the ridiculous ones, and then four, not guilty, and then five – and you could tell that the guy had a rhythm in his voice. After five, somebody's phone went off, and the judge stopped proceedings to rebuke whoever it was. All I was thinking was, 'Oh please don't stop proceedings: just carry on with the verdict', because my heart was beating, as you can imagine. Without even touching my chest, I could feel my heart beating.
"And then when six was not guilty, and seven, eight, nine, that's when I started uncontrollably crying. I wasn't expecting to cry; I didn't have a handkerchief."
A minute later, Evans was a free man, standing bewildered in a still-crowded courtroom, not knowing what he was supposed to do next. He had been cleared of raping a university student and sexually assaulting six other men over a 10-year period.
When an MP leaves the Chamber during proceedings in the Commons, he or she is expected to bow to the Speaker, so Evans bowed to the judge, who was thanking the jury, and wandered towards the exit, where a friend, also in tears, took him by the arm and guided him to a side room.
That was seven weeks ago, but Evans describes it as if it just happened – and probably will do so again if someone asks him 10 years from now, because every detail is imprinted on his memory.
He was talking to The Independent in a café in the House of Commons, where he has been reinstated as Conservative MP, and is full of gratitude for the kindness of his fellow politicians, such as his fellow Tory, David Davis, who organised a welcome back party attended by 250 guests.
Read more: Editorial - Trial and error
Questions raised over high-profile 'witch-hunt'
During the interview others came over to chat to Evans: in Parliament, he is well-liked. He hopes and expects to be re-elected in 2015, but had he been found guilty of any of the charges, even one of the lesser ones, he would have resigned his seat immediately.
If he had been found guilty on all nine charges, as he momentarily feared he had, the option of resigning might not have been open to him: an MP sentenced to a long prison term is automatically disqualified. This is a man back from the edge of political death.
His ordeal has been an eye-opener, he said, because "It's only when you've gone through this trauma that you actually appreciate what other people are going through."
During the conversation, the names of people for whose trauma he feels empathy tumbled out – and all are drawn from that tiny section of the population: famous people who have been accused of sex offences. He mentioned Jim Davidson, Jimmy Tarbuck and Freddie Starr, who were arrested but never charged, Bill Roache – tried and acquitted – and the young president of the Oxford Union, Ben Sullivan, on bail but not charged.
He now believes that people accused but cleared of serious crimes should be entitled to the same counselling that is offered to crime victims. He also feels that those accused of sexual offences should be granted anonymity until they are formally charged.
"There should be some form of counselling for people who go through the trauma of an arrest, after allegations," he said. "There is nothing out there. There is counselling given to other people, and support given to witnesses, but to those who are accused of some of the most heinous crimes, there is absolutely zero. Let's take it to a change in the law – anonymity until charged. If it doesn't go to charge, well you've seen the trauma that it caused for Jim Davidson, Jimmy Tarbuck, and latterly Freddie Starr."
He added: "I remember the police on the steps of Preston Crown Court speaking after my verdict. Let's say they speak for five minutes: four minutes 50 seconds was all about how right they were on the victims and they had to get more victims coming, and all that sort of stuff, and there was a 10-second sentence when they said, 'We appreciate that this has had an impact on Evans.' That was it: that was their understanding of my pain and trauma, that one sentence.
"As far as I recall, after the Bill Roache case, Bill didn't even get that. You know that there are a lot of people out there who have gone through this trauma, and it does make you stop to think that at this moment somebody may be standing up in a court now, going through the same sort of trauma. Nobody can say that it does not have enormous implications."