Novak Djokovic: Obsession with the French Open
The Serb is desperate to triumph at Roland Garros this year as it is the only Grand Slam the World No 1 has yet to win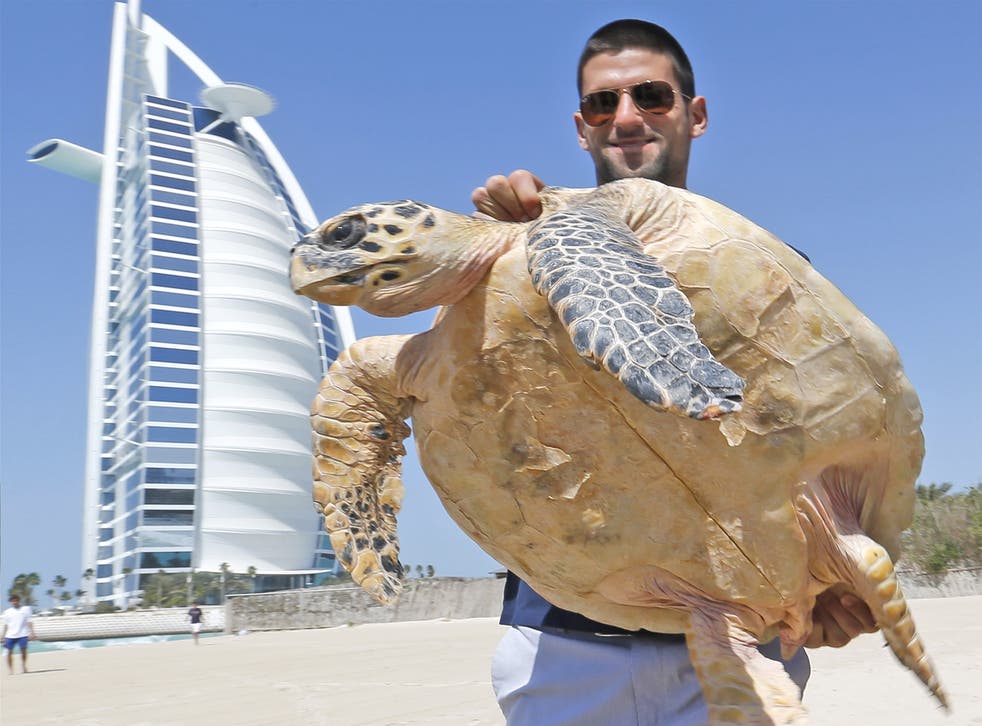 It is rare to hear a player targeting anything but his next match, but Novak Djokovic is clear about his major goal for 2013. A year after narrowly failing to become only the third man in history to hold all four Grand Slam titles when he lost the French Open final to Rafael Nadal, the 25-year-old Serb has Paris in his sights again. "I'm not hiding that priority No 1 is probably Roland Garros because it's the only Grand Slam I haven't won in my career," Djokovic said here as he prepared for his first tournament since winning last month's Australian Open.
Djokovic, who began his attempt to win the Dubai Duty Free Champion-ships for the fourth time in five years with a 6-1, 6-4 victory last night over Viktor Troicki, will not admit as much, but this year might just represent his best chance of joining the elite group of seven men who have won all four Grand Slam titles.
Nadal, having been out of the game for seven months with a knee injury, was due to start his third comeback tournament last night in Acapulco, having won the title at a "250" event – the lowest level on the main tour – in Sao Paulo earlier this month. However, it remains to be seen whether the king of clay can maintain his fitness and recapture his best form in time for the French Open, which he has won seven times in the last eight years.
Djokovic has been following Nadal's comeback with interest. "I've seen highlights of his matches, and I watched him playing in Brazil for one set," the world No 1 said. "He's still playing really, really well on clay. I didn't expect any different.
"I'm not in his shoes and I don't know how he feels physically, but he won a tournament, even though it's a 250 event and he hasn't played those tournaments in years. I am sure it is going to give him confidence for the rest of the season. He wanted to play matches, and it doesn't matter at what level. It's great for tennis that he is back."
The last comment did not appear to be made through gritted teeth and Djokovic's current confidence is such that he would not face Nadal with an inferiority complex. The Spaniard won 14 of their first 18 meetings and their first five in Grand Slam tournaments, but Djokovic beat him in all six of their matches during his annus mirabilis of 2011 and might have won their French Open final last year had rain not interrupted the match just after he had launched his comeback by winning eight games in a row.
"Even last year and two years ago when he was playing really well on clay I felt that just a few points were deciding the winner of our matches on clay," Djokovic said. "I think I have got better on clay. Rafa is definitely the ultimate challenge and a tough player to beat on this surface, but we don't know what will happen before Roland Garros. There are many tournaments on clay courts and on hard courts. We'll see. To be able to win a Grand Slam title you have to be 100 per cent – emotionally, mentally and physically."
Serena Williams said here last week that if she could take any of Djokovic's qualities it would be his fitness. The Serb, whose powers of endurance have been key to his success, agreed that being in peak condition in Paris would be crucial. "There are two [Masters Series tournaments] back-to-back, in Madrid and Rome, which are very demanding and tough, and then you go to Roland Garros and things change because you are approaching a Grand Slam and you want to show your best tennis."
Djokovic, who is now more than 3,000 ranking points clear of Roger Federer, the world No 2, said he had felt "incredible joy and fulfilment" at winning the Australian Open last month for the third year in a row. "I cannot ask for a better start to the year," he said.
With Djokovic and Andy Murray contesting the last two Grand Slam finals, the talk has been of the two 25-year-olds having taken over as the two greatest rivals at the top of the game, but Djokovic insisted: "I can't pick Andy over Roger and Rafa because I think all three of them are my greatest rivals. I can't pick one of them. They are all dominant in our sport. And of all the active players they [Federer and Nadal] still have the biggest rivalry.
"But Andy and I have played a lot of great matches in the last 25 months and hopefully we can maintain this high level of excitement and tough matches we are playing and develop this rivalry in the years to come."
Asked if he was surprised that Murray has chosen to train in Florida rather than compete here, Djokovic said: "He played a lot of matches last year. It was physically, mentally and emotionally a hard year for him. It was the year when he won his first Grand Slam and an Olympic gold medal, so maybe he made that decision months ago to have an extra four or five weeks with no official matches before this tough period of tournaments, starting with Indian Wells and Miami [next month] and then the whole clay-court and grass-court seasons.
"It's going to take a lot of effort not just for him but for all the players to maintain the highest possible level and be contenders to win all the tournaments. I'm sure he's doing what's best for him. Everybody has a different schedule."
Djokovic himself took a break after helping Serbia win their Davis Cup tie against Belgium the weekend after the Australian Open. He returned to his homeland to do some charity work in connection with his foundation and found time last week to go to Milan to watch the team he supports beat Barcelona 2-0 in the Champions League.
The Serb, who is clearly in good heart, said he feels in a better frame of mind than he had at this stage 12 months ago. "Mentally I do feel more relief than when I started 2012," he said. "Following up after 2011 was an extreme challenge, mentally mostly. I still played really well but I found myself for the first time in the position of being No 1 in the world and defending a Grand slam title – three in a whole year, so that was very challenging.
"I consider finishing No 1 in 2012 maybe an even bigger success than in 2011. Right now I feel great and I learned my lesson. I understand the experience I went through and I am ready for new challenges."
Djokovic duels: Rivals record
Against Roger Federer
Career: Federer leads 16-13
Since start of 2011: Djokovic leads 7-3
In Grand Slams: Federer leads 6-5
Against Rafael Nadal
Career: Nadal leads 19-14
Since start of 2011: Djokovic leads 7-3
In Grand Slams: Nadal leads 6-3
Against Andy Murray
Career: Djokovic leads 11-7
Since start of 2011: Djokovic leads 7-4
In Grand Slams: Djokovic leads 3-1
His French Open record
2005 3R (lost to Coria)
2006 SF (lost to Nadal)
2007 SF (lost to Nadal)
2008 SF (lost to Nadal)
2009 3R (lost to Kohlschreiber)
2010 QF (lost to Melzer)
2011 SF (Federer)
2012 Final (Nadal)
Join our new commenting forum
Join thought-provoking conversations, follow other Independent readers and see their replies