Oscar Garcia: The reason why the spirit of Johan Cruyff is alive in Sussex by the sea
The Spaniard played for Barcelona's 'dream team' and coached at La Masia so is steeped in the passing game. He tells Jack Pitt-Brooke how it can help to take Brighton into the Premier League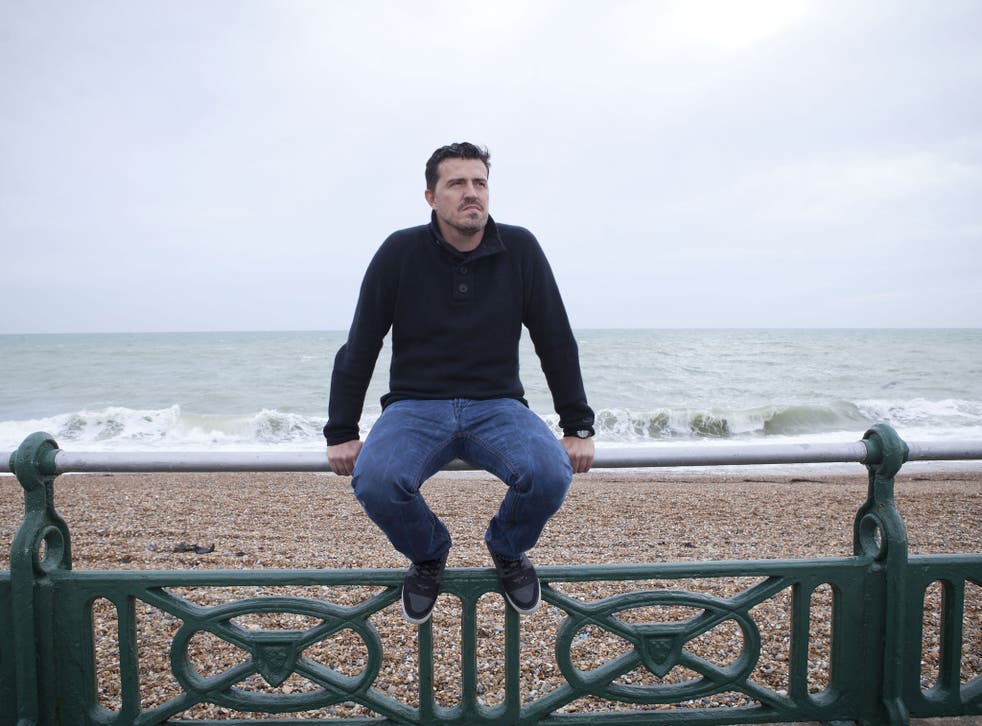 Alongside Pep Guardiola, Michael Laudrup, Ronald Koeman and Frank De Boer, Oscar Garcia is in esteemed company. These are the men managed by Johan Cruyff, at Barcelona or Ajax, now spreading his gospel of football to new generations of players; Guardiola at Bayern, Laudrup at Swansea, Koeman at Feyenoord, De Boer at Ajax and Garcia at Brighton and Hove Albion.
It is not easy, and Brighton are 16th in the Championship. But Garcia is not short of enthusiasm, and is wholly committed to introducing "the Barcelona way", learned in his years as a player and coach at the Nou Camp, here on the Sussex coast.
"You can see that most of the players that [Cruyff] had, when he was our coach, most of us are managers now because we learned a lot," he says when we meet in a coffee shop in Brighton. "We are trying to teach our players what he taught us."
This does not just mean a specific method of playing football, but a zealous commitment to it, whatever the obstacles. "If I have a philosophy," Garcia insists, more than once, "I have a philosophy from the start until the end."
So when, at the end of our interview, Garcia recalls the most important advice he has ever received, it is another assertion of unbending faith. "To keep your way. To keep your way. Always to keep your way. It doesn't depend on if you win or not. Because the players have to trust you. And if you change when you lose, they might think [differently]. This is not good for them. They have to know that the manager has only one way."
This is Barcelona's approach and Garcia is certainly well-steeped in it. "I grew up with the Barcelona mentality and the Barcelona philosophy," he says, having played there between the ages of nine and 27. After retiring, following spells with Valencia and Espanyol, he returned to Barcelona to coach the Under-19s, ensuring the club's approach was passed down from old to young.
Garcia's admiration for Cruyff is obvious, and understandably so, as part of his "Dream Team" of the early 1990s. "One of the amazing things I remember was before matches when he explained what he thought would happen in the game. The players, we thought it was crazy. But most of the time, it happened.
"Once when we played at the Bernabeu, he wanted us to leave one Real Madrid player alone, to let him take the ball and dribble until half-way. 'You will see he will give us the ball.' And the first five times he got the ball, it happened. It was incredible." This unknowing opponent? "I cannot say! Because Cruyff said he is not the best technical player."
It is no surprise, then, what Garcia wants his Brighton team to do. "My philosophy is to keep the ball, to try to have the ball, to pass the ball as many times as possible and to find the correct moment to score.
"We are trying to get the ball back as soon as possible, and higher up the pitch. Normally we try to do it in five seconds. It is tough, but it is one of the things we are working a lot on in the training sessions, a lot of the drills we are doing is for this, transition as soon as possible. The best teams in the world, this is one of the things they control."
This meant, during pre-season, sitting the players down with videos of Barcelona as well as those of Brighton's recent years, and replicating, as far as possible, the coaching drills he used at La Masia. Garcia knows that the transformation will not be immediate. "It is not easy to change it overnight."
The season, so far, has been difficult to say the least. Garcia's conversion job is rather harder than Guardiola's, and injuries have shredded the squad. Andrea Orlandi and Liam Bridcutt have started just one game each, Kemy Agustien and Kazenga LuaLua just four each. Craig Mackail-Smith has yet to get on the pitch.
So, after Brighton's 1-1 draw with Watford on Monday night, they are 16th in the Championship, with three wins from 12 so far. Garcia, though, is absolutely certain that his approach is right, and that when everyone is fit Brighton will climb up the league.
"I know that this philosophy can win a lot of games. But we have a problem with injuries. If you see the stats after the game, you will see we have normally 60 per cent possession, a lot of chances, but we have three strikers injured and then it is difficult to score for us.
"We are proud that we have a different philosophy, a different mentality. For this, we are at the top of the stats in possession, in passing, in passing accuracy. It is good to see that we are at the top of these stats."
Garcia's faith that his philosophy can flourish in the Football League is very reminiscent of Roberto Martinez, another Catalan coach just three months older than Garcia. Martinez, who started in League One, is now sixth in the Premier League and has an FA Cup winner's medal.
Reminiscent of Martinez, Garcia believes that, even without the results, the spectacle is still impressive. Brighton's crowds are as high as ever – averaging 26,643 this season, the biggest in the division – proving to Garcia that his style is attractive.
"All the games that we play at home, we have full crowd. This is the best answer. Because people here want to see our philosophy, they want to see good, attractive, offensive football. And we are not at the top of the table but we are at the top [of the attendance table] with a full crowd. Our crowd is always full. And it is not usually when you are 15th."
It is the crowds and stadiums which have always fired Garcia's love for the English game and which now, through this difficult start, reaffirm his own faith.
"I am proud because our stadium is always full. This makes me feel good, like we are doing something good here."
The Oscar goes to... Garcia's travels
1973 Born in Sabadell, just outside Barcelona.
1992 Made his Barcelona debut. Won four titles, two cups and a Cup-Winners' Cup there.
1999 Left Barcelona for Valencia.
2002 Nearly left Espanyol for West Ham United.
2009 Joined Johan Cruyff's coaching staff in Catalonia national team.
2011 Coached Barcelona U-19s to the treble.
2013 Won the Israeli league in first season in charge of Maccabi Tel Aviv, before joining Brighton.
Join our new commenting forum
Join thought-provoking conversations, follow other Independent readers and see their replies