Profile: Phillip Schofield and his list of 'paedophiles'
He was one of the safest pairs of hands in the business – the consummate daytime TV pro. But then along came David Cameron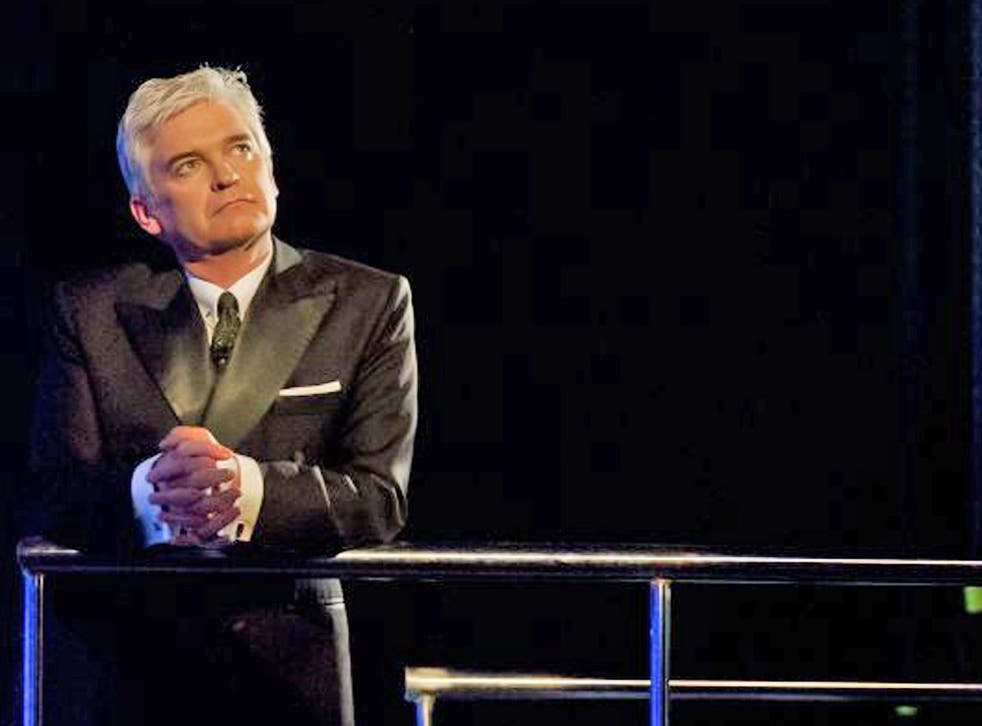 Phillip Schofield likes to joke that Gordon the Gopher – his on-air puppet sidekick during his early career presenting kids' TV – has gone off the rails since the pair parted ways. Interviewers scouring Schofield's immaculate 30-year career in television and theatre for a single nugget of controversy have been fobbed off time and again by tales of Gordon's unlikely drink problem and his repeated and tragic visits to rehab.
In the meantime, Schofield has transformed himself twice – first from baby-faced children's TV presenter to musical theatre star, then to daytime TV stalwart. Along the way, he has assiduously avoided the kind of scandals that have sullied the profiles of so many of his fellow travellers. He is Mr Nice and Mr Dependable – beloved of women of a certain age who tune in to watch him on This Morning, and considered a safe pair of hands by ITV producers who chose him to present their coverage of the royal wedding and the Diamond Jubilee. He is as anodyne as a ceramic ornament above a fireplace, and occupies more or less the same position in most people's consciousness.
Or rather, he did, right until he poleaxed the Prime Minister live on daytime television this week. Schofield's on-air stunt, in which he presented David Cameron with a list of names he had found mentioned as paedophiles during "a momentary, cursory glance at the internet", has already had him reported to the media regulator Ofcom and could usher in another – less welcome – transition in his professional life. The great irony of Schofield's folly was not how out of character it was, but that its most explosive element was the result of a rookie error on the part of one of TV's consummate professionals.
Schofield "misjudged the camera angle" and inadvertently revealed the names of at least two former senior Tory politicians on the list to 1.2 million viewers of ITV's flagship daytime show. The blunder prompted Tory MP Rob Wilson to report the broadcaster to Ofcom for allegedly failing to give the subjects of a serious allegation opportunity to respond.
Cameron was clearly caught off guard by the stunt but remained steely. Asked if he would be speaking to the people on the list, the PM warned that what Schofield had done smacked of a "witch-hunt, particularly against people who are gay". Downing Street later belittled Schofield's ambush as a "silly stunt" while journalists lined up to pillory the presenter for his ill-fated foray into their craft.
Although Schofield, clearly embarrassed, has apologised for revealing the names, the entire episode will leave a blot on his copybook that may prove hard to erase. Anyone who has paid even fleeting attention to his career until now is asking one question: "What was he thinking?"
Born in Oldham on April Fool's Day 1962, Phillip Schofield grew up in Newquay in Cornwall. He was offering his services to the BBC by the time he was 10. His wish was answered in 1979 when, at the age of 17, he became bookings clerk for BBC Radio's Outside Broadcasts department – one of the youngest men employed at Broadcasting House at the time.
His headstart at the BBC was cut short at the age of 19 when his parents emigrated to New Zealand. But his previous experience earned him a plum job presenting a new pop show, SHAZAM!, on the national TVNZ network. Within a year, the baby-faced Brit with the high-pitched voice was one of the most ubiquitous figures on New Zealand television and radio.
After three and a half years, he returned to Britain and was soon offered a job presenting on children's BBC. His slot, linking between programmes from a tiny control desk called the Broom Cupboard, was the first time in 35 years that a live presenter had been given an afternoon slot on BBC's children's television.
Later inhabitants of the Broom Cupboard would include Andi Peters and Zoe Ball, but it was Schofield, who debuted in 1985, who became synonymous with the role and was credited with reinventing the BBC's children's TV format. He also began a long-term association with Gordon the Gopher – to whom he provided an amiable foil. He went on to present six series of Going Live!, the Saturday morning magazine show that fed upon the emerging culture of "tween" celebrities appealing to a younger market. It featured a segment in which Schofield would interview a guest – often a major politician. Other TV shows followed, along with a succession of awards.
By 1993, Schofield was as established in the world of preteen entertainment as Take That – a band with whom he has also shared a late-career reinvention. His public profile brought him to the attention of Andrew Lloyd Webber, who picked him to star in Joseph and the Amazing Technicolor Dreamcoat – replacing an already fading pop icon, Jason Donovan. Schofield's debut at the London Palladium in 1993 won him plaudits and the show went on tour – becoming a mainstay of school trips to the theatre until Schofield left the role in 1996. If he had expected a successful career on the stage to beckon, his hopes were dashed by the time his second major production, Dr Dolittle, petered out in 2001. Despite utilising a £4m stage, the show never matched Joseph's success and Schofield found himself in need of another new invention.
Then nearing 40, he made his This Morning debut with Fern Britton in 2002, occupying the daytime ITV slot vacated by Richard Madeley and Judy Finnigan. He shocked legions of female fans who had first watched him on CBBC when he turned grey overnight, later admitting that he had been dyeing his hair for years.
Until this week, Schofield appeared to have settled into a comfortable career niche. His ITV presenting portfolio also includes The Cube and All Star Mr & Mrs: inoffensive family fare aimed at the same young, married demographic that first warmed to him on children's TV in the late 1980s and 1990s. He was an early Twitter addict and has amassed nearly two million followers – a figure that increased by a few thousand after Thursday's clash with Cameron. Fans will now be wondering what possessed Schofield to go so decidedly off-piste in what should have been a more or less routine interview slot.
Clues may be found in a more confrontational side to his personality that has revealed itself on Twitter. The presenter appears to revel in the looser rein afforded to his online utterances, as opposed to his on-message television persona. Only two days before his interview with Cameron, he branded hundreds of his Twitter followers "food Nazis" after they criticised him for eating guinea pig while on holiday in Peru. "I will not… impose a British colonial view on what other cultures eat as they're [sic] national dishes," he told followers. "Have I made myself clear?!!"
Other signs of malaise surfaced after his 50th birthday in April. He placed a ban on cake and cards bearing the number "50" and told the Daily Mirror: "I have a real problem with ageing, and reaching 50 has bothered me for years. In my head I feel 26, but as another year goes by I think 'bloody hell'." In the same interview, he recounted the story of how, aged 22, he witnessed his beloved father Brian nearly die from a heart attack – at the age of 49.
Could it be that the silver-haired Peter Pan of British television has felt the cold hand of mortality on his shoulder and decided to push his boundaries? Or has his addiction to Twitter obscured his sense of the differe nce between what can be said with impunity online, and what can be got away with on live television?
If Schofield had ambitions of spending his late career as a hard-hitting interviewer, a put-down from a member of a dynasty of respected presenters and journalists may make him think again. In a statement that seemed aimed at reminding Schofield that a career founded in children's TV doth not the journalist make, Jonathan Dimbleby delivered a withering critique: "How cretinous can you get – giving a list of online names to PM as though they were evidence. Makes a mockery of our trade... Grow up." Perhaps it's easier to carry on being Mr Nice, after all.
A Life in Brief
Born: Phillip Bryan Schofield, 1 April 1962, Oldham, Lancashire.
Family: Married to Stephanie since 1993; they have two daughters.
Career: Became a bookings clerk at the BBC aged 17 before moving to New Zealand two years later where he landed his first TV presenting role on a children's show. On his return he began work for the BBC, including Going Live!, Test the Nation and ITV's Dancing on Ice. He has hosted ITV's This Morning since 2002. He also starred in Joseph and the Amazing Technicolor Dreamcoat and Dr Dolittle in the West End.
He says: "I love the job because it's very much light and shade. You can be throwing black puddings and then interviewing the Prime Minister."
They say: "What he did was foolish, stupid and grossly irresponsible. And, frankly, rather amateur." Chuka Umunna, shadow Business Secretary
Join our new commenting forum
Join thought-provoking conversations, follow other Independent readers and see their replies