Ranulph Fiennes: The iceman goeth
A throwback to a more heroic age, he is an explorer who seemingly baulks at no challenge. His latest is his most extreme yet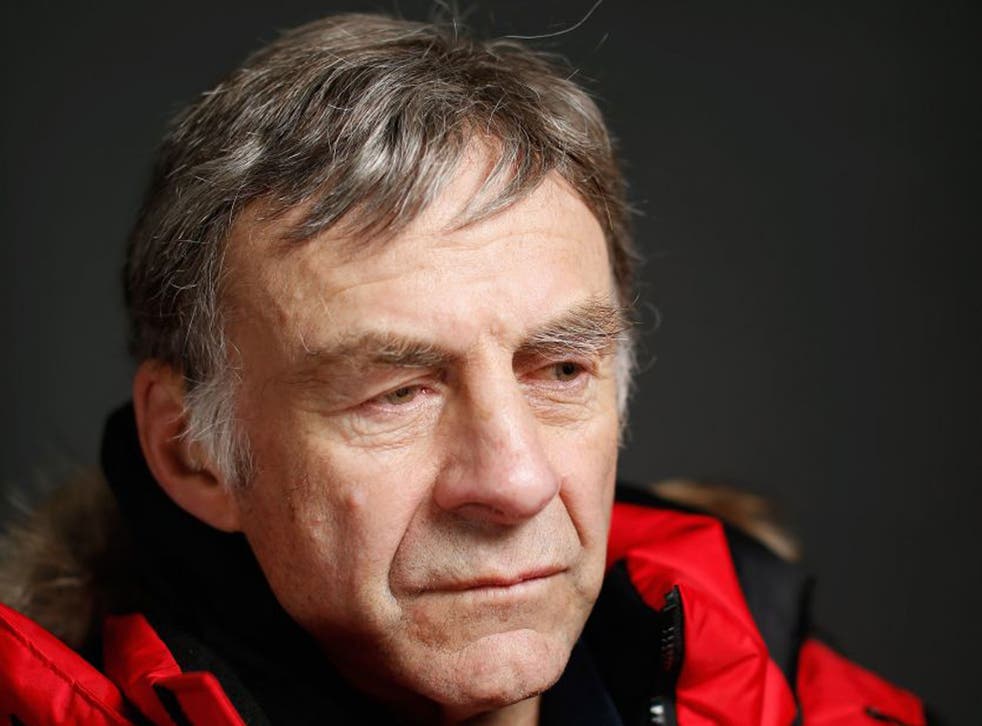 If Sir Ranulph Twistleton-Wickham-Fiennes, third baronet and old Etonian, had never existed, then John Buchan or Ian Fleming would surely have invented him. Indeed, Fiennes, whose third cousin is the actor Ralph Fiennes, once auditioned for the film role of James Bond. Out of 300 hopefuls, he reached the final six before being rejected by producer Cubby Broccoli for having "the hands and face of a farmer". The part went to Roger Moore instead.
Whether or not he can actually act, and irrespective of his farmer's face and hands, Fiennes would have been unsuitable for the role of 007 for one notable reason: his own story makes that of Fleming's fictional spy look downright humdrum. And it is about to take yet another extraordinary twist as, at the age of 68, with cancer and major heart surgery behind him, not to mention several of his finger-ends, Fiennes prepares for an expedition to Antarctica that the trip's patron, the Prince of Wales, calls "a wonderfully dotty adventure".
In fact, wonderfully dotty is not the half of it. Nobody has ever before even attempted to cross the Antarctic by foot during the southern hemisphere's perpetually dark winter, in temperatures that routinely plunge to -70C, and have been recorded as low as -92C. Fiennes and his five-man team are giving themselves six months to complete the almost unimaginably arduous 2,000-mile trek, and propelling him forward, he said this week, is the thought that if he doesn't do it, the Norwegians might.
The ghost of Robert Falcon Scott was doubtless looking down from his celestial ice floe and applauding as Fiennes told a press conference that "the Norwegians consider the polar regions to be theirs". Happily, he didn't add "over my dead body". Fate might have considered it an irresistible come-on.
Clearly, the intrepid and ill-fated standard-bearers from the so-called "heroic age" of polar exploration, led by Scott and Ernest Shackleton, would have recognised Fiennes as a kindred spirit. But theirs was a less cynical age. These days, not everyone is inclined to see Fiennes as a hero. To some, he is more novelty-seeker than explorer, unable to go where no one has gone before, and so endlessly contriving ways in which to be regarded as a pioneer. His tragedy, they conclude, is that he was born 100 years too late. There may be some truth in that, but anyone with the slightest spark of romance in their soul should celebrate this apparent Edwardian throwback.
Then again, they should not credit him with the streak of madness usually attributed to true British eccentrics. When he called his 2009 autobiography Mad Dogs and Englishmen, he was paying homage to other virtues perceived as characteristically British: stoicism and an unquenchable spirit of adventure. Conversely, he loathes characteristics that undermine his regard for his country. "I don't waste time having regrets," he once said. "But if I mourn anything about the British way of life, it is the way youngsters think nothing of binge-drinking and spewing all over the streets. Appalling. And young men crying at the drop of a hat on The X Factor."
In some ways, Fiennes is the perfect antidote to the modern phenomenon of rewarding mediocre talent and modest achievement with instant fame. His fame has been much harder in the making, and he never craved it anyway. Nor, fond though he is of the Prince of Wales, does he accept the charge of dottiness. People who do what he does are "anything but mad", he has said, because otherwise they would fail. On the contrary, "they have calm and stable personalities that cope under stress".
Those who have encountered "Ran", as his friends and family all know him, confirm that he meets his own criteria. Journalists invariably go to interview him expecting a larger-than-life, Brian Blessed-type character, but end up unveiling a whole different set of adjectives: unassuming, mild-mannered, even diffident. All the same, his adventures add immeasurably if not to the gaiety of the nation, then certainly to its self-esteem. Only Britain could have produced a fellow quite like Fiennes, whose ancestors include the mothers of eight kings, three of Cromwell's generals, and even the nursery-rhyme fine lady in Banbury Cross. Moreover, this latest project – which will take him through areas that cannot be reached even in emergencies by the rescue services – is not some gigantic act of self-indulgence. Fiennes intends it to raise $10m (£6.2m) for the blindness charity Seeing Is Believing. And his previous expeditions have raised a good deal more than that already.
There are easier ways of raising even such colossal sums, but insofar as anyone can be genetically predisposed to a life out of the ordinary it is Fiennes. Those ancestors also include Eustache Fiennes, immortalised in the Bayeux tapestry as the man who commanded the Norman army at Hastings and personally chopped off King Harold's head. As for the man immediately above him in the remarkable family tree, Fiennes's own father, also Ranulph, was killed in 1943 while commanding the Royal Scots Greys in Italy. Fiennes was born four months later.
In due course, like many of his forebears, he joined the army, and served for a time as a demolitions expert in the SAS, until he ill-advisedly, although rather nobly, used his knowledge of explosives to plot the destruction of a dam that had been built near Castle Combe in Dorset by the makers of the film Doctor Dolittle. Fiennes was trying to do a favour for the locals, who hugely resented this eyesore, but still thinks that "the Castle Combe business", for which he was fined and booted out of the SAS, torpedoed his later efforts to join MI6. A mysterious woman carrying a handbag asked him some questions on the steps of his Earl's Court flat one day, and he never heard anything more. So instead, inspired by the example of the mountaineer Chris Bonnington, he decided to make a living by finding people to sponsor his expeditions, then recounting them afterwards.
Most of those expeditions, unlike Bonnington's, have been horizontal rather than vertical. Fiennes has a lifelong fear of heights. But Mount Everest, simply by virtue of being there, presented a challenge he could not ignore. He tried three times to reach the summit, abandoning the first attempt following a violent attack of vertigo, and the second after suffering a heart attack 300m from the summit. To nobody's great surprise, he went back a third time, and three years ago reached the top, the oldest Briton ever to do so.
Whatever his detractors say, Fiennes has an impressive collection of firsts in his backpack, and displays on the study wall of his Exmoor home the Guinness World Records certificate declaring his "the longest self-supporting polar sledge journey ever made". That, 1,350 miles across Antarctica, was completed 20 years ago.
He had fingers then. Eight years later, on a solo trip to the North Pole, his sledge slipped into the sea and jammed under a slab of ice. The only way of freeing it was to remove his mittten and reach into the water, and although he retrieved the sledge, he incurred severe frostbite. Back in the UK, although advised by his surgeon to wait for the remaining healthy tissue to regrow before his fingers could be amputated, he famously did the job himself, with a hacksaw.
There are few physical tribulations that this singular man has not experienced, and he has been through the emotional ringer, too, watching his adored wife Ginny, whom he had known since he was 12, die of cancer in 2004. She had been "his wife, sister, friend, adviser, suggester, planner, my everything", he has said, and her death plunged him "into a total, immense black hole of grief". Just over a year later, however, he married Louise, more than 20 years his junior, having met her at one of his lectures. It is said that she is rather less approving of his wanderlust than Ginny was, and perhaps with good reason, for they have a young daughter, Fiennes's only child.
On he goes, though, and this time even he does not know quite what is in store. The coldest ice chamber available in which to test human responses is -58C, positively spring-like compared with an Antarctic winter. Assuming he survives intact, who knows what he will attempt next.
A Life In Brief
Born: Sir Ranulph Twisleton-Wykeham-Fiennes, 3rd Baronet, 7 March 1944, Windsor, Berkshire, England.
Family: His father, Lieutenant-Colonel Sir Ranulph Twisleton-Wykeham-Fiennes, 2nd Baronet, was commander of the Royal Scots Greys and killed in action before his son was born. Was married to Ginny Fiennes from 1970 until her death in 2004. He has a daughter with second wife Louise Millington.
Education: Went to Sandroyd School in Wiltshire before attending Eton College.
Career: After failing his A-levels, Fiennes joined the Royal Scots Greys, then the SAS. Was discharged for illegally demolishing a dam. Served for the Sultan of Oman and played a prominent role in the Dhofar Rebellion. Then launched a series of record-breaking expeditions. Once ran seven marathons in seven days. He is the oldest British person to climb Mount Everest.
He says: "You just must not think about getting old. If you still are lucky enough to be able to walk around not stooped, no crutch, then you might as well go for it."
They say: "My admiration for Ran is unbounded, and thank God he exists. The world would be a far duller place without him." HRH Prince Charles
Join our new commenting forum
Join thought-provoking conversations, follow other Independent readers and see their replies