Sean Bean: 'I got pretty good at walking in high heels'
The Sheffield lad, raised on football and Old Labour, has played tough guys for most of his acting career but jumped at the part of transvestite Tracie. Genevieve Roberts meets Sean Bean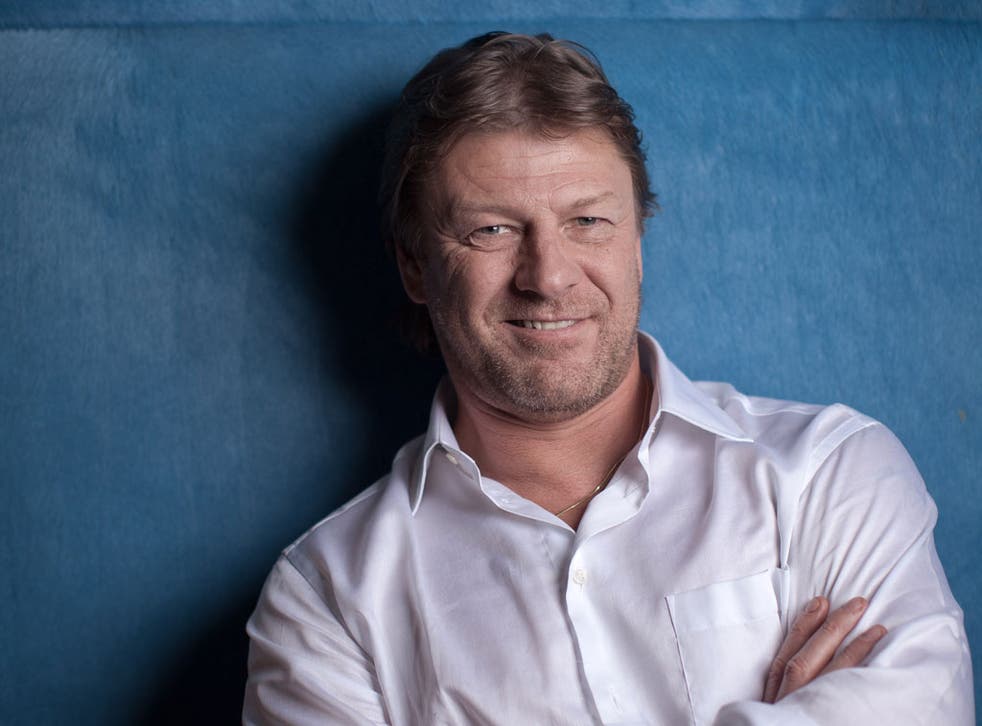 Smooth arms and hairless legs are not something I associate with Sean Bean – a man who oozes testosterone. Nor indeed is finding three pairs of high heels in his kitchen. But Britain's toughest action hero has just finished filming the role of transvestite Tracie in Jimmy McGovern's award-winning television series Accused, which will be broadcast this year – and the smooth limbs, and shoes he wore to practice his heel walk, remain.
"I got pretty good at it, walking on cobblestones and all sorts. I had a full body wax, the high heels, short skirts, bras – everything – it was proper full-on," he says in his deep Sheffield accent. "I became totally absorbed: it was wonderful being involved in it, I just didn't want to leave it, the character. I became very close to Tracie. It's a brilliant script: very moving, very dark humour."
It's a far cry from the tough-guy films that are his stock in trade. His latest role in Cleanskin, for example, sees him play a secret service agent on the trail of a young Muslim student who becomes radicalised at university and joins a terrorist cell. The student (the eponymous "cleanskin") is unknown to the spooks, but Bean must track him and stop him before he can wreak further havoc. "It tries to explain how things can deteriorate in the sense that you've got a young British citizen, who's bright and politically aware, and who gets drawn into a terrorist organisation," he explains.
Bean claims he still gets an adrenalin rush from action scenes, though he admits that leaping around isn't always the first thing on his mind. And at (an albeit youthful) 52, he may feel like he's done his fair share of shooting. "At five or six in the morning, you think, 'Hell, I've just got out of bed, I don't want to jump around like that'. Like all things with film – the cold, the bad times, the exhaustion – you just forget," he says.
Before our interview, I was told that I cannot ask Bean any personal questions. He fiercely safeguards his private life, which involves four marriages and four divorces. The last of these, to Georgina Sutcliffe, ended after the police had been called out to their home on three occasions over domestic disputes.
So, I know I'm straying into dangerous territory when I broach the subject of Bean's romantic history. "I just don't like to talk about it," he says. Is it because he feels he made mistakes? Or because it's no one else's business? He laughs as he deflects my clumsy approaches. "They all try," he says, sagely.
He's currently single, and "just seeing how it goes", while gardening and cycling around Belsize Park: it doesn't sound like tough-guy behaviour, even when he adds that he occasionally rides on the pavement or the wrong way down a one-way street.
He spends a lot of time with his three daughters; Lorna, 24, and Molly, 20, daughters of Bean's second wife Melanie Hill, and Evie, 14, from his marriage to Abigail Cruttenden. And while it may be within "personal question territory", Bean cannot hide his pride. "Lorna is training to be a teacher, so hopefully she might be working professionally in September," he says. "It's the last thing I expected her to do. She was quite rebellious when she was younger, and has turned into this person who wants to learn and teach and impart her learning to other people. It's wonderful."
Bean has been accused of being withdrawn, quiet, almost sullen in interviews. But he comes across as laid-back, friendly and funny. Either he has mellowed with age, or it's a testament to his great acting ability. He smokes while chatting about his respect for Old Labour ("Tony Benn – fantastic"), his intention to visit family in Sheffield more often, and his repeated attempts to give up his steady, 20-a-day habit. "I'm going to try again, but I was trying every day, I just thought, I might as well smoke, and stop worrying about it," he concludes.
Bean, a dedicated Sheffield United fan, grew up dreaming of becoming a star on the football pitch (see When Saturday Comes), rather than on screen. "Where I come from, all of us wanted to be footballers," he says. "We played all the time; that's all we did at school or wherever, until it went dark and you couldn't see the ball. But I wasn't as skilled as I thought I was," he admits.
From there, he worked on the cheese counter at M&S and started training to become a welder, before swapping for the arts and graduating from Royal Academy of Dramatic Art. His breakthrough came playing Richard Sharpe in the television adaptation of Bernard Cornwell's Napoleonic war novels. He's now better known as Boromir from The Lord of the Rings ("We didn't know at the time how big an epic it would be," he remembers) and for playing lots of fighty types, such as a terrorist in Patriot Games and a Bond villain in GoldenEye.
"I used to play a lot of villains. You have to break out of it and I did. I'm playing all right people now." In Mirror Mirror: The Untold Adventures of Snow White, released next month, he plays the benevolent father alongside Julia Roberts's evil queen. "It was a feel-good film, and I was happy in it, a kindly old king."
Having played bad boys and bully boys, caring fathers and lovers (it may be approaching two decades since filming, but he is unlikely to be forgotten as Mellors in Lady Chatterley), Bean says he has no "burning desire" to try any particular role, but prefers to see what is thrown at him. "Who would have thought I'd have been dressing up as a woman and embracing that? It just came out of the blue and it was one of the most enjoyable things I've ever done, one of the things I'm most proud of. I just think I could never have invented that."
Join our new commenting forum
Join thought-provoking conversations, follow other Independent readers and see their replies