Steve Irwin: The incredible story of the wildlife warrior
To some, he was just a reckless attention-seeker. To others, he was the lovable bloke from the Outback whose antics with the world's most dangerous creatures made him irresistible. But the shocking death of Steve Irwin has deprived Australia of one of its most colourful personalities. Were the voyeuristic demands of television to blame? Or was it just a random, tragic accident? Kathy Marks reports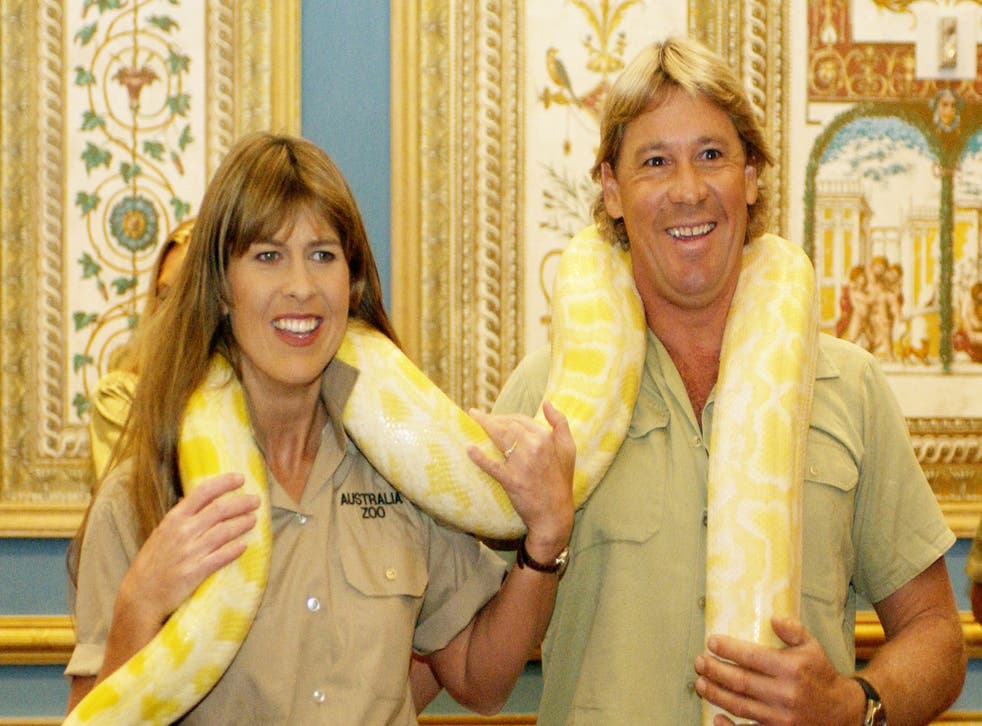 Unlike most Australians, who shrink from the tropical sun and shudder at the dangerous creatures that surround them, Steve Irwin was a man in tune with his environment.
Nothing fazed him - not the sharks or killer jellyfish, nor the man-eating crocodiles, nor the dozens of snakes and spiders capable of delivering a fatal bite. For Irwin, Australia's animals were "like a magnet", and he acquired fame, and considerable fortune, by getting up close to them. He appeared to have no fear. And it was, perhaps, that sense of invulnerability that killed him yesterday.
The man who wrestled crocodiles and handled pythons without a scratch was diving in the warm waters of Queensland's Great Barrier Reef when a stingray shot its poisonous barb into his heart. According to a friend and colleague, John Stainton, who was on Irwin's boat, Croc One, Irwin swam too close to it. Triangular-shaped stingrays, which glide through the water on their wide, flat bodies, are usually placid, lashing out with their long tails only when they feel threatened or are trodden on. Irwin was believed to be only the third person killed by a stingray in Australian waters.
Irwin, whose television show Crocodile Hunter made him an international celebrity and a superstar in America, was filming an underwater sequence for a documentary called Ocean's Deadliest at the remote Batt Reef. The crew of his boat called the emergency services in the nearest city, Cairns, and administered heart massage as they rushed to Low Isle, a tourist destination popular with divers and snorkellers, to meet a rescue helicopter. But the 44-year-old, who is believed to have suffered an instant cardiac arrest, was pronounced dead by medical staff at about noon local time.
Yesterday one commentator blamed his death on the demands of an increasingly voyeuristic brand of television. But Irwin was only doing what had come naturally since he was given a 12ft scrub python for his birthday at the age of six. He was a showman, irrepressibly ebullient, and he thrived on his death-defying encounters with wildlife. He simply could not understand what the fuss was about when he dangled his one-month-old baby, Bob, above a large, snapping crocodile while feeding it in a pen. It was all about "perceived danger" he said, claiming that: "In front of that crocodile I was in complete control, absolute and complete control."
As a true-life embodiment of Paul Hogan's character in the 1986 hit film Crocodile Dundee, Irwin was one of Australia's most successful exports. His show was first broadcast in Australia in 1992, before being picked up by the American Discovery network and shown worldwide, acquiring an audience of tens of millions. Irwin travelled the world, filming in locations that included the Himalayas, Borneo and South Africa's Kruger National Park. He starred in more than 200 documentaries, including The Croc Files and The Crocodile Hunter Diaries. But his most memorable encounter, he said, took place at Howletts Wild Animal Park near Canterbury in Kent, where he went "one-on-one with the gorillas and was accepted as one of their own".
In 2002 he released a feature-length film, The Crocodile Hunter: Collision Course, set in the Outback, in which he tried to prevent CIA agents from catching a crocodile that had swallowed a tracking device. Irwin once observed: "You're far safer dealing with crocodiles and western diamondback rattlesnakes than the executives and the producers and all those sharks in the big MGM building." With his thick drawl, his trademark cry of "Crikey!" and his perennial get-up of khaki shorts and shirt, long socks and heavy boots, Irwin fulfilled every cliché of the Australian Outback bloke. As such, he was in constant demand for photo opportunities, and to promote Australia abroad. In 2003, the Australian Prime Minister, John Howard, invited him to attend a gala barbecue at his official residence in Canberra in honour of George Bush.
Mr Howard appeared almost on the verge of tears yesterday, declaring himself "shocked and distressed at Steve Irwin's sudden, untimely and freakish death". He said: "I really do feel Australia has lost a wonderful and colourful son." Irwin "took risks, he enjoyed life", Mr Howard said, "he brought immense joy to millions of people, particularly to children. He was a wonderful character. He was a passionate environmentalist. It's such a terrible loss."
While many Australians felt similarly bereft, the effervescent Irwin provoked mixed feelings at home. Like Rolf Harris and Kylie Minogue, he was not taken entirely seriously in Australia, and appeared to be more valued abroad. There were groans in some quarters when he was chosen earlier this year to front a major campaign to promote Australia in the US, called "G'day, LA". Urban Aussies want to shake off the image embodied by the brash, blond Irwin, and to have their modern, multicultural nation portrayed overseas in a rather more sophisticated fashion.
Despite his chirpy, knockabout public persona, Irwin was no fool, and he recognised the ambivalence that he inspired. In an Australian Broadcasting Corporation documentary in 2003, he tried to analyse those feelings. Around the world, he said: "They're looking at me as this very popular, wildlife warrior Australian bloke. And yet back here in my own country, some people find me a little bit embarrassing... They kind of cringe, you know, 'cause I'm coming out with, 'Crikey' and, 'Look at this beauty'... You know, is it a cultural cringe? Is it, they actually see a little bit of themselves when they see me, and they find that a little bit embarrassing?"
Irwin was a naturalist as well as an entertainer, a fact that was reflected in the many tributes from leading figures in the field yesterday. David Bellamy, another showman, admitted that he wept when he heard the news. "He was magic, and for the world of conservation and natural history, to lose him is very, very sad," he said. "The thing with Steve was he mixed damn good science with showbusiness and I don't know anyone else who did that." Dr Bellamy told the BBC that Irwin "did take enormous risks but he knew what he was doing... He not only captivated Australia and all the visitors there, but he captivated America because he was audacious."
Mark O'Shea, a British reptile expert who presented the Channel 4 series, O'Shea's Dangerous Reptiles, said that Irwin's death would leave "an immense hole". Although some "university professors" might turn their nose up at the way he portrayed reptiles, he had probably inspired many people to follow a career in conservation. "A lot of people who now want to study biology and work with animals may not have considered it before they watched him on television," Mr O'Shea said.
Animals were in Irwin's blood. When he was eight, his father, Bob, a plumber with a passion for reptiles, moved the family from Melbourne to Queensland's Sunshine Coast, where they opened a small wildlife park. By the time Irwin was nine, he was catching crocodiles, and in his twenties he did work for the Queensland government as a crocodile trapper, removing problem animals from populated areas.
In 1991, when his parents retired, he took over the park - originally called the Queensland Reptile and Fauna Park, and now known as Australia Zoo - and developed it into a major tourist attraction. A theme park famous around the world, it has more than 1,000 animals on 60 acres of bushland and 360 employees, many of whom were in mourning yesterday.
Irwin told the ABC documentary: "I've got animals so genetically inside me that there's no way I could actually be anything else. I think my path would always have gone back to or delivered me to wildlife." Visitors came in droves to Australia Zoo to watch Irwin hover perilously close to untethered crocodiles, often leaping on to their backs. But in 2004 he went too far, cradling his baby son Bob in one arm while feeding the crocs. There was an uproar and Irwin apologised, but he insisted that Bob had been in no danger, and in later interviews laughed off the incident. He was never charged with any breach of safety regulations.
Irwin said: "Some people ask, 'What if you had fallen over?' Yes, well, I could fall over right now. But what would have to happen for that event to take place would be a meteorite would come out of the sky, hit Australia, we would have an earthquake, 6.6 on the Richter scale, just like Iran, and then I would fall over. Well, guess what? I had a safe working distance with that crocodile when that took place."
Controversy continued to dog him. He was investigated for a possible breach of wildlife laws after being accused of getting too close to penguins, a seal and humpback whales while making a documentary in Antarctica. He denied any wrongdoing, and Australia's Environment Department recommended that no action be taken against him.
Yesterday the British television presenter and survival expert, Ray Mears, said his death proved that "some things in nature should be left alone". He said of Irwin: "He clearly took a lot of risks, and television encouraged him to do that. It's a shame that television audiences need that to be attracted to wildlife. Dangerous animals, you leave them alone because they will defend themselves." Mears, whose programmes have included Extreme Survival, condemned some wildlife programmes as "voyeuristic", saying: "Television has become very gladiatorial, and it's not healthy. The voyeurism we are seeing on television has a cost, and it's that cost Steve Irwin's family are paying today." Last night Irwin's body was in a morgue in Cairns, and his American-born wife, Terri Raines, who had been in Tasmania on a walking tour, was flying back to Queensland with their children: eight-year old Bindi, and Bob, who will be three in December. The couple met when she visited Australia Zoo while on holiday in 1991, and they married six months later.
Cars and trucks passing on the highway honked their horns yesterday, and flowers were left at the entrance to the zoo. A card attached to one bouquet of native flowers read: "Steve, from all God's creatures, thank you. Rest in peace." Paula Kelly, a volunteer at the park, said: "We're all very shocked. I don't know what the zoo will do without him. He's done so much for us, the environment, and it's a big loss." The irony is that after courting danger so many times, Irwin died in a freak accident. A marine neuroscientist, Shaun Collin, of the University of Queensland, said he had had "extraordinarily bad luck". Stingrays flex their serrated barbs, which are up to 10 inches long, when frightened - but the sting, while agonising, is not usually fatal.
Stingrays - of which there are at least 35 species in the tropical waters of the Great Barrier Reef - deploy the spines to fend off predators such as sharks and killer whales. Mr Collin said he had never heard of an unprovoked attack. "It's not easy to get spined by a stingray, and to be killed by one is very rare," he said, adding that he suspected that the barb had pierced Irwin beneath his ribcage, stabbing him directly in the heart.
John Stainton, who witnessed the incident, said that Irwin swam over the stingray "and the stingray's barb went up and into his chest and put a hole into his heart". An Aboriginal boy is believed to have died in a similar fashion a few years ago, while the only other known recorded death was in waters near Melbourne in 1945. Australian experts said there had only been about 30 such deaths worldwide.
None of that will bring any comfort to Irwin's family, nor to his professional colleagues, nor to the millions of viewers who believed they knew him.
Whatever one thought of Irwin, his passion for life could not be denied, nor the 100 per cent enthusiasm that he brought to everything he did. "I get called an adrenaline junkie every other minute, and I'm just fine with that," he once remarked. On another occasion, he claimed never to have experienced "fear of losing my life".
Irwin lived and breathed animals, and he helped to demystify dangerous reptiles. He was "a modern-day Noah", Mark Townend, chief executive of the Queensland branch of the Royal Society for the Prevention of Cruelty to Animals, said last night. Mr Stainton said that Irwin "died doing what he loved best, and he left this world in a happy and peaceful state of mind."
Stingrays: the facts
Stingrays have a tapering tail that is armed with one or more spines. They are not usually aggressive. They rummage on the sea bottom and only attack if they have been stepped on or threatened. They feed on molluscs, small fish and worms.
Although stingrays are venomous, humans are more likely to be hurt by the whipping action of their slender tails (which may result in severe penetrating injuries and/or infection) than by the poison itself. Envenomation may result in local pain and swelling that may spread to involve entire limbs, and wounds are likely to appear bluish-white in colour. Other symptoms are rare but may include nausea and vomiting, muscle cramps, diarrhoea, salivation, sweating, an irregular heartbeat and convulsions.
The killer instinct: when animals attack
* JOHN ASPINALL
Aspinall was a celebrated zoo-owner and animal breeding enthusiast. Aspinall held the view that humans and wild animals should interact closely together, and he encouraged his zookeepers to move freely among the animals. Five of his employees were killed, three by tigers and two by elephants. Popular pressure prevented Canterbury council from closing down his zoos. Aspinall himself died of cancer in 2000 at the age of 74.
* SIMON COMBES
A buffalo attacked and killed the British painter Simon Combes in 2004, when he was walking in Kenya's Great Rift Valley. Combes was well known for his intimacy with the wild animals who were the subject of his artworks. He had previously come close to death at the hands of rhinos, tigers and elephants, but in 1996 he proclaimed that he was more afraid of humans than of dangerous animals.
* ROY HORN
Roy Horn, of the circus act Siegfried and Roy, was severely injured by a white tiger onstage during a show at The Mirage in Las Vegas on 3 October 2003. The tiger bit him in the neck, causing massive loss of blood and partial paralysis. The show at The Mirage had to close down, costing the resort $45m in lost business. Horn has now begun to walk again.
* YVOY SUAREZ JIMENEZ
Suarez Jimenez, a 28-year-old Florida student, was killed by an alligator in May this year. Jimenez went for an evening jog, and her dismembered body was discovered the following morning. She was reportedly sitting by a canal when she was dragged into the water by an alligator perhaps 10ft long.
* KIRSTY ROSS
Kirsty Ross was killed in Cornwall in 2001 by her mother's dog. Ross was having an epileptic fit when the dog bit her in the neck, possibly in an attempt to help her. Her 22-month-old baby was found in the same room, unhurt.
Join our new commenting forum
Join thought-provoking conversations, follow other Independent readers and see their replies