Stuart Lancaster & Graham Rowntree: England's new brooms pledge to restore old values
Two-thirds of caretaker coaching team will seek to rebuild tarnished team by reconnecting with union's grass roots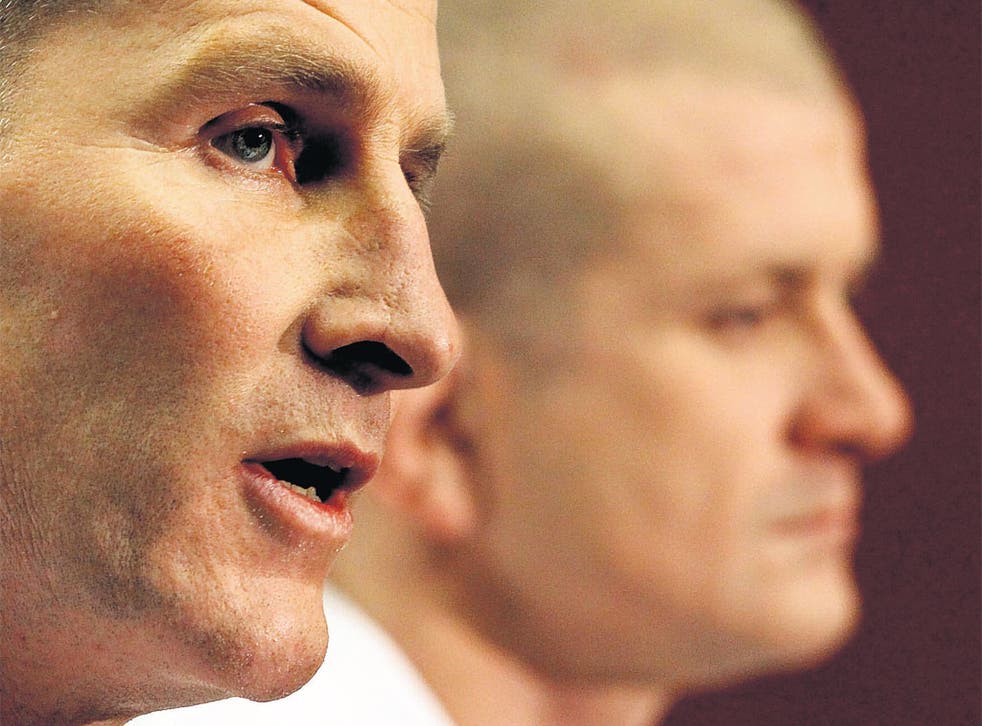 Six Nations tournaments always begin in the dark depths of winter, but as far as England are concerned spring is already in the air. Stuart Lancaster and Graham Rowntree, two-thirds of the caretaker coaching team charged with guiding the national side through Europe's premier competition following the collapse of Martin Johnson's ill-conceived management regime, spoke yesterday of "fresh starts" and "new brooms" and could barely contain their enthusiasm.
So, whatever the shop-soiled red-rose army are lacking come the opening match with Scotland at Murrayfield early next month, they will not be short of a feel-good factor.
A number of thirtysomething players, widely assumed to include the Gloucester centre Mike Tindall and the Sale wing Mark Cueto, have been told their services are no longer required. Nick Easter, the Harlequins No 8 and an in-form No 8 at that, could also miss out when the new elite squad is confirmed in six days' time. Here, at the start of another World Cup cycle, come Owen Farrell and Charlie Sharples, among other bright young things. The shock of the new may turn out to be shocking in its magnitude.
Freshness is the theme of the moment. The Rugby Football Union has been cleaning the stables for several weeks now, having wasted nine years since the 2003 global triumph filling them with its own dung. The same spirit is abroad in and around the England organisation. As Lancaster said during a briefing at Loughborough University, it is time for the likes of Toby Flood, Ben Youngs and Tom Croft to stand up and be counted. "In my view, they're experienced players now," the head coach remarked, instructively.
It would be wrong to think that everyone over the age of 27 is about to be drummed out of international rugby and handed the sporting equivalent of a bus pass. "There certainly won't be a cull," Lancaster insisted when asked if each and every senior player must now consider himself at risk. "We do, however, want to give opportunities to people who perhaps haven't had opportunities in the past.
"What are our priorities? First, we need a clear philosophy in the coaching group as to how we want to play and, equally importantly, how we're looking to take the squad forwards in terms of building for the future. Secondly, we want to develop a style that allows people to express themselves – to give them a framework in which they make decisions and take responsibility."
This will come as music to the ears of individuals like Flood, the Leicester outside-half, who was not always in touch with his inventive side during the heavily prescriptive Johnson years. If Lancaster is true to his word – and it would be difficult to come across as more sincere than the former Leeds coach did yesterday – England will play it as they see it when they take on the Scots at Murrayfield rather than play it by numbers.
Not that the preparation will be wholly without hassle. Injuries are already kicking in: two Leicester players, the lock Louis Deacon and the roll-'em-over centre Manu Tuilagi, are currently crocked, as is the athletic Northampton forward Courtney Lawes. Deacon and Tuilagi both have hamstring trouble: the former may miss the entire Six Nations, the latter is struggling to make the Edinburgh date. Lawes, meanwhile, has a knee problem and is expected to be hors de combat for weeks rather than days.
Balanced against that is the sudden appearance of the powerful Bristol-born No 8 Ben Morgan, who might have committed himself to Wales after playing all his top-level rugby in Llanelli with the Scarlets regional team but has opted for England instead. "It's fantastic news," said Rowntree, who will be in charge of preparing the England pack. "We've been watching him for a year now and we're delighted he's on board. He's athletic and he's a big ball-carrier with good collision skills. Without giving too much away with regards to selection, we're looking to get him involved very quickly."
England will continue to base themselves at their country hotel retreat just outside Bagshot in Test weeks, but as far as their wider preparation is concerned, five-star comfort is a thing of the past. Chances of a few winter rays in Portugal, the usual venue for pre-Six Nations training camps under Johnson, disappeared the day Lancaster took the reins and decided something a little more spartan might be appropriate. Hence the four-day get-together this month at the West Park club in Leeds, a grass-roots set-up with decent facilities but no airs and graces. Meat and two veg, not champagne and canapés.
"I want to see us reconnecting with the game," Lancaster explained. "I feel we've lost that connection slightly. That's the reason for going up north and training in a grass-roots environment. We're also planning to bring in people from outside rugby union to talk to the players about what it takes to perform at elite level and what it means to play for England, to represent your country."
To that end, the squad will hear from such speakers as Hugh Morris, managing director of the high-achieving England cricket team; Dave Brailsford, performance director of the wildly successful British cycling squad; Jamie Peacock, the top-class rugby league player; and a British serviceman with recent experience of military action.
All this adds up to a clean break from what was going on as recently as last October. "The slate's clean," Rowntree declared. "The World Cup and its aftermath has been well documented. What happened, what was said... that's over and we're starting again. We'll learn from events, but as far as relations between players and coaches are concerned, we move forward from here. This is a new beginning for us."
Amen to that. There is no guarantee that Lancaster and Rowntree – or, indeed, the Saracens head coach Andy Farrell, who joins up with England after this month's tranche of Heineken Cup matches – will still be working at Test level come the summer. But they mean to make themselves as close to unsackable as makes no difference.
Brave new world: Four fresh ideas
Picking the brains
The new coach met up with Jonny Wilkinson in Toulon earlier this week to discuss outside-half candidates.
Changing the scenery
There is a world outside Greater London – and England are about to spend some time training in it.
Laying down the law
Too many errant players escaped meaningful punishment under Martin Johnson. It is different now, as Danny Care can testify.
Outside inspiration
Hugh Morris, Dave Brailsford, Jamie Peacock... successful people who know how success works have been invited to share the secret.
Join our new commenting forum
Join thought-provoking conversations, follow other Independent readers and see their replies