Tony Oursler: David Bowie's latest work is astounding. There's a level of detail and variety in it with the highest level of production
The musicians friend had given up asking a long time ago whether a comeback was on the cards... and then he received a pleasant surprise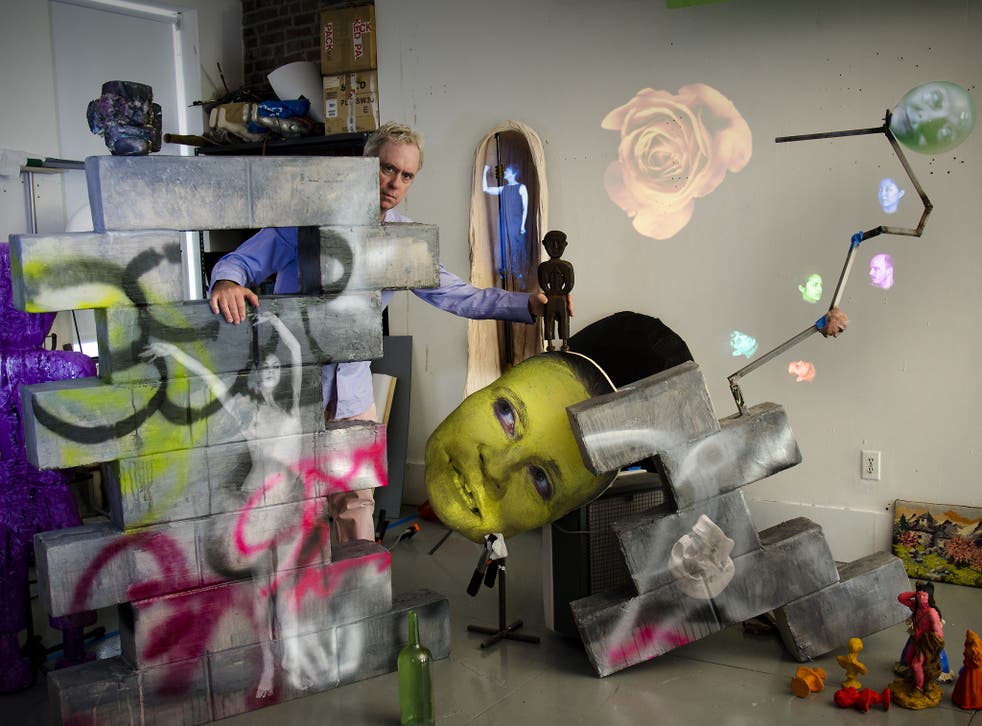 As the world rejoiced at the return of David Bowie last week, the man himself chose to spend his 66th birthday at The Cloisters museum and gardens in New York. Wandering around the medieval treasures in northern Manhattan, it was a typical move for someone with nothing left to prove who wanted to let his lyrics and video speak for him.
"David spent the day off the grid," Tony Oursler, who directed Where Are We Now? told The Independent on Sunday. "He emailed me at the end of the day to see how things were going and I replied asking 'where are we now?' and he told me. That's David."
The video went to number one in iTunes charts in 17 countries and has already been seen by more than three million people on YouTube, Littered with references to Bowie's past and shot at Oursler's studio in the Lower East Side of Manhattan, the video would not look out of place at the Turner Prize, which is no surprise given the creative engines behind it.
The centrepiece is a conjoined rag doll with two faces projected onto it: Bowie's and Oursler's wife, the abstract impressionist artist Jacqueline Humphries. It is a technique that Oursler, one of the world's leading video and installation artists, has trademarked. The joint figure was a by-product of the pieces used to showcase Bowie's 50th birthday celebrations at Madison Square Gardens in 1997, which Oursler also directed. "There's a theme of looking back and moving forward to Where Are We Now?, of abandoning things and carrying things forward. It was very poignant for David to have that figure from his birthday in the video."
Secrecy for Bowie's comeback was paramount. Speaking from his New York studio, Oursler said only "around a baker's dozen" knew about the whole project: Bowie, his family, producer Tony Visconti, Humphries, Oursler, his five studio assistants and one or two others - and they all had to sign a non-disclosure agreement. "Certainly no more than 20 people knew. My nine-year-old son Jack walked in on us filming and I joked that David was his babysitter for the day. There were white knuckle moments worrying if something leaked - it's amazing in this day and age that nothing did. No one had the slightest idea - what an amazing birthday gift to the world."
Humphries, who received a thank you email from Bowie just before speaking to The IoS, added: "I had to keep stopping myself from blurting it out to someone. It's astonishing it stayed under wraps. I was a bit worried about which way it was going to go but the response has been overwhelming."
The 52-year-old artist modestly described her role as "not really doing much" and said she was thrilled to star in the video. "David is just a magician. It was a great collaboration between his music and Tony's aesthetics."
Oursler, 55, revealed he gave up asking his friend a long time ago whether a comeback was on the cards. "David would often come over to my studio to look at art or we would go to the Frick, the Whitney or other museums together. I used to always ask him if he was making music but I just stopped in the end as there could have been some big issue that he didn't want to talk about, so I figured it might not exactly be what he wanted to be asked. We talked about him coming over to my studio to perform in an art project because he has done that before and really enjoyed doing it.
"That period was such a contrast to when I first met him in the mid-90s when he had a million ideas and a million projects on the go. He was a workaholic, just like I am, and that was how we bonded."
Bowie, who has made only low-key guest appearances since 2004 following a heart attack backstage at the Hurricane festival in Scheessel, Germany. called Oursler a month ago and invited him to his office.
"He asked me what my schedule was. 'For you pretty open!' I replied. Then he played me the song - I was shocked, I had no idea David was making anything. I wasn't thinking whether I would be involved but then he asked me if I was interested in making the video - and that the song would be the spearhead for the album. Everything happened so quickly, it was crazy."
"David's a musician but also knows more about video and film than a lot of directors do - I knew he had a realistic idea of what could be done."
Bowie then dropped another bombshell - he wanted the project completed in time for 8 January, his 66th birthday, which was just one month away. Oursler, who has collaborated with Bowie on many projects, was put at ease.
"David had a fully articulated vision in his head. It was an exercise to tease this vision out, which was quite easy, and articulating it fast. I asked him what he saw and he described it all: the figures, the screen, the size of the screen, how much material to use. It was a crystal vision of what it was going to look like. It was really his conception. I was completely flattered that he wanted to come to my cave and fulfil this.
"David was thinking about the second character in the video and then just stopped and looked at me: 'what about Jacqueline?' he asked."
Humphries had never appeared in her husband's work with the exception of the use of her hand. Bowie and Humphries were transformed into "electric effigies" as Oursler calls them. "I don't like the word 'puppets'."
Bowie had experienced the role before. His face graced an effigy of a movie director which formed part of a three-part installation entitled Switch, displayed at the Hirsshorn Museum in Washington DC in 1996, barking orders at invisible actors leaving visitors laughing nervously. Oursler also designed Bowie's Earthling Tour in 1997, full of large eyeballs floating around concerts occasionally winking and blinking.
It is a reflective David Bowie that appears on Where Are We Now?, a video which takes the viewer on a tour of Berlin's iconography, a city the singer lived and recorded a trilogy of albums in between 1976 and 1979.
"There's a magical realism to it," said Oursler. "People and friendships have gone sideways, planned projects have not gone anywhere and David wanted to reflect on that. It's a very, very personal journey he is singing about and the song harkens back to that special time. He is a 'man caught in time' as he sings in the video, that's a life-affirming statement."
James Lingwood, co-director of influential London arts patron Artangel, which has commissioned work by Oursler, said he was surprised as anyone at the sudden comeback.
"Tony and David have collaborated for years and as soon as I saw the video, you can tell it is very much Tony's work. It's a fascinating video - both of them seem haunted by their histories, Bowie by using his Berlin background and Tony returning to his signature method. It's poignant and plaintive the way Bowie undercuts his mythology while mythologizing himself at the same time. It's wonderful."
Oursler has listened to "three or four" songs on The Next Day released in the UK on 11 March and Bowie's first album since Reality in 2003.
"They're astounding. There's a level of detail and variety in it with the highest level of production. I'm not a music critic but I was absolutely shocked at the kind of detail and variety of the tracks. I was speaking to Jacqueline last night and she really felt David has been making this album very slowly. I think this has come together over a long period of time. It's very nice that the secret is finally out."
In today's print edition 'i on Sunday': 'The man who fooled the world' - a look at David Bowie, the rock star with a knack for wrong-footing us all
Join our new commenting forum
Join thought-provoking conversations, follow other Independent readers and see their replies