Trudie Styler: 'I don't live by people's approval. I never have'
Sting's wife is the latest high-profile figure to edit 'The Big Issue'. But the philanthropist seems to be getting much more criticism than her predecessors. Lena Corner meets Trudie Styler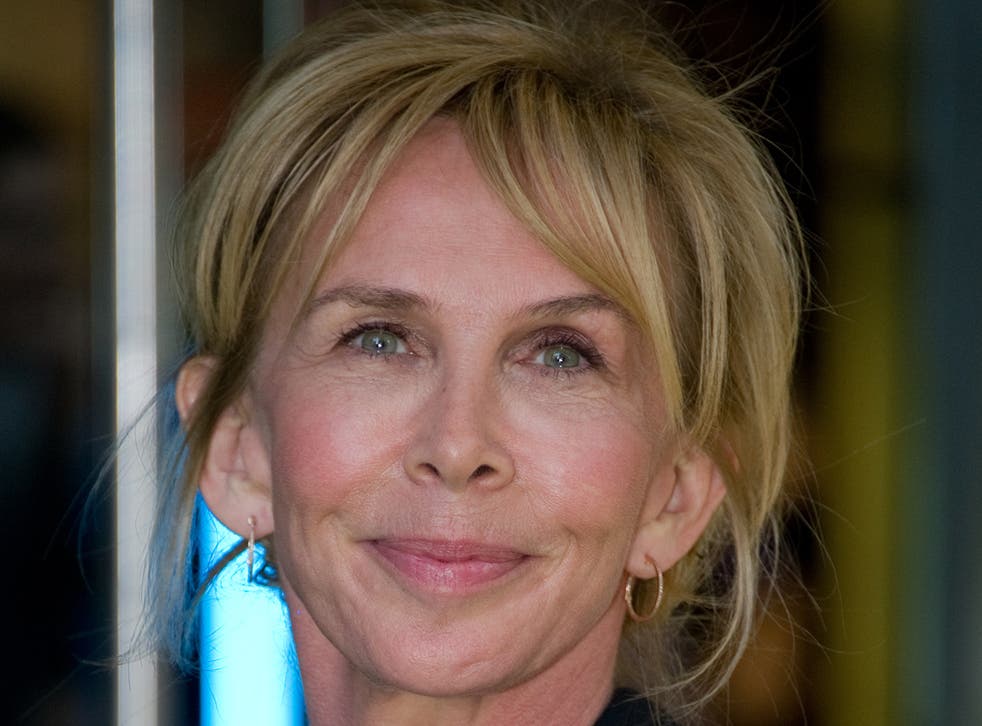 When it was announced a few weeks ago that the multimillionaire producer and rock star's wife Trudie Styler was to guest edit The Big Issue, there was an outcry in the press. The Daily Mail called it a cruel irony that someone with six homes, "and lavish ones at that", should edit a magazine that homeless people sell. Barbara Ellen on The Observer called it "one of the most bewildering, tactless charity mismatches of all time". And even on the normally benign Mumsnet it was described as a "Marie Antoinette moment".
"It was all so stupid," says Styler. "Barbara Ellen even invited the vendors to set light to their editions. That's setting fire to their livelihoods. It's such an ignorant remark. I knew Anita Roddick and Gordon [Roddick's then husband]; we both started work in the Amazon at a similar time. I would actually run into them in the rainforest, of all the places you could run into anyone. Well, Anita and Gordon are multi-homed people. And guess what? They founded The Big Issue."
The issue that Styler produced hits the streets tomorrow. And, just as John Bird, editor-in-chief, anticipated when he asked her to do the job, she has dipped into her famously bulging contacts book and drawn out some big names. There's Robert Downey Jnr on the cover, a series of portraits of Big Issue vendors by Bryan Adams, as well as a touching piece by Archbishop Desmond Tutu in which he reveals what he would change about himself if he could go back in time.
Styler is just one of a long line of Big Issue guest editors – Damien Hirst, David Cameron, Jamie Oliver and Richard Branson among them – all of whom, at the last count, own more than a few homes (and an island) between them. No one batted an eyelid when they took on the job, so why is it that Styler came in for so much stick?
"You're the journalist – you tell me," she says. "I have absolutely no idea why they don't like me. But I don't have a poor-little-me syndrome. I don't think it's just me. I think there are a lot of people that are targeted that shouldn't be. And why – who knows?"
In fact, a quick flick through Styler's press cuttings and you'll see her vilification is pretty complete. Depending on whom you read, the 57-year-old is the bit-part actress who snagged a rock star. She's the eco warrior who'll fly in her own personal chef to knock up a bowl of soup. Or – Barbara Ellen again – she's just a jumped-up lady-who-lunches with an ego that's out of control. "I am sensitive and it does hurt," Styler says, "but there's just too much to do, so you dust yourself off and get on with it. It doesn't deter me. I don't live by people's approval. I never have done."
I ask if, after all her harsh treatment at the hands of the press, she has been enjoying the Leveson inquiry. "When you see the terrible behaviour of these journalists that are involved in the crumbling Murdoch empire, you just think, well, you brought it all on yourselves. The amount of people that had their lives wrecked because of you – how can you ever justify that?"
She thinks that she may have been hacked on a couple of occasions. "But I don't know and I'm certainly not going to waste any time finding out."
Ultimately, though, she thinks the kind of bad publicity she has received just acts as a deterrent. "I think it discourages people who have wealth," she says. "Wealthy people should be encouraged to be giving more and doing more and not getting rapped over their knuckles for trying to help."
She has a point. As George Osborne's Autumn Statement demonstrated, we are living in a world where the gap between the rich and poor keeps growing and the very wealthiest seem to be running away with it all. It's true that Styler has six homes (New York, London, Malibu, the Lake District, Tuscany and a castle in Wiltshire). And it's true that she and her husband, reputedly worth nearly £180m, inhabit a parallel world of private jets and waiting staff, but wouldn't it be worse if she didn't do anything at all?
Styler's philanthropic career began back in 1989 when she formed the Rainforest Foundation with Sting. Nine years ago, she became a Unicef ambassador after witnessing children as young as two living and working on the dump sites of Ecuador. "Children raking through shit. That is fundamentally wrong. So you say, what does it take to fix that? It takes somebody's money and somebody's effort."
Admittedly, she is conspicuous in her giving, calling on high-profile friends and organising high-profile events – that's how she makes it work. Perhaps that's also what people don't like. "I have got great connections," she says. "I move around the world and meet a lot of famous people. I connect those people to something useful. If I didn't know a lot of powerful people I couldn't do the things I do."
For a glimpse of these connections you have only to look to Sting's 60th birthday party held recently at New York's Beacon Theatre. Bruce Springsteen, Lady Gaga, Stevie Wonder and Billy Joel all did a turn on stage. After seeing the Edinburgh Military Tattoo when she was doing a play at the Fringe last summer, Styler decided to hire the whole band for a surprise finale. "I flew all these pipers and drummers over to New York and adapted a piece of Sting's music for them to play. Then they did "Scotland the Brave" and there wasn't a dry eye in the house. Sting was bawling."
I ask how she squares this – the throwing of parties on the most lavish scale and the flying of large military bands across the world – with her environmental convictions. "This lifestyle was given to me courtesy of my husband," she says. "It wasn't always like that. I was raised in a council house in the Midlands and had a very modest upbringing. Sting, being a successful rock musician, brought wealth and a lifestyle with it. I don't feel guilty about that lifestyle. I enjoy it. But I keep it in proportion, and being a Unicef ambassador and giving money to those who need it is something that I do with great pleasure. So I guess if I reconcile it that way, that's the way I reconcile it."
What about her carbon footprint? "If you read the Stern report, you'll find that it is deforestation that accounts for the majority of carbon emissions. That is something me and Sting have been working on for 22 years," she says. "We'd like to get to a place where there are more incentives to find alternatives, but I think that's a long way off. If there was an aeroplane run by electricity, I'd be on it."
Styler is residing in her New York home while her youngest child, 15-year-old Giacomo, finishes school there. Her three elder children all live in the city. She says she misses the UK and just as soon as Giacomo finishes school she'll be back. New York has been an eye-opener. She went to an Occupy demonstration in Times Square and her son Jake has been shooting footage at the protest in Wall Street. The irony isn't lost on her.
"Living in America, you see the divide between rich and poor very sharply. That gap is colossally wrong," she says. "Occupy Wall Street is a very big symbol of how angry and let down people feel. In America the rich are not taxed nearly as much as they should be. I'm not a politician, and I don't want to get bogged down in how laws should be changed, but the divide is so colossal at this point people are killing themselves or giving up entirely."
Although she describes herself as an optimist, she is feeling quite bleak about the future and she's looking forward to getting out of America for Christmas. She'll be coming back to Wiltshire, the house that she thinks of as "home", and the plan is to pluck a turkey from her organic farm and surround herself with her children.
Styler seems to have developed a thick enough skin to take all the criticism, and her plan is to continue taking what she calls concrete baby steps. "Above anything else, my mother brought me up to be useful," she says. "It's a quality that should not be underestimated in human beings – getting up and doing something useful."
And, she points out, if you don't buy The Big Issue on account of who she is, it won't be lucky, multi-homed Styler that you'll be punishing, but the homeless.
Curriculum vitae
6 January 1954 Born in Bromsgrove, Worcestershire.
1960s Attends North Bromsgrove High School, but wants to act from the age of 14.
1970s Trains at the Bristol Old Vic Theatre School.
1977 Stars in various period BBC productions, including a small part in Poldark.
1982 Begins affair with then Police front man, Sting. At the time he is married to her best friend and next-door neighbour, the actress Frances Tomelty.
1984 Daughter Bridget Michael (aka "Mickey") born.
1985 Son Jake (now a model) born.
1989 Founds the Rainforest Foundation with Sting. They go on to raise about $25m for indigenous peoples.
1990 Eliot Paulina (nicknamed "Coco") is born.
1992 Marries Sting after living together for 10 years.
1993 Founds Xingu Films, a production company dedicated to supporting new talent such as Guy Ritchie and Duncan Jones.
1995 Son Giacomo Luke born.
1998 Xingu produces Guy Ritchie's film Lock, Stock and Two Smoking Barrels.
2000 Styler is executive producer on Ritchie's follow-up, Snatch.
2007 With husband Sting, she is forced to pay record damages for unfair dismissal after breaking employment law in sacking their chef when she became pregnant.
2008 Donates £10,000 to the Ama Sumani cancer fund. Terminally ill Sumani had been deported to Ghana after the expiry of her visa.
2011 Guest edits the Big Issue but attracts criticism because she has six homes.
Trudie Styler's edition of 'The Big Issue' is on the streets from tomorrow
Join our new commenting forum
Join thought-provoking conversations, follow other Independent readers and see their replies