Ukraine protests profile: Is heavyweight boxing champion turned politician Vitali Klitschko the man to rescue his country's future?
He leans clearly towards Europe but has not antagonised Russophiles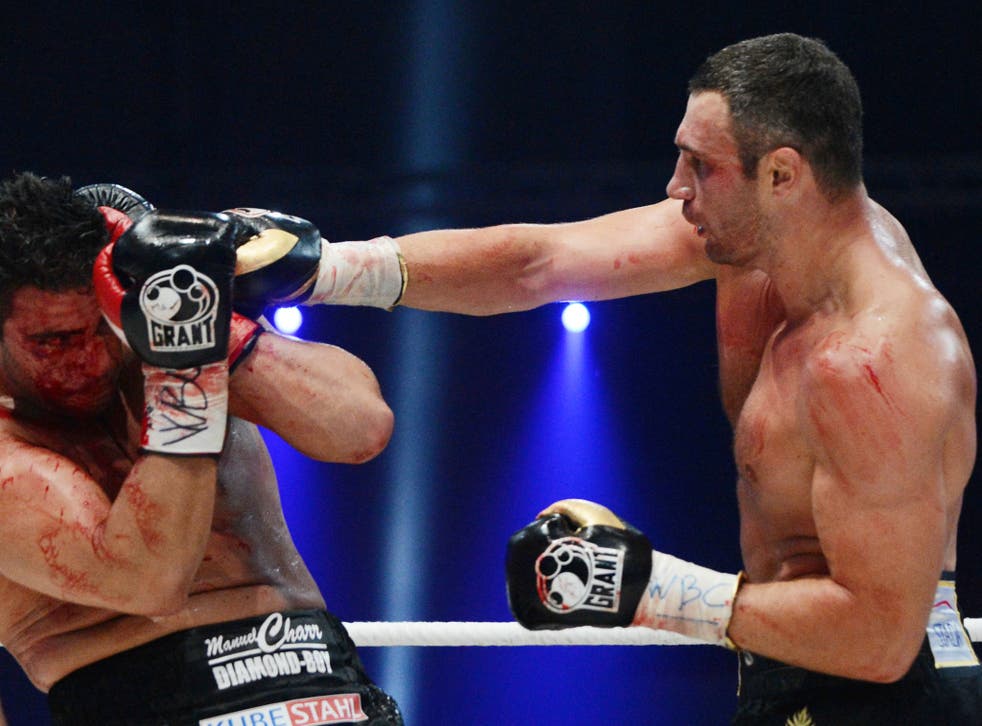 Ukrainian President Viktor Yanukovych would be less than mortal if he did not regard the most promising contender for his job with some apprehension. Standing 6ft 7in and weighing more than 17 stone, Vitali Klitschko has only one rival for the title "strongest man in Ukraine", and that is his brother Vladimir, also a heavyweight boxing champion. Which is the more powerful we will never know, as long ago they promised their mother never to fight each other.
Klitschko, as President Yanukovych is doubtless aware, won his first heavyweight title in 1999, his second in 2004, and remained unbeaten on his semi-retirement from the ring last year. He won more than 87 per cent of his fights by a knockout, and was never knocked out in a professional bout.
These are not the typical qualifications of an aspiring president, but Klitschko is also the only world heavyweight boxing champion to have gained a PhD, and with it the nickname "Dr Ironfist". And in case anyone imagined that his courage and determination were confined to the ring, in the past week he has been in the forefront of the increasingly dramatic protests against Yanukovych, which have so far cost the lives of at least three protesters.
The champion boxer is a man of moderation, an MP in the Ukrainian parliament since 2012, with his own political party, and with friends and allies across the political spectrum. But as the Kiev protests elicited an ever-more violent response from the authorities, he made it clear that, for all his wealth and celebrity, his place was on the front line. "Tomorrow we will go forward together," he said on Wednesday, after the first protesters were shot dead. "And if it's a bullet in the forehead, then it's a bullet in the forehead, but in an honest, fair and brave way."
In pictures: Clashes between police and demonstrators in Kiev, Ukraine

Show all 51
Vitali Klitschko was born in what is now Kyrgyzstan, in Soviet Central Asia, in 1971, the son of a Soviet military pilot whose career took the family across the country before they settled in Kiev when Vitali was a teenager. His fighting career began in amateur kick-boxing: in 1992, the British heavyweight Pelé Reid became one of the very few people to defeat him, in the final of the European kick-boxing championship.
From then on it was wins practically all the way. In 1996, when he turned professional, he was also awarded his first university degree, which made him a highly unusual figure in a sport where intellect is more likely to be a casualty than an asset. He was subsequently accepted as a doctoral student at Kiev's National University, and in 2000 completed his doctoral thesis on the subject of "talent and sponsorship in sport". By that time he had won all 27 of his professional heavyweight bouts with knockouts.
Klitschko, whose boxing base moved over time from Germany to the US, was still fighting and winning bouts in 2004 when a shockingly fixed election jump-started what became known as the Orange Revolution. Galvanised like so many of his countrymen by the national emergency, Klitschko turned his attention to politics, supporting the presidential candidacy of Viktor Yushchenko, who triumphed in the election that followed the Orange Revolution, and later survived two assassination attempts, the second by dioxin poisoning. Yushchenko appointed Klitschko his full-time adviser in 2006.
While continuing to box, Klitschko now started his ascent of the greasy pole of Ukrainian politics, placing second in the election for Mayor of Kiev in 2006 and being elected to the city council. He launched his own party, the Ukrainian Democratic Alliance for Reform, whose acronym, Udar, means "punch" in both Ukrainian and Russian. Yet for all his professional ferocity, Klitschko, who is married to Natalia Egorova, a former athlete and model with whom he has three children, has to date been very much the gentle giant of Ukrainian politics. This helps to explain why today, as his nation stands at its most momentous crossroads since 2004, he is an increasingly plausible and attractive figure to unite a country which is at serious risk of being ripped apart in a tug-of-war between Russia and the European Union.

The present crisis dates from 21 November, when President Yanukovych – the adversary of Klitschko's ally Yushchenko back in 2005 – reversed the route towards EU integration followed by four previous presidents. Yanukovych belongs and owes his support to the Russophile, and Russian-speaking, east and south of the country, and while the crowds in Kiev cannot be described as passionate about the EU as such, they are certainly passionate about not heading back into the embrace of the Russian bear. And that is precisely where the deeply unpopular President Yanukovych has taken them, with allegations of questionable deals with Vladimir Putin that put the country back into a position of commercial dependency on Russia, with cut-price oil and gas and preferential trading terms. When, on 16 January, the President rammed through a law challenging fundamental rights of association, speech and assembly, the Stalinist writing was on the wall.
Despite his celebrity and his honestly gotten wealth, Klitschko is not a charismatic politician; his PhD and his love of chess are belied by his slow, carefully phrased, unexciting answers to reporters' questions, which seem to bespeak a life of being battered around the head rather than one immersed in books. But the words he comes out with makes excellent sense, both to the angry youth filling Kiev's Independence Square, to supporters of Yulia Tymoshenko and even to the extreme nationalists who are the other – and often alarming – side of opposition to President Yanukovych's rule.
In a recent interview he said, "The system today is built to service the clan, the Family" – shorthand for Yanukovych's relatives and cronies, who are suspected of making spectacular financial gains from his spell in power – "and not society as a whole… Not signing the EU integration agreement, attacking peaceful protesters and ignoring human rights – all of these were indicators of the way things are in Ukraine right now. If these things keep happening, then nobody can predict how it will end."
The danger in the rapid escalation of mass protests, which have now spread to towns and cities outside Kiev, is that they could lead to a situation where the fundamental unity of the country is in peril, exposing its deep fault lines. This is not because one half of the population wants to go to war against the other, but because of the divisions within the armed forces, the government and the bureaucracy which could potentially spark a conflict, or at least lead to a very dangerous stand-off.
Klitschko's candidacy for president, by contrast, offers a potential way out of the crisis. He is known and admired around the country; he has no taint of corruption; he leans clearly and overtly towards Europe but has not fatally antagonised the Russophiles. Slow and monotonous of speech he may be, but if Ukraine wanted a president around whom the country could unite, he may be their best hope. He certainly talks the talk. Confronted with the need to construct a platform yoking ultra-nationalists on the one hand and Tymoshenko's supporters on the other, he says, "In order to land a punch, you need to bring your fingers together into a fist. We need to join all our forces together. That is the only way we can win."
A Life In Brief
Born: 19 July 1971, Belovodsk, Kirghiz SSR, Soviet Union (now Kyrgyzstan).
Family: One brother. Parents are Soviet air force major general Vladimir Rodionovich Klitschko and Nadezhda Ulyanovna. Married to former athlete and model Natalia Egorova and has three children.
Education: Graduated from Pereyaslav-Khmelnytsky Pedagogical Institute, Ukraine, in 1996; PhD in sports science at Kiev University of Physical Science and Sports.
Career: Professional boxer in the late 1990s, winning the world heavyweight championship title three times. Retired twice, in 2005 and 2013, to focus on politics. Became adviser in 2005 to Ukraine's then president Viktor Yushchenko, before leading his own political party, the Ukrainian Democratic Alliance for Reform, in 2010. In 2012 he became a member of Ukrainian Parliament.
He says: "People power. It has no limits. In politics, every politician in Ukraine is afraid of that. They know, if people go to the streets, nobody feels safe."
They say: "He's earned his fortune with his hands, so he doesn't need to steal from the people." Klitschko supporter in Ukraine.
Join our new commenting forum
Join thought-provoking conversations, follow other Independent readers and see their replies